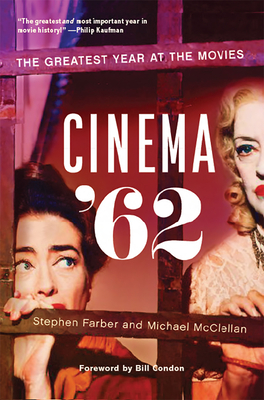 Cinema '62
The Greatest Year at the Movies
Hardcover

* Individual store prices may vary.
Description
Lawrence of Arabia, The Miracle Worker, To Kill a Mockingbird, The Manchurian Candidate, Gypsy, Sweet Bird of Youth, The Longest Day, The Music Man, What Ever Happened to Baby Jane, and more.
Most conventional film histories dismiss the early 1960s as a pallid era, a downtime between the heights of the classic studio system and the rise of New Hollywood directors like Scorsese and Altman in the 1970s. It seemed to be a moment when the movie industry was floundering as the popularity of television caused a downturn in cinema attendance. Cinema '62 challenges these assumptions by making the bold claim that 1962 was a peak year for film, with a high standard of quality that has not been equaled since.
 
Stephen Farber and Michael McClellan show how 1962 saw great late-period work by classic Hollywood directors like John Ford, Howard Hawks, and John Huston, as well as stars like Bette Davis, James Stewart, Katharine Hepburn, and Barbara Stanwyck. Yet it was also a seminal year for talented young directors like Sidney Lumet, Sam Peckinpah, and Stanley Kubrick, not to mention rising stars like Warren Beatty, Jane Fonda, Robert Redford, Peter O'Toole, and Omar Sharif. Above all, 1962—the year of To Kill a Mockingbird and The Manchurian Candidate—gave cinema attendees the kinds of adult, artistic, and uncompromising visions they would never see on television, including classics from Fellini, Bergman, and Kurosawa. Culminating in an analysis of the year's Best Picture winner and top-grossing film, Lawrence of Arabia, and the factors that made that magnificent epic possible, Cinema '62 makes a strong case that the movies peaked in the Kennedy era.
Praise For Cinema '62: The Greatest Year at the Movies…
"I wouldn't have pointed to 1962 as a landmark year for movies, but Stephen Farber and Michael McClellan have proven me wrong. Their knowledgeable and persuasive book spotlights diverse films from the U.S. and abroad that put today's mainstream releases to shame. Can you imagine a menu of superior movies like
Lolita, The Manchurian Candidate, Ride the High Country, Days of Wine and Roses
and
The Music Man
all coming out in one twelve-month period? The authors provide valuable context for this lineup, a treasure trove well worth celebrating." 
— Leonard Maltin
"1962 was the greatest AND most important year in movie history! 1939, its closest competitor, was the apex of Hollywood's Golden Age when dream factories entranced and riveted audiences into their seats.  But in 1962 new waves washed into theaters, and the spell was broken: the Golden Age gave way to the Emboldened Age. Filmmakers began to feel they could create their own dreams. Art houses and film schools proliferated. Audiences jumped out of their seats and argued about what they loved… and hated. Friendships were tested. Film mattered!  It was the New Frontier. You shoulda been there!  Wait!  You can be there! Farber and McClellan have provided you with the best way to re-live those thrilling days. They've unearthed gems, told great tales, and provided plenty of juicy gossip.
Cinema '62
 will arouse you to once again have arguments, go for the jugular, test your friendships…and care about film!"
— Philip Kaufman
"1962 was a magical year for all of us who love the movies. Filmmaking and art merged in ways that were under-appreciated until now. This fine work by Farber and McClellan makes me realize how fortunate we are to have these momentous and enduring movies.  It also made me remember
why I wanted to become a director."
— Penelope Spheeris
"Stephen Farber and Michael McClellan, with first-rate scholarship and an accessible, entertaining style, make a superb case that 1962 was perhaps the most fascinating, influential, and yes, greatest year in world cinema.  They examine a year when the major studios were still committed to making films for adults, the stifling production code was at last loosening up, foreign films were gaining in popularity, and a woman in the central role wasn't a brave and rare event.
Cinema '62: The Greatest Year at the Movies
 is as great as its subject."
— Charles Busch
"What an amazing year 1962 was in the history of cinema, and what an amazing book Stephen Farber and Michael McClellan have written about it.
Cinema '62
 is at once deft scholarship and sublime storytelling, a tough balance to maintain, but Farber and McClellan pull it off seamlessly. And the authors make an absolutely convincing case for 1962 as the greatest year in the history of world cinema."  
— W.K. Stratton
"The case for 1962 can certainly be made with socially provocative films such as 
Lawrence of Arabia
, 
To Kill a Mockingbird
, 
Lolita
, and 
The Manchurian Candidate
, yet the authors bolster their argument with dozens of other entries, including 
David and Lisa 
and a 
Taste of Honey
, largely overlooked by the general public."
— Library Journal
"There's plenty of interesting history in 
Cinema '62
. Farber and McClellan bop from film to film with details about each one's development, making, release, and influence."
— Psychobabble
"Authors Farber and McClellan serve film fans a briskly written, meticulously researched history that gives an often-overlooked and underrated era in cinema its due." 
— Associated Press
"1962 Was The Year"
http://hollywood-elsewhere.com/2020/03/1962-was-the-year/
— Hollywood Elsewhere
"BETTE DAVIS VS. JOAN CRAWFORD: HOLLYWOOD'S GREATEST FEUD: On the set of 
Whatever Happened to Baby Jane?
, 1962"
https://crimereads.com/bette-davis-vs-joan-crawford-hollywoods-greatest-feud/
— CrimeReads
"With fresh interviews from participants in many of the key projects and with the authors' vast, personal knowledge of the films and the context in which they were made,
Cinema '62
is as sharp and lively as that modernist-slanted title implies. Best of all, its approach never feels as if it's looking back. One feels that the authors just watched all the movies last week and they're just dying to tell you about some life-changing piece of art that you've just got to see."
— Variety
"The authors argue their case convincingly by systematically trotting out one exciting foreign film after another, reminding you that, especially thanks to France and Italy, the early 1960s represented a true golden age for arthouse cinema, as it was widely called at the time."
— The Hollywood Reporter
Classic Movie Musts podcast interview with Michael McClellan
https://podcasts.apple.com/us/podcast/classic-movie-musts/id1375263468#episodeGuid=classicmoviemusts.podbean.com/786a74f0-976d-5578-95f4-2dcfa7cf39d5
— Classic Movie Musts podcast
"From 'Lawrence Of Arabia' And 'To Kill A Mockingbird' To The Debut Of James Bond, Was 1962 The Greatest Movie Year EVER? A New Book Says Yes" by Pete Hammond
— Deadline
"A potent reminder that the early 1960s were indeed a turning point in global cinema."
— Classic Film & TV Cafe
A New and Notable Film Book for March 2020: "I never would have chosen 1962 as a watershed year for filmmaking but authors McClellan and Farber have proven me wrong. Their essays provide historical context and a well-informed look at the ingredients that meshed to make this an exceptional period for filmmakers and filmgoers alike."
— LeonardMaltin.com
"DigiGods Episode 198: Hey Macorona!" interview with Stephen Farber
http://digigods.ign.libsynpro.com/digigods-episode-198-hey-macorona
— DigiGods podcast
Battleship Pretension podcast: Episode 681: Cinema '62 with Stephen Farber
http://battleshippretension.com/episode-681-cinema-62-with-stephen-farber/
— Battleship Pretension
"The Greatest Year at the Movies: Experts Share Behind-the-Scenes Stories about the Unforgettable Classics We Know and Love" by Katie Bruno 
— Closer Weekly
"This is a solid work of film study and appreciation that makes its case for a new 'Golden Year' quite well."
— CineSavant Column
"Was 1962 the best year for film? Grab your popcorn, we have time to discuss it," by Ben Hoyt
— The Times of London
"
Cinema '62
 is a compelling and entertaining assessment of the films released in 1962 and will help budding film buffs assemble a list of must-see movies. Forget 1939, 
Cinema '62
 looks at the acclaimed and neglected films of 1962, and persuasively and entertainingly argues it was the peak year for motion pictures."
— Shelf Awareness for Readers
"Interview: Author Michael McClellan Talks New Book"
https://journeysinclassicfilm.com/2020/04/23/interview-author-michael-mcclellan-talks-new-book/
— Journeys in Classic Film
"The Gold Standard: Is 1962 secretly the greatest year ever for movies?" by Ben Hoyle
— Air Mail
"What's the best movie year ever? People have claimed for years it was 1939; recently, there have been dissenters. Farber, a veteran Los Angeles film critic, and McClellan, a longtime film buyer, make their case for 1962, the year that produced such classics as 'Lawrence of Arabia,' 'To Kill a Mockingbird' and 'The Manchurian Candidate.'"
— Milwaukee Journal Sentinel
"[Farber and McClellan] succeed in crafting a credible, critical narrative of an art form in transition, with chapters covering the foreign-film revolution, the loosening of sexual morals onscreen, the increasing influence of psychoanalysis and, naturally, the move from black and white to glorious Technicolor." 
— Flick Attack
"A terrific recapitulation of the year in film...It's superb at probing the political, social, critical, and economic impact of the major and not-so major movies of the year with insight and meticulous research."
— Mount Laurel Library, "Irv on Film"
"The authors knowledgeably examine some two-dozen films from 1962, offering cogent insights on what makes them great. Highly recommended."
— Choice
CineSavant column mention of
Cinema '62
https://cinesavant.com/cinesavant-column-254/
— CineSavant
"Wisely organized thematically....The result is a good survey of critical and box office receptions and makes for easy reading."
— CineMontage
"[Farber and McClellan] do an excellent job of moving the needle for American/UK cinema in favor of their claim. They remind us, and provide short, but pithy discussions, of some truly great films of the year."
— Quarterly Review of Film and Video
"Film historians/authors Stephen Farber and Michael McClellan make the argument for cinema in 1962, culminating with David Lean's extraordinary 'Lawrence of Arabia."'
— Los Angeles Times Gift Guide
"29 Best New Cinema Books To Read In 2021"
— Book Authority
"
Cinema '62: The Greatest Year at the Movies
 by Stephen Farber and Michael McClellan deserve[s] film lovers' attention."
— Boston Globe
"The authors not only rave about excellent films and the correspondingly high number of viewers, they also work out a trend that is already emerging—the end of the Hollywood studio system and the growing influence of so-called filmmakers. The authors deal with an equally important aspect by discussing the move away from black and white to color film."
— Country Mag
Rutgers University Press, 9781978808829, 270pp.
Publication Date: March 13, 2020
About the Author
Stephen Farber was president of the Los Angeles Film Critics Association from 2012-2016 and currently serves as a faculty member at UCLA, teaching film criticism. He has written for numerous publications including The New York Times, Los Angeles Times, and Hollywood Reporter. He has also published several books, including Outrageous Conduct: Art, Ego, and the Twilight Zone Case (1988) and Hollywood on the Couch (1993).
 
Michael McClellan is the former Senior Vice President/Head Film Buyer for Landmark Theatres and served on the board of appeals of the Classification and Ratings Administration of the MPAA.  He currently co-produces a classic film series in Los Angeles.

Bill Condon won an Academy Award for his screenplay of Gods and Monsters in 1998.  He received a screenwriting nomination for the Oscar-winning best picture of 2002, Chicago.  His other credits as director include Kinsey, Dreamgirls, Mr. Holmes, Beauty and the Beast, and The Good Liar.
 
or
Not Currently Available for Direct Purchase