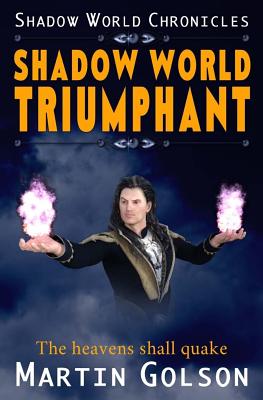 Shadow World Triumphant
Paperback

* Individual store prices may vary.
Description
"In the midst of chaos, there is also opportunity." Sun Tzu, The Art of War With Illomen banished, Iquang's forces move quickly to enslave the Earth. Even as his plans near completion, a small resistance force remains. A single message drives those who oppose Iquang, "Illomen will return." But, can any force withstand the onslaught Hell has prepared to unleash on the Earth? The stage is set for the final assault on Nashville. This time, there will be no retreat and no quarter as both sides battle for their ultimate victory.
Createspace Independent Publishing Platform, 9781979417358, 362pp.
Publication Date: January 6, 2018
About the Author
Martin started his story-telling when his children were growing up. He would tell them his own version of the classic fairy tales. One of the things his children loved about his stories was that they never knew how they would end. He never told the tales the same way twice. His children remember one character that showed up in many of his stories. That character's name was Nerdy Nelson, a brilliant, but homely fellow who always managed to come out okay. When the children asked him to write his fairy tales down, he reminded them that it wouldn't be the same as him telling the stories because they would always be the same. Now that Martin's children are all grown, he's turned his story-telling ability to writing fantasy novels. Initially writing the books for only his family and friends to read, he finally submitted to their urging him to publish his tales. When Martin is asked where he gets the ideas for his stories, his response is that he simply records the stories the way the characters tell them to him. Martin and his wife, Juanita, live in Clarksville, Tennessee. Though most of their eight children are now grown, with families of their own, the couple report that the beloved heroes and villains of Martin's tales regularly stop by to keep them company.