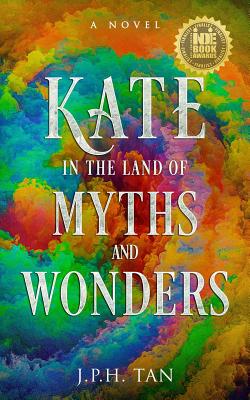 Kate In the Land of Myths and Wonders (Paperback)
Createspace Independent Publishing Platform, 9781979495394, 222pp.
Publication Date: June 1, 2018
Other Editions of This Title:
Paperback (6/1/2018)
* Individual store prices may vary.
Description
On Kate's fifteenth birthday, she decides to celebrate with her best friend, Gus, but a cataclysmic flood sweeps through the city streets and sends her tumbling into a world completely different from her own. In this land, lightning bolts act as magical staircases...mythical creatures come to life...and the exciting journey takes her from one mysterious realm to another. It is here that Kate will finally be forced to grow up and confront some hard truths about herself.
Kate runs into someone unexpected, and the teens are about to have the adventure of a lifetime They will be whisked to a distant place full of dangers and disasters where the evil queen Evrisx sets her sights on the young girl. Evrisx, with her unnatural powers and taste for human flesh, could not only harm Kate-she could doom the entire world with her actions
Will the teens be able to escape the disasters and return home? Enter the land of myths and wonders with Kate to find out.
"The setting is an important device in this novel, and TAN deftly weaves together technology and mythology to create a world that is both original and intriguing. Kate may not know or understand what is happening around her, but the world she is thrust into is beautifully described and loaded with allegorical meaning." - Booklife
About the Author
J.P.H. Tan was born in Singapore and graduated from York University in Canada. She currently lives in Hong Kong with her family. She is a Christian who explores the concept of the end-times in this, her first young adult fantasy novel. The dreams and visions that she has had since childhood inspired her to write Kate in the Land of Myths and Wonders. In her spare time, J.P.H. Tan enjoys barre workouts, reading and watching movies while snacking on sweeten & salted popcorn in a gigantic tub. She loves desserts and anything sweet. You can find JPH Tan at Instagram (@jphtan) or email her at jphtan1@gmail.com