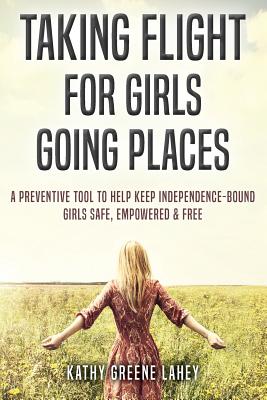 Taking Flight for Girls Going Places (Paperback)
A Preventive Tool to Help Keep Independence-Bound Girls Safe, Empowered, and Free
Createspace Independent Publishing Platform, 9781979648837, 144pp.
Publication Date: March 16, 2018
* Individual store prices may vary.
Description
It can be exciting and a little frightening to move out into the world on your own, whether it's simply to the mall or off to college. Finally free from parental controls, you can make your own decisions and take control of your life. As you gain independence, you leave behind that parental safety net that has kept you safe. Now, it's your turn.
Kathy Greene Lahey, LMSW, AC, wants to give you that confidence to do just that In this new guide designed to help teen girls and young women maintain independence and safety, this guide helps prepare you for the hazards you may face. She highlights preventive measures and basic self-defense strategies that can give you a clearer mind, more confidence, and various options to handle such challenges, including those relating to
entering new living situations,
consuming alcohol and drugs,
starting college or a new job,
walking at night,
driving and public transportation,
unhealthy relationships,
expressing consent,
using social media, and
protecting yourself from a physical attack.
By working through her manual, you'll prepare yourself to assess potential dangers, minimize risks, and be responsible for yourself in every way.
About the Author
Kathy Greene Lahey, LMSW, AC, has dedicated her career to empowering females. She is a licensed social worker, addictions counselor, activist, and blackbelt. She developed Taking Flight workshops, which give girls and young women the skills they need to stay safe, confident, and empowered. Lahey herself is a survivor of sexual assault and other gender-based harassment. In Taking Flight For Girls Going Places, she focuses on prevention and responsibility, while arming girls with simple, practical safety tips and practices to help them reach their full potential. Lahey has three children and one granddaughter. She lives and writes in Port Jefferson, New York.