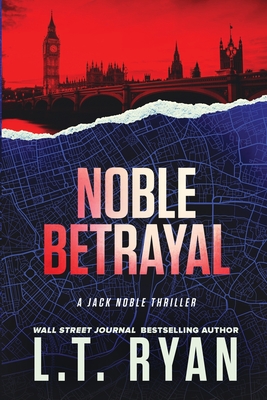 Noble Betrayal (Jack Noble #7)
Paperback

* Individual store prices may vary.
Description
A favor for an old friend
Places Jack Noble in the middle again.
But it beats an early retirement.
Jack Noble is on a plane, heading across the Atlantic to perform one last job. A favor for an old friend, he tells himself. Anything to put off an early retirement for a few weeks longer. Shortly after setting foot in London, Jack discovers that not all is what it seems. His presence did not go unnoticed by Great Britain's intelligence community. Worse, he finds that he's not the only one after his target. And those same people are after him. Jack refuses to quit until he's uncovered the mastermind of a conspiracy that reaches the top of Britain's government. USA Today bestselling author L.T. Ryan's Noble Betrayal is a gripping and suspenseful action thriller sure to keep you turning pages until the last sentence.
Fans of Tom Clancy's Jack Ryan, Lee Child's Jack Reacher, Vince Flynn's Mitch Rapp, and Robert Ludlum's Jason Bourne will enjoy this Jack Noble suspense thriller.
______________________________________ Readers are saying... ★★★★★
"JASON BOURNE, JACK RYAN, JACK REACHER. AND NOW JACK NOBLE..."
★★★★★
"I totally agree with the reviewer who said if you like Jack Reacher, you'll love Jack Noble."

★★★★★
"I enjoy the Jack Noble character as much as Mitch Rapp, Scott Horvath, or Jack Ryan."
______________________________________
Jack Noble International Thrillers Series
Noble Betrayal
is the sixth of thirteen Jack Noble espionage thriller books. In addition, a recently released prequel, and five series spin-offs are available. The series has earned thousands of five-star reviews, and has been downloaded over two-million times to Kindles around the world. If you enjoy gripping thrillers loaded with suspense, action, twists & turns, Jack Noble is for you
Noble beginnings was a top 100 book on Amazon from June 2018 through August 2018
L.T. Ryan spent 15 consecutive months in Amazon's top 100 authors list from June 2018 through September 2019
USA Today Bestseller L.T. Ryan: 3/27/2014, 3/5/2015, 7/7/2016, 12/15/2016, 5/25/2017
Independently Published, 9781980612094, 490pp.
Publication Date: March 20, 2018