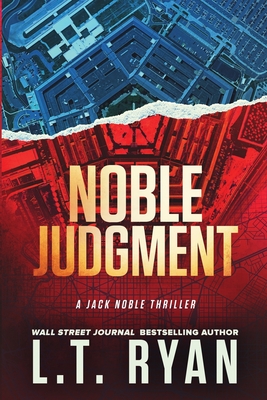 Noble Judgment (Jack Noble #9)
Paperback

* Individual store prices may vary.
Description
"Kill them all."
The command has been issued. A purging of the black ops community. And the clandestine agency SIS has been hit hardest. All current and former members marked for termination. Including Jack Noble and his known associates. But when the men behind the operation make it personal, Jack cares less about unraveling their plan, and more about exacting vengeance. And he doesn't care who gets in his way.
Fans of Tom Clancy's Jack Ryan, Lee Child's Jack Reacher, Vince Flynn's Mitch Rapp, and Robert Ludlum's Jason Bourne will enjoy this Jack Noble suspense thriller.
______________________________________ Readers are saying... ★★★★★
"JASON BOURNE, JACK RYAN, JACK REACHER. AND NOW JACK NOBLE..."
★★★★★
"I totally agree with the reviewer who said if you like Jack Reacher, you'll love Jack Noble."

★★★★★
"I enjoy the Jack Noble character as much as Mitch Rapp, Scott Horvath, or Jack Ryan."
______________________________________
Jack Noble Action and Suspense Thrillers Series
Noble Judgment
is the ninth of thirteen Jack Noble espionage thriller books. In addition, a recently released prequel, and five series spin-offs are available. The series has earned thousands of five-star reviews, and has been downloaded over two-million times to Kindles around the world. If you enjoy gripping thrillers loaded with suspense, action, twists & turns, Jack Noble is for you
Noble beginnings was a top 100 book on Amazon from June 2018 through August 2018
L.T. Ryan spent 15 consecutive months in Amazon's top 100 authors list from June 2018 through September 2019
USA Today Bestseller L.T. Ryan: 3/27/2014, 3/5/2015, 7/7/2016, 12/15/2016, 5/25/2017
Independently Published, 9781980612117, 506pp.
Publication Date: March 20, 2018