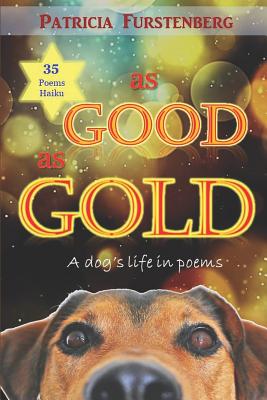 As Good as Gold
A dog's life in poems
Paperback

* Individual store prices may vary.
Other Editions of This Title:
Paperback, Large Print (6/19/2018)
Description
As engaging as a tail wag."There is something truly magical about this wonderful collection. Having read each poem, I love how every word celebrates our canine companions from the tip of their wet noses to the wag of their tails." (Susan Day, Editor and Author)"A super sweet and poignant book of poetry about what a pup thinks of his world. As a cat lover I especially was tickled by his relationship to the cat. Any dog lover would adore this book. The photos were appealing. Haikus at the end were tiny diamonds." (Kathryn Meyer Griffith, long time author)Celebrating the simple things in life as seen through the eyes of our old time favorite furry friends, "As Good as Gold" is a volume of poetry revealing the talent and humor we always knew our dogs possessed.Dogs are full of questions, yet they are famed sellers of innocence especially when it comes to explaining their mishaps and often foolish effervescence through such pondering as "Why IS a Cat Not Like a Dog", "As Brown as Chocolate", "Silver Stars and Puppy Tail" or, best yet, "Dog or Book?"A book with an enormous heart for readers of all ages, it includes 35 poems and haiku accompanied by just as many colorful, expressive portraits of our canine friends. The poems are grouped in: Questions, Colors, Musings and Haiku. * Ideal to boost you up by reading one poem at a time, * Great conversational piece to have around on a rainy day, * Fantastic tool to discuss colors in nature and everyday questions with your little ones, * A gentle way to introduce children to animals' feelings, * Amazing picture to cheer you up.* An ideal gift for any dog lovers.
Independently Published, 9781980748595, 104pp.
Publication Date: May 11, 2018