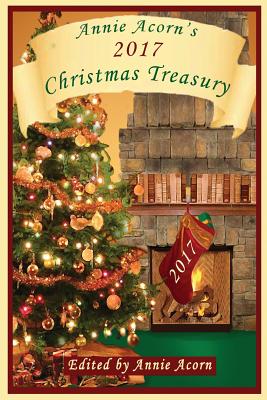 Annie Acorn's 2017 Christmas Treasury (Paperback)
Createspace Independent Publishing Platform, 9781981116270, 418pp.
Publication Date: November 23, 2017
* Individual store prices may vary.
Description
Where can you find all the scents, sounds, and joys of Christmas? Where does the magic of Christmas find a home, offer second chances, and even solve crimes? Where do the things that matter take precedence over everyday concerns? Within the carefully crafted stories gathered for your enjoyment in Annie Acorn's 2017 Christmas Treasury, a Christmas anthology that's more than double the size of those readers have enjoyed in previous years With their words, members of From Women's Pens, a cooperative of internationally beloved, award-winning, contemporary women writers, have brought together a unique collection of novels, novellas, and novelettes that embody the spirit of Christmas and are sure to please everyone. Prepare to laugh, cry, and be surprised by this family treasure. Annie Acorn's 2017 Christmas Treasury is sure to become a classic tradition you and yours will want to revisit during each new Christmas season as it arrives. Still looking for a stocking stuffer, teacher, grandparent, or neighbor gift? This could well be your answer Contains: A Christmas Quilt by Juliette Hill A Blue-Eyed Santa for Christmas by Merrie Housdon Finally Home for Christmas by Charlotte Kent Slay Bells Ring by Angel Nichols Amey's Rocker - A Christmas Story by Andrea Twombly Two Reservations for Christmas by Annie Acorn.
About the Author
Annie Acorn is the pseudonym of a prolific, internationally beloved author, whose readership recognizes her mainly for her women's fiction, cozy mysteries and richly woven stories with a warm southern flair, such as Chocolate Can Kill and her Luna Lake Cabins, romantic women's fiction series. She writes her romantic women's fiction/family saga Captain's Point Stories series as Charlotte Kent. She is a founding member of From Women's Pens - A Cooperative of Women Writers. Annie is the mother of two sons. She lives in the Washington, D.C. area, where she has done extensive technical writing as a contractor. She owned a tri-state medical outsourcing business for a number of years and was the Director of a behavioral healthcare firm. She once flipped a comic book and collectible retail company comprised of five stores, and she has managed cemeteries and funeral homes. She is the owner of Annie Acorn Publishing, LLC. Ms. Acorn has published in The Inspirational Writer, and she edited an in-house publication for the State of Mississippi. She is a contributor of ezine articles. In her spare time, Ms. Acorn enjoys reading, writing mysteries and romantic women's fiction, listening to classical music, playing cards, and spending time with her family and friends - often at a restaurant serving delicious food. Annie is the author of the blog at annieacorn.com. You can friend her on Facebook and tweet her at @Annie_Acorn or at @CharlotteKent20, which she shares with Juliette Hill. She will respond to your email sent to annieacorn11@gmail.com, and she invites you to visit her AAPub author's pages at: https: //annieacornpublishing.com/authors/annie-acorn and https: //annieacornpublishing.com/authors/charlotte-kent