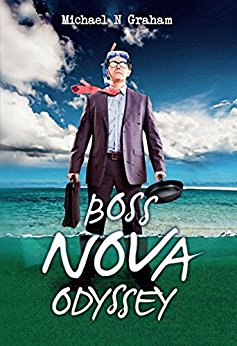 Boss Nova Odyssey
Paperback

* Individual store prices may vary.
Description
Have you ever wondered what it would be like to own a restaurant? Not a burger joint, but a talked-about, place-to-seen kind of place with witty patrons, innovative cuisine, and glittering ambience? Sure, you have. But, because you are a stable, rational person, you quickly abandoned this silly daydream.
A book has just come out about someone who, escaping the confines of reason, didn't abandon the dream. Not once but several times. That person is me.
The book traces the four Boss Nova---"the new boss" --- experiences in my life: the restaurant at Snowbird, Utah; Chief of Staff to a Governor; advertising agency business in New York City and finally, the ultimate dumb idea, opening a restaurant in Sao Paulo, Brazil without speaking one word of Portuguese.
Was this to be the icing on the cake of a colorful and successful career that included stints as an executive at one of the world's largest advertising agencies and as the country's youngest chief of staff to a state governor? Or had I simply created a recipe for a spectacular disaster from someone running until the AARP hunted him down? Was I battling the dilemma and fear of aging, becoming totally irrelevant and did anything of this wild idea make sense?
This is a story of one man simply following his dreams and details his adventures and misadventures in his pursuit of my passions. Whether it involves picking up and starting a brand-new ski resort restaurant in Utah after having unsuccessfully attempted to impress Robert Redford, to becoming a known figure in Utah politics, to throwing caution to the wind and moving to Brazil, despite a significant language barrier, to open the restaurant of my dreams, this memoir that tells these stories in a casual and self-depreciating way. The book has 78 vignettes in its 345 pages and traces the arc of experiences in, hopefully for the reader, a laugh out loud way.

Michael N. Graham, 9781981465217, 345pp.
Publication Date: January 1, 2018
About the Author
A senior executive with over 35 years of demonstrated leadership and accomplishments in the areas of marketing communications, management and politics. Served on the Board of Directors of several companies. Currently an author whose first book is a biographical humorous account entitled Boss Nova Odyssey of four phases of his business career.

or
Not Currently Available for Direct Purchase