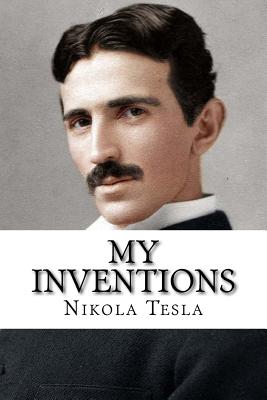 My Inventions (Paperback)
The Autobiography of Nikola Tesla
Createspace Independent Publishing Platform, 9781981587056, 66pp.
Publication Date: December 10, 2017
Other Editions of This Title:
Paperback (7/24/2017)
Paperback (1/2/2017)
Paperback (9/10/2016)
Paperback (10/26/2017)
Hardcover (4/3/2018)
Paperback (11/14/2016)
Hardcover (4/15/2011)
Paperback (4/16/2017)
MP3 CD (12/5/2017)
Compact Disc (12/5/2017)
Paperback (10/26/2017)
Compact Disc (12/5/2017)
* Individual store prices may vary.
Description
Nikola Tesla was born in Croatia (then part of Austria-Hungary) on July 9, 1856, and died January 7, 1943. He was the electrical engineer who invented the AC (alternating current) induction motor, which made the universal transmission and distribution of electricity possible. Tesla began his studies in physics and mathematics at Graz Polytechnic, and then took philosophy at the University of Prague. He worked as an electrical engineer in Budapest, Hungary, and subsequently in France and Germany. In 1888 his discovery that a magnetic field could be made to rotate if two coils at right angles are supplied with AC current 90 out of phase made possible the invention of the AC induction motor. The major advantage of this motor being its brush less operation, which many at the time believed impossible.