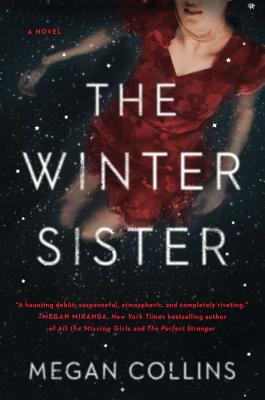 The Winter Sister (Hardcover)
Atria Books, 9781982100148, 336pp.
Publication Date: February 5, 2019
Other Editions of This Title:
Digital Audiobook (2/4/2019)
Paperback (10/8/2019)
Library Binding, Large Print (5/8/2019)
Compact Disc (2/5/2019)
* Individual store prices may vary.
Description
Book of the Month Club Selection

"A haunting debut: suspenseful, atmospheric, and completely riveting." —Megan Miranda, New York Times bestselling author of All the Missing Girls

"I love a good family-driven suspense novel, and this one doesn't disappoint." —Marie Claire

In this spellbinding and suspenseful debut, a young woman haunted by the past returns home to care for her ailing mother and begins to dig deeper into her sister's unsolved murder.

Sixteen years ago, Sylvie's sister Persephone never came home. Out too late with the boyfriend she was forbidden to see, Persephone was missing for three days before her body was found—and years later, her murder remains unsolved.

In the present day, Sylvie returns home to care for her estranged mother, Annie, as she undergoes treatment for cancer. Prone to unexplained "Dark Days" even before Persephone's death, Annie's once-close bond with Sylvie dissolved in the weeks after their loss, making for an uncomfortable reunion all these years later. Worse, Persephone's former boyfriend, Ben, is now a nurse at the cancer center where Annie is being treated. Sylvie's always believed Ben was responsible for the murder—but she carries her own guilt about that night, guilt that traps her in the past while the world goes on around her.

As she navigates the complicated relationship with her mother, Sylvie begins to uncover the secrets that fill their house—and what really happened the night Persephone died. As it turns out, the truth will set you free, once you can bear to look at it.

The Winter Sister is a mesmerizing portrayal of the complex bond between sisters, between mothers and daughters alike, and forces us to ask ourselves—how well do we know the people we love most?
About the Author
Megan Collins is the author of The Winter Sister. She holds an MFA in Creative Writing from Boston University. She has taught creative writing at the Greater Hartford Academy of the Arts and Central Connecticut State University, and she is the managing editor of 3Elements Review. A Pushcart Prize and Best of the Net nominee, her work has appeared in many print and online journals, including Off the Coast, Spillway, Tinderbox Poetry Journal, and Rattle. She lives in Connecticut.
Praise For The Winter Sister…
"Sharp and mysterious, The Winter Sister explores the complex bonds between families, the secrets that tie people together—and those that break them apart. A haunting debut: suspenseful, atmospheric, and completely riveting."
—Megan Miranda, New York Times bestselling author of All the Missing Girls and The Perfect Stranger

"Atmospheric and heart-rending, The Winter Sister brilliantly weaves together a gripping, suspenseful plot with a compelling character study of a grieving family. From the mysterious mother with a hidden past, to the guilt-ridden sister who now must solve her sister's murder years ago, these characters will stay with you long after you've turned the final page. Wonderful!"
—Wendy Walker, bestselling author of All Is Not Forgotten and Emma in the Night

"Megan Collins's compelling debut is at once a page-turning whodunit and a thoughtful examination of a family broken by tragedy. With a protagonist haunted by her sister's unsolved murder, a less-than-happy homecoming, and the slow unraveling of decades of explosive secrets, The Winter Sister will captivate you from suspenseful start to surprising finish."
—Kathleen Barber, author of Are You Sleeping

"This book had everything I love in a suspense novel: complicated family relationships, a spellbinding mystery, and enough twists to leave me reeling long after I turned the final page. I'm already recommending this book to all my fellow suspense-lovers, and I can't wait to see what Megan Collins cooks up next!"
—Rena Olsen, author of The Girl Before

"The Winter Sister is a can't-put-down debut about mothers and daughters, sisters and secrets. The myth of Demeter and Persephone thunders in the background of this suspenseful story, adding richness to its mystery. Chilling and beautifully crafted."
—Caroline Woods, author of Fräulein M.

"In luminous lines aching with loss, debut novelist Collins deftly re-envisions this Greek myth of Persephone… A bewitching thriller with surprises detonating in nearly every chapter."
—Kirkus Reviews

"I love a good family-driven suspense novel, and this one doesn't disappoint."
—MarieClaire.com

"A dark, tense, and completely absorbing debut... While full of hand-clenching suspense, the novel's real strength comes from its study of relationships... Gripping to the last page, it's the desperation in the connections among these characters that will stay with readers."
—Booklist

"With its focus on the grim-dark aspects of the female experience, The Winter Sister calls to mind works like Gillian Flynn's Sharp Objects or the film The Tale. This twisty-turny story reminds the reader of the fickle nature of the truth, and that impossible things happen more often than you think."
—BookPage

"[An] impressive debut."
—CrimeReads

"Familial bonds are shattered, hearts are broken, and secrets are withheld until the ugly truth is exposed, making The Winter Sister a mesmerizing and complex thriller."
—New York Journal of Books

"Megan Collins's spellbinding debut novel The Winter Sister captures the souls lost in an unsolved tragedy in a sleepy New England town… This intense page-turner will leave you breathless as you dig into Sylvie's mysterious life. Collins writes as though she experienced the events first-hand… An incredible, standout debut novel. Bravo!"
—TopShelf Magazine