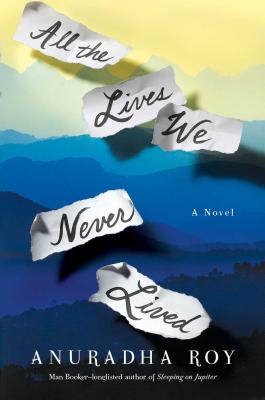 All the Lives We Never Lived
A Novel
Hardcover

* Individual store prices may vary.
Other Editions of This Title:
Digital Audiobook (11/26/2018)
Paperback (10/15/2019)
Paperback, Large Print (5/8/2019)
Compact Disc (11/20/2018)
Description
"[Roy's] mastery of detail ties an intimate domestic drama to national history, offering a portrait of one family's troubles with desire and loss that speaks to the more universal struggles for personal and political freedom." —Time

From the Man Booker Prize-nominated author of Sleeping on Jupiter, The Folded Earth, and An Atlas of Impossible Longing, a poignant and sweeping novel set in India during World War II and the present-day about a son's quest to uncover the truth about his mother.

In my childhood, I was known as the boy whose mother had run off with an Englishman. The man was in fact German, but in small‑town India in those days, all white foreigners were largely thought of as British.

So begins the story of Myshkin and his mother, Gayatri, a rebellious, alluring artist who abandons parenthood and marriage to follow her primal desire for freedom.

Though freedom may be stirring in the air of India, across the world the Nazis have risen to power in Germany. At this point of crisis, a German artist from Gayatri's past seeks her out. His arrival ignites passions she has long been forced to suppress.

What follows is her life as pieced together by her son, a journey that takes him through India and Dutch‑held Bali. Excavating the roots of the world in which he was abandoned, he comes to understand his long‑lost mother, and the connections between strife at home and a war‑torn universe overtaken by patriotism.

With her signature "precise and poetic" (The Independent) writing, Anuradha Roy's All the Lives We Never Lived is a spellbinding and emotionally powerful saga about family, identity, and love.
Praise For All the Lives We Never Lived: A Novel…
"All the Lives We Never Lived is a moving and beautiful story of loss, of the lives of those beloved to us. What makes this novel so special is the sinuous way Anuradha Roy seamlessly and masterfully shuttles between time, overlaying the past with the present, mystery with knowledge to cumulatively create a brilliant tapestry that is the story." — Chigozie Obioma, Man Booker Prize finalist for The Fishermen

"All the Lives We Never Lived begins in such intimate, private pain, but as Myshkin's sympathies expand, so does the novel's scope. The result is a story that eventually encompasses the world far beyond a boy's little town….Even more captivating than the unexpected turns of this plot is the way [Roy] reaches into the depths of melancholy but never sinks into despair."— Ron Charles, The Washington Post

"Lyrical, subtle, [and] finely observant. . . . A novel of history, both global and personal, gracefully wrought."— Kirkus Reviews

"A lush and lyrical fusion of history and storytelling….This mesmerizing exploration of the darker consequences of freedom, love, and loyalty is an astonishing display of Roy's literary prowess." — Publisher's Weekly

"[A] moving tale... Roy (Sleeping on Jupiter, 2016) peppers her novel with intricate descriptions of small-town India and weaves an eloquent and tragic story of straitjacketed lives upended when history and personal ambition intersect."— Booklist

"This novel has an epic feel but also portrays the feelings of an abandoned child and captured woman while strongly evoking the sounds, scents, plants, people, and social structures of India at the time."— Library Journal

"[Roy] is a writer of great subtlety and intelligence, who understands that emotional power comes from the steady accretion of detail….[All the Lives We Never Lived] does not directly refer to #MeToo or the macho hyper-nationalism of today's India. But in its portrayal of power structures, it is part of those very contemporary political conversations. It is also a beautifully written and compelling story of how families fall apart and of what remains in the aftermath."— Kamila Shamsie, The Guardian

"Roy's writing is a joy."— Financial Times

"Poetic, elegiac . . . Roy's eye is tender. . . . The scope of All the Lives We Never Lived is vast but also personal."— Sean Hewitt, Irish Times

"As All the Lives We Never Lived describes a mother's efforts to create her own unconventional life in a restrictive society, the book's content and tone reminded me of Elena Ferrante's Neapolitan novels. It also has a similar success weaving history into the lives of deeply rendered characters….Gayatri's freedom comes at a very steep personal price, but even as her life ends in illness and isolation, Roy's novel doesn't condemn her or her choices. This makes for a smart, powerful and ultimately illuminating book."— Minneapolis Star-Tribune

"One of India's greatest living authors."— O, The Oprah Magazine

"Anuradha Roy blends historical fact and remarkable real-life characters into her tale, which takes freedom, in all its messy complexity, as its theme . . . Amid the atmospheric detailing there are pin-sharp modern resonances with modern India's nationalism and punishing patriarchy."— Siobhan Murphy, The Times (UK)

"[Roy's] mastery of detail ties an intimate domestic drama to national history, offering a portrait of one family's troubles with desire and loss that speaks to the more universal struggles for personal and political freedom….Roy's skillful blending–of fact and fiction, of personal and political, and of suspense and reward–creates a rich and layered read. But the modern resonances of rising nationalism, in India and beyond, ensure that Roy's story of what happened in Muntazir transcends its own pages."— Time

"Perceptive . . . an affecting tale of loss, remarriage, and rediscovery."— BookPage

"Set aside some time during the holidays to read this beautifully written novel about culture, identity, and family."—HelloGiggles

"Spanning World War II Germany to present-day India, Anuradha Roy's latest novel presents a powerful portrayal of love as a son goes in search of the truth about his mother."— MyDomaine

"In All the Lives We Never Lived, small moments of connection ultimately prove to be the most profound....[Roy] paints a thoughtful portrait of family and freedom."— Shelf Awareness

"A powerful family story set in postwar India, about a mother who leaves her family to pursue her artistic passions, and a son who tries to understand her choice."— Entertainment Weekly

"The themes of freedom and revolution echo through the book as an older gentleman pieces together childhood memories of his artistic mother as he tries to understand why she abandoned him so many years ago. Set in the 1980s, his tale reaches back to India's fomenting pre-revolutionary era that led up to World War II, and the insights and lessons ring just as true today."— Christian Science Monitor

"Roy's writing is surpassingly vivid and gorgeous... You could say that All the Lives We Never Lived is about two struggles for independence, playing out against the backdrop of World War II: India's battle against colonialism, and a woman's against marital entrapment. Roy balances the political and the personal with skill and power, giving us a country and a family rocked by change, grief and passion." – Bookreporter.com
Atria Books, 9781982100513, 288pp.
Publication Date: November 27, 2018
About the Author
Anuradha Roy is the author of An Atlas of Impossible Longing, The Folded Earth, All The Lives We Never Lived, and Sleeping on Jupiter—which won the DSC Prize for Fiction 2016 and was long-listed for the Man Booker Prize 2015. She lives in Ranikhet, India.
or
Not Currently Available for Direct Purchase