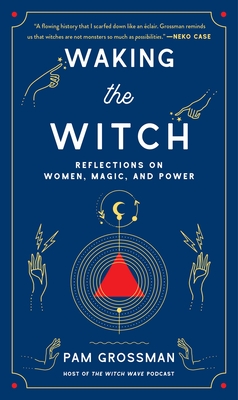 Waking the Witch
Reflections on Women, Magic, and Power
Hardcover

* Individual store prices may vary.
Other Editions of This Title:
Digital Audiobook (6/3/2019)
Paperback (10/6/2020)
Compact Disc (6/4/2019)
Description
A whip-smart and illuminating exploration of the world's fascination with witches from podcast host and practicing witch Pam Grossman (The Witch Wave), who delves deeply into why witches have intrigued us for centuries and why they're more relevant now than ever.

When you think of a witch, what do you picture? Pointy black hat, maybe a broomstick. But witches in various guises have been with us for millennia. In Waking the Witch, Pam Grossman explores the cultural and historical impact of the world's most magical icon. From the idea of the femme fatale in league with the devil in early modern Europe and Salem, to the bewitching pop culture archetypes in Buffy the Vampire Slayer, Sabrina the Teenage Witch, and Harry Potter; from the spooky ladies in fairy tales and horror films to the rise of feminist covens and contemporary witchcraft, witches reflect the power and potential of women.

In this fascinating read that is part cultural analysis, part memoir, Pam opens up about her own journey on the path to witchcraft, and how her personal embrace of the witch helped her find strength, self-empowerment, and a deeper purpose.

A comprehensive meditation on one of the most mysterious and captivating figures of all time, Waking the Witch celebrates witches past, present, and future, and reveals the critical role they have played—and will continue to play—in shaping the world as we know it.
Praise For Waking the Witch: Reflections on Women, Magic, and Power…
"A celebration of witches and everyday individuals whose independence and self-possession fuel their resistance and rebellion against the long-standing social contract of female disempowerment…A rich and unique mix of historical events, literary references, and contemporary popular media inform keen observations on how we have arrived at a place in which feminism and witchcraft find a cultural convergence. Reminiscent of Sarah Vowell's work and equally affecting, this intellectually satisfying, personally liberating, and remarkably humorous classic is recommended for readers of women's history, paganism, witchcraft, and feminism."
— Library Journal (starred review)

"[A] beguiling exploration of witches across history, myth, art and pop culture. Part history, part memoir, part effervescent feminist manifesto, the book takes readers on an exhilarating ride through witchy archetypes...The book fizzes with an infectious energy and paints a compelling picture of witches in all their shape-shifting complexity."
— Times Literary Supplement

"Pam Grossman has written a flowing history that I scarfed down like an eclair. She reminds us that witches are not monsters so much as possibilities. The archetypal, swirling symbol of 'Witch' is a guide to remind us that we are allowed to act on our desires AND congratulate ourselves for choosing to. I hope this book makes everyone who reads it ask themselves 'What do I deny myself and why?' I started this book all in, but when I read the sentence 'Show me your witches, and I'll show you your feelings about women,' I knew I was done for."
— Singer-songwriter Neko Case

"A fun, informative glimpse of witchcraft... Waking the Witch reflects Grossman's ability to cast her spell with memoir, storytelling, journalism, and history. Feminists will appreciate Grossman's in-depth, woman-focused history and analysis. A must-add for public and academic collections."
— Booklist

"A fun study… Feminist readers will be pleased by Grossman's deconstruction of witch clichés."
— Publishers Weekly

"Pam Grossman already hosts the inspiring podcast 'The Witch Wave,' and has translated her knowledge of witchhood into relatable, inspiring memoir pages. From personal experience to intriguing knowledge, Grossman breaks the stigmas of what the entertainment industry has made witches out to be, and speaks of the spiritual journey she's discovered within the title."
— Newsweek

"Deftly illuminating the past while beckoning us towards the future, Waking the Witch has all the makings of a feminist classic. Wise, relatable and real, Pam Grossman is the witch we need for our times."
— Ami McKay, author of The Witches of New York

"A masterful and moving meditation on female power and persecution, Waking the Witch deftly lifts the veil between fact and fiction, indulging joyfully and critically in the distortions and delectations that have surrounded magical women for millennia. Pam Grossman is a beacon in the world of contemporary witchcraft and neo-paganism, and this comprehensive work grounded in scholarship and cultural criticism is brought to life through intimate stories from her own life and spiritual practice. Waking the Witch is an artful gateway into a history that is both profoundly and painfully relevant today. Whether you're intrigued by or deeply committed to the who, what, when, where, and why of the witch, this book is for you."
— Kristen J. Sollée, author of Witches, Sluts, Feminists: Conjuring the Sex Positive

"Conjuring a contemporary perspective on the witch in both fact and fiction, Pam Grossman lays the breadcrumbs, connecting the corners from devilish cohort to bubblegum hero and all the identities between. Sublime, witty and often deeply personal, she draws you into her circle, that of the Divine Feminine and her Earthly practitioners."




— Nicola Scott, Wonder Woman comics artist and co-creator of Black Magick

"My heart thrills in gratitude for this book and for everything Pam Grossman contributes to the study, practice, and pleasure of witchcraft. With rare insight and flair for nuance, Waking the Witch explores ambiguous territories few writers dare to tread. As only a practicing witch could do, Grossman engages the witch archetype even in the liminal spaces where she becomes most difficult. Witches are myths, are monsters, are sisters and sirens, and witches are REAL. Fearless and brilliant, this book is a must-read for anyone interested in spirituality with intelligence."




— Amanda Yates Garcia, Author of Initiated and Co-Host of the Strange Magic podcast

"Elegant, grounded, and warm, Pam Grossman is the perfect guide for initiation into the mysteries of the witch. Pam conjures witches from their many dwellings in history, feminism, and pop culture with care and play. Swaying among this coven is Pam herself, embodying the witch in a tender spiritual memoir woven through the cultural sense-making. Waking the Witch goes beyond edifying and enjoyable, casting a spell that might wake your own connection to magic, beauty, and meaning."


— Taisia Kitaiskaia, author of Literary Witches: A Celebration of Magical Women Writers and Ask Baba Yaga: Otherworldly Advice for Everyday Troubles

"Students and scholars will savor Waking the Witch's historicism—which is brilliant—and practitioners will thrill to its understanding and inspiration. In a world of boundless choices, this is one of the singularly finest works for understanding modern witchcraft. It will never leave my bookshelf."
— Mitch Horowitz, PEN Award-winning author of Occult America and The Miracle Club

"Pam Grossman's brilliant examination of the witch in history, literature, politics, and contemporary culture provides much-needed insight into our convoluted and deeply held beliefs about feminine power. With wit and wisdom, scholarship and sass, Grossman reveals why witches both frighten and fascinate us, and why witchcraft's popularity is growing today as women reclaim their birthright after centuries of infamy. Waking the Witch is a must-read if you want to understand gender politics today or seek to enjoy a more fulfilling relationship with the women in your life. Prepare to be pleasantly awakened as you meet your own inner witch, reconnect with her origins, and see how honoring her can transform your world."
— Skye Alexander, author of The Modern Guide to Witchcraft and The Modern Witchcraft Spell Book

"The wonderful Pam Grossman takes us on a whirlwind tour of witches in history, literature, and the cinematic and visual arts, serving up much food for thought along the way. Her exploration of alchemical artists Leonora Carrington and Remedios Varo is no less than brilliant. But my own favorite parts of Waking the Witch are Pam's generously-shared descriptions of her own personal journey to magic and power. Recommended!"
— Judika Illes, author of Encyclopedia of Witchcraft, Encyclopedia of 5000 Spells, and other books of magic

"With this brilliant offering, Pam untangles the web of the witch and invites us to explore all the aspects of ourselves that linger in the shadows. Waking the Witch weaves us into the mystery of the witch, reminding us of her familiarity through stories, symbols and the subconscious, inviting us into her world with a wink and the promise of apple. Pam reminds us of the resilience of the witch, of all we have to learn from her, and of what she has to offer us. Through both her words and practice, Pam exemplifies that now more than ever, we need to wake the witch in her magick. This book is an indispensable addition to anyone's altar or bookshelf, witch or not."
— Gabriela Herstik, Author of Inner Witch: A Modern Guide to the Ancient Craft

"A must-read for anyone interested in feminism or witchcraft… Part memoir and part historical survey, this book is jam-packed full of information, yet a surprisingly quick read. Get ready to be inspired; this witchy offering might make you want to start casting spells yourself!"


— Ariel K., Powell's Books Blog

"Powerful… No one–no one!– has the ability to grab my attention and my imagination quite that way that Pam does… A beautiful, brilliant, biblio-treat, I found this is not so much a casual book for the nightstand so much as a magical grimoire/memoir for my altar. But whether your interest lies in witches and witchcraft or feminism, culture, and gender, I believe you'll find yourself too ensnared in its spell to leave it lay long in either place."
— Haute Macabre

"In Pam Grossman's latest book, Waking the Witch, she reflects on her journey to becoming a witch, creating an alchemical blend of honesty, sincerity, wisdom, strength, and humor… Waking the Witch is an inspirational celebration of strength… Even if you are not a witch, you will take note of Grossman's brilliant underlying message that magic lies within us all."
— Bust.com
Gallery Books, 9781982100704, 304pp.
Publication Date: June 4, 2019
About the Author
Pam Grossman is the creator and host of The Witch Wave podcast and the author of What is a Witch. Her writing has appeared in such outlets as The New York Times, The Atlantic, Time, Ms., and her occulture blog, Phantasmaphile. She is cofounder of the Occult Humanities Conference at NYU, and her art exhibitions and magical projects have been featured in such publications as Artforum, Art in America, and The New Yorker. She lives in Brooklyn with her husband and their feline familiar. You can find her at PamGrossman.com and @Phantasmaphile.
or
Not Currently Available for Direct Purchase