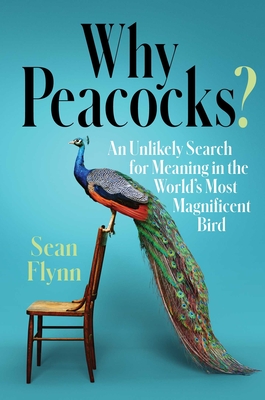 Why Peacocks?
An Unlikely Search for Meaning in the World's Most Magnificent Bird
Hardcover

* Individual store prices may vary.
Other Editions of This Title:
Digital Audiobook (5/10/2021)
Compact Disc (5/11/2021)
Description
An acclaimed journalist seeks to understand the mysterious allure of peacocks—and in the process discovers unexpected and valuable life lessons.

When Sean Flynn's neighbor in North Carolina texted "Any chance you guys want a peacock? No kidding!" he stared bewilderedly at his phone. He had never considered whether he wanted a peacock. But as an award-winning magazine writer, this kind of mystery intrigued him. So he, his wife, and their two young sons became the owners of not one but three charming yet fickle birds: Carl, Ethel, and Mr. Pickle.

In Why Peacocks?, Flynn chronicles his hilarious and heartwarming first year as a peacock owner, from struggling to build a pen to assisting the local bird doctor in surgery to triumphantly watching a peahen lay her first egg. He also examines the history of peacocks, from their appearance in the Garden of Eden to their befuddling Charles Darwin to their bewitching the likes of Flannery O'Connor and Martha Stewart. And fueled by a reporter's curiosity, he travels across the globe to learn more about the birds firsthand, with stops including a Scottish castle where peacocks have resided for centuries, a southern California community tormented by a serial killer of peacocks, and a Kansas City airport hotel hosting an annual gathering of true peafowl aficionados.

At turns comically absurd and deeply poignant, Why Peacocks? blends lively, insightful memoir and illuminating science journalism to answer the title's question. More than that, it offers surprising lessons about love, grief, fatherhood, and family.
Praise For Why Peacocks?: An Unlikely Search for Meaning in the World's Most Magnificent Bird…
"[Flynn's] writing is often witty, sometimes glorious, and his tales wry and charming…Something magical happens to this hard-bitten reporter as he gets to know his peacocks...a fine starting point to finding meaning in a world both cruel and beautiful." —Sy Montgomery, New York Times Book Review

"An entertaining, playful ode to our flashiest fowl." —Julie Dunlap, Washington Independent Review of Books

"Flynn's family romp is full of colorful and quirky details, beautiful writing, and unexpected twists that will have you viewing these magical birds in a new light." —The Daily Beast (The Best Summer Reads of 2021)

"Wry and moving."—Publishers Weekly (starred review)

"As readers follow Flynn's journey, his clever insights and pleasing prose style will leave them alternating between moments of shock and bursts of laughter." —Kirkus Reviews

"Sweet and often funny, Why Peacocks? is an engaging mix of memoir, history and journalism."—Sarah McCraw Crow, BookPage

"Sean Flynn's writing has an easy, genuine flow, like a friend telling a story over dinner, and in this charming book his story is about peacocks. He is entirely successful in answering the question in the title, but saying this is a book about peacocks seems inadequate. It ends up being about so much more."—David Sibley, author of the New York Times bestsellers What It's Like to Be a Bird and The Sibley Guide to Birds

"Why Peacocks? is a wonderful book. At times moving and at times hilarious, always well written, it's a story about family life and love, pets and peacocks, that evolves into an investigation of one of evolution's biggest mysteries: Why does beauty exist?"—Patrik Svensson, author of the international bestseller The Book of Eels: Our Enduring Fascination with the Most Mysterious Creature in the Natural World

"A truly wise and tender sparkler of a book. Weaving memoir, history, reportage, and mythology, Sean Flynn tells not just a quirky story about iridescent birds but a more profound one about family and parenthood, the innocence of childhood and our own mortality. I read it in one gulp, moved and humored and carried away by Flynn's heart and artistry as a master storyteller." —Michael Paterniti, author of the New York Times bestseller The Telling Room: A Tale of Love, Betrayal, Revenge and the World's Greatest Piece of Cheese

"Ostensibly about peacocks, Flynn's book is much more than that: it is a story woven with beauty and obsession and loss. Funny, poignant, very well written and a pleasure to read."—Jonathan C. Slaght, author of Owls of the Eastern Ice: A Quest to Find and Save the World's Largest Owl

"When I started this book, I hoped Sean Flynn would take me on an amusing romp through the strange world of peacocks and their people. He certainly did that—but Why Peacocks? is so much more. It is both a warm, generous memoir about family and a master-class in science writing that shifts seamlessly between wit and wonder. It is tender. It is stylish. But, in the tradition of E.B. White and Helen Macdonald, this is not a book about the pretty surfaces of things, as pretty as those surfaces are; it is a life-affirming meditation on the nature of beauty and mortality. I can't think of any book the world needs more right now." —Bronwen Dickey, author of Pit Bull: The Battle Over an American Icon
Simon & Schuster, 9781982101077, 272pp.
Publication Date: May 11, 2021
About the Author
Sean Flynn is a National Magazine Award–winning journalist and author who's reported from six continents during the past thirty years. A long-time correspondent for GQ, his work has been widely anthologized and translated into nearly a dozen languages. He lives in North Carolina with his wife and two boys.