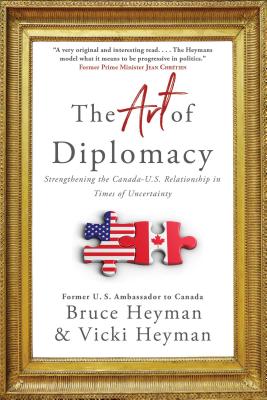 The Art of Diplomacy
Strengthening the Canada-U.S. Relationship in Times of Uncertainty
Hardcover

* Individual store prices may vary.
Other Editions of This Title:
Digital Audiobook (4/29/2019)
Description
A personal and insightful call to action and a much-needed book about one of the most important bilateral relationships in the world—the relationship between Canada and the US—and why diplomacy matters now more than ever before.

All over the world, diplomacy is under threat. Diplomats used to handle sensitive international negotiations, but increasingly, incendiary Tweets and bombastic public statements are posing a threat to foreign relations.

In The Art of Diplomacy, the former US ambassador to Canada, Bruce Heyman, and his partner, Vicki Heyman, spell out why diplomacy and diplomats matter, especially in today's turbulent times. This dynamic power couple arrived in Canada intent on representing American interests, but they quickly learned that to do so meant representing the shared interests of all citizens—no matter what side of the 49th parallel they happened to live on.

Bruce and Vicki narrate their three years in Canada spent journeying across the country and meeting Canadians from all walks of life—including Supreme Court justices, prime ministers, fishermen, farmers, artists, and entrepreneurs. They tell the behind-the-scenes stories of how their team helped bring Obama to Canada and Trudeau to the US. They also reveal the importance of creating cultural and artistic exchange between Canada and the US, of promoting economic and trade interests, and overall, of making a lasting positive impact on one of the most important relationships in the free world today.

This politically poignant and heartfelt memoir is a call to action, a reminder that only by working together to protect our shared values—the environment, social justice and human rights—can nations build a better world for all. As their long-time friend and colleague President Obama once said, "The world needs more Canada." At this key moment in history, when opposing nationalist and populist agendas threaten to divide us, The Art of Diplomacy reminds us to keep calm, to work together and to carry on.
Praise For The Art of Diplomacy: Strengthening the Canada-U.S. Relationship in Times of Uncertainty…
"A very original and interesting read about partnership and the important relationship between Canada and the U.S. The Heymans model what it means to be progressive in politics."
— Former Prime Minister Jean Chrétien, bestselling author of My Stories, My Times

"In this insightful and heartfelt recollection of their years in Canada, Bruce and Vicki Heyman give us a behind-the-scenes look at what diplomacy is really about: relationships. In these tumultuous times, The Art of Diplomacy is testament to the importance of listening to and learning from our allies."
— David Axelrod, former Senior Advisor to President Barack Obama and CNN Senior Political Commentator

"The Heymans blew into Ottawa in 2014 in a gust of spring Obama wind and left in the winter of 2017, as the chills of a new era were settling in. Their takes on diplomacy and the ties and tensions between Canada and the U.S. are as entertaining as they are informative."
— Former Chief Justice of Canada, Beverley McLachlin

"With their warmth and openness, Bruce and Vicki Heyman laid their path for diplomacy. As you read this book, you will also get to know Bruce and Vicki, and realize that their true belief in tact and diplomacy deserves emulation."
— National Chief Perry Bellegarde and Valerie Bellegarde

"Bruce and Vicki Heyman were highly regarded envoys from the United States to Canada. As Ambassador, Bruce Heyman made a powerful contribution in the improvement of the Canada-U.S. relationship. The work he and Vicki undertook in communities across Canada will be favorably remembered by Canadians for years to come. This excellent book recounts significant moments in their Canadian odyssey."
— Former Prime Minister Brian Mulroney

"An engaging account of the Heymans' sojourn in and beyond the Canadian capital, and a reminder that both politics and the personal touch matter in diplomacy. Their love of Canada, arts and the job (which they viewed as a joint assignment) shines through."
— Charlotte Gray, bestselling author of The Promise of Canada

"Not only is this book a primer on best practices in international diplomacy, it's equally a lesson on how to keep relationships rich, shared and alive, whether the relationship is between countries or a husband and a wife."
— Edward Burtynsky, artist and photographer

"Bruce and Vicki Heyman are consummate diplomats. This book is an excellent read and a testament to the people in both countries who work to build the most successful bilateral relationship in the world."
— Gerald Butts, Principal Secretary to Prime Minister Trudeau

"Bruce and Vicki Heyman write beautifully of their time serving our nation as a true ambassadorial team to Canada--which they were in every sense of the word. With deeply personal anecdotes, they vividly demonstrate the fundamental importance of the special relationship between our two great countries. Combining Bruce's background as an accomplished entrepreneur and Vicki's as a skilled philanthropist and community builder, they share wonderful stories of their hands-on and tireless efforts to build bonds of friendship and partnership with our neighbors to the north. It's well worth a read."
— Former U.S. Secretary of Commerce and Chairman of PSP Partners Penny Pritzker

"A great read. Diplomacy between our two countries is needed now more than ever. The Heymans are an important reminder of how the art of diplomacy and friendship are practiced. A blueprint on protecting shared values and the most important relationship we have."
— Rick Mercer, bestselling author of Final Report

"In addition to giving us an inside look into a world most of would never see, this remarkable book lets us look at ourselves in a new way. To paraphrase Robbie Burns, it's a great blessing to see ourselves as others see us, and the Heymans show us just how extraordinary this nation is. In difficult times, this is a refreshing reminder of the great promise of Canada."
— Naheed Nenshi, Mayor of Calgary

"A timely account of the importance of day-in/day-out foreign relations and the vital significance of America's relationship with Canada--our Northern friend, ally and partner."
— U.S. Senator Amy Klobuchar

"A fascinating glimpse into how personal relations in diplomacy can leverage national and common interests. . . . The Heymans arrived in Canada as unknown guests but left as great friends of our city, country and most importantly, our citizens."
— Jim Watson, Mayor of Ottawa

"Bruce and Vicki Heyman have given us more than a vivid memoir—they've also reminded us what good diplomacy and politics can be all about."
— Bob Rae, former Premier of Ontario and bestselling author of What's Happened to Politics?

"There are no greater defenders of the Canada-United States relationship than Vicki and Bruce Heyman. Their stories remind us how we truly are each other's best friends. The Art of Diplomacy comes at a critical moment in the relationship, and exposes the connective tissue between our two countries in clear and at times surprising ways."


— Peter Mansbridge

"This book is like a warm living room in a political world where winter seems to be coming. It reminds us that the fireplace keeps us warm and safe, not fences, walls or fists."
— Rufus Wainwright, singer and songwriter, and Jörn Weisbrodt, arts administrator

"Vicki and Bruce remind us how to be good neighbors and great friends. They are more than just ambassadors for America, they are an example for the entire world."
— Séan McCann, singer and songwriter

"This book is a gift…. It comes from the Heymans' hearts and reflects their core belief that the work of an individual is the work of a couple, is the work of a family, is the work of a community, a country and beyond."
— Eric Fischl, artist

"The Heymans' testimony is eloquent. Close ties between the United States and Canada are forged from a shared willingness to exchange, to co-exist for a purpose, based on mutual respect, honesty, and reciprocity. The Heymans made major contributions to a strengthened friendship. To this day, they remain great advocates for the relationship between our two countries."
— Michaëlle Jean, former Governor General of Canada
Simon & Schuster, 9781982102678, 288pp.
Publication Date: April 30, 2019
About the Author
Ambassador Bruce Heyman served as the United States Ambassador to Canada under President Barack Obama from 2014 until 2017. He appears regularly on CBC, Fox Business, Bloomberg, CTV, CNBC, and other media outlets as an expert on trade and bilateral issues. He lives in Chicago with his wife and co-author, Vicki Heyman. Connect on Twitter @BruceAHeyman.


Vicki Heyman was an American cultural envoy in Canada, leading cross-border conversations and programs related to the arts, social innovation, and youth engagement. She is on the board of the Council for Canadian American Relations, the international advisory board of C2 Montreal, and Chicago Media Project. Vicki lives in Chicago where she and Bruce are co-founders of Uncharted,llc. Connect on Twitter @vshey.
or
Not Currently Available for Direct Purchase