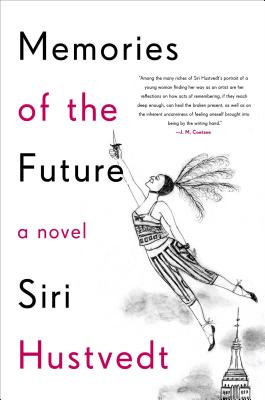 Memories of the Future
Hardcover

* Individual store prices may vary.
Other Editions of This Title:
Digital Audiobook (3/18/2019)
Compact Disc (3/19/2019)
Paperback (3/31/2020)
Description
Longlisted for the 2020 Andrew Carnegie Medals for Excellence

A provocative, exuberant novel about time, memory, desire, and the imagination from the internationally bestselling and prizewinning author of The Blazing World, Memories of the Future tells the story of a young Midwestern woman's first year in New York City in the late 1970s and her obsession with her mysterious neighbor, Lucy Brite.

As she listens to Lucy through the thin walls of her dilapidated building, S.H., aka "Minnesota," transcribes her neighbor's bizarre and increasingly ominous monologues in a notebook, along with sundry other adventures, until one frightening night when Lucy bursts into her apartment on a rescue mission.

Forty years later, S.H., now a veteran author, discovers her old notebook, as well as early drafts of a never-completed novel while moving her aging mother from one facility to another. Ingeniously juxtaposing the various texts, S.H. measures what she remembers against what she wrote that year and has since forgotten to create a dialogue between selves across decades. The encounter both collapses time and reframes its meanings in the present.

Elaborately structured, intellectually rigorous, urgently paced, poignant, and often wildly funny, Memories of the Future brings together themes that have made Hustvedt among the most celebrated novelists working today: the fallibility of memory; gender mutability; the violence of patriarchy; the vagaries of perception; the ambiguous borders between sensation and thought, sanity and madness; and our dependence on primal drives such as sex, love, hunger, and rage.
Praise For Memories of the Future…
Praise for Memories of the Future by Siri Hustvedt

"Few contemporary writers are as satisfying and stimulating to read as Siri Hustvedt. Her sentences dance with the elation of a brilliant intellect romping through a playground of ideas, and her prose is just as lively when engaged in the development of characters and story. Her wonderful new novel, Memories of the Future, is, among other things, a meditation on memory, selfhood and aging, but the plot is driven by the encounters of a present-day narrator with the young woman she was when she moved to New York City in August 1978. The drama that arises from these encounters is a reckoning between male privilege and female rage as timeless as Medea and as contemporary as #MeToo...Any material drawn from the writer's life has been triumphantly transmuted into fiction that skillfully weaves disparate narrative strands into a vast tapestry encompassing personal, political and cultural struggle."—WASHINGTON POST

"This provocative, experimental novel from Hustvedt (The Blazing World) joins several narratives to illustrate the roles of memory and perspective in making sense of a life...The many moods and flavors of this brash 'portrait of the artist as a young woman' constantly reframe and complicate the story, making for a fascinating shape-shifter of a novel."—PUBLISHERS WEEKLY (STARRED REVIEW)

"Various forms of detection, anchored to Hustvedt's deep knowledge of neuroscience and art, propel this rapier attack on sexism; this is a lusciously layered and suspenseful 'portrait of the artist as a young woman,' electric with wit, curiosity, and storytelling magic."—BOOKLIST (STARRED REVIEW)

"Like all the best postmodern novels, this metafictional investigation of time, memory, and the mutating self is as playful as it is serious."—KIRKUS REVIEWS

"A playful, thoughtful book about the workings of memory and the relationship between our older and younger selves. It's a paean to the pleasures of reading, celebrating the ways that a lifetime with books enhances a complicates selfhood. It's a work of autofiction that offers truthful fiction to counter an era of fake news. But it is most formidable as a novelistic take on the past fifty years of feminism, told through its parallel snapshots of 1978 and 2016....The older S.H. has held fast. She knows, as she informs her male interlocutor, that the stories told here aren't over. They may never be over, and we are lucky to have novelists like Siri Hustvedt to help us to complicate and understand them."—TIMES LITERARY SUPPLEMENT (UK)

"Hustvedt knows a good mystery when she sees one, and what's a more compelling mystery, at least to an artist, than the way time Mobius-strips one's existence into a smooth, if mystifying, continuum?...Memories of the Future shines in its observations on the fluidity of time and the ways in which one's older and younger selves can coexist."—MINNEAPOLIS STAR TRIBUNE

"Ms. Hustvedt's novel is both a tender elegy and an extended boast about all the cool places she used to frequent before the city became rich and boring...[it gets] the narrator's strange relationship with [her neighbor] just right: In a city so crowded, a person can change your life before you've even met her."—WALL STREET JOURNAL

"[An] exhilaratingly over-the-top, self-proclaimed "portrait of the artist as a young woman"…Reading a Hustvedt novel is like consuming the best of David Lynch on repeat: the rotting ear nestling in the immaculate flowerbed in Blue Velvet; the twisted secrets witnessed from the hiding place of a closet. Spying and being spied on are intrinsic to Hustvedt's work: it is part of the flourish and the theatrics…Her gauche girl detective persona conceals (of course) a formidable intellect roving among Hustvedt's favoured subjects of neuroscience, philosophy, literature and gender, and what is most interesting in the book is to see how that gradually assimilates with events around her…Ideas somersault nimbly in the novel as memoir jostles with memories. Primarily, SH writes of a past of navigated possibility from a future of unforeseen jeopardy: in 2017, the established novelist laments the current political scene of progression lurching backwards. It is a point at which both SH and her creator appear, in this intense, high-spirited Bildungsroman, to have come full circle."—Financial Times (UK)

"Among the many riches of Siri Hustvedt's portrait of a young woman finding her way as an artist are her reflections on how acts of remembering, if they reach deep enough, can heal the broken present, as well as on the inherent uncanniness of feeling oneself brought into being by the writing hand. Her reflections are no less profound for being couched as philosophical comedy of a Shandean variety."—JM Coetzee
Simon & Schuster, 9781982102838, 336pp.
Publication Date: March 19, 2019
About the Author
Siri Hustvedt, a novelist and scholar, has a PhD in English literature and is a lecturer in psychiatry at Weill Cornell Medical College. She is the author of a book of poems, seven novels, four collections of essays, and two works of nonfiction. She has published papers in various academic and scientific journals and is the recipient of numerous awards, including the prestigious Princess of Asturias Award for Literature, the European Charles Veillon Essay Prize, an American Academy of the Arts and Letters Award in Literature, and the Los Angeles Times Book Prize for Fiction for The Blazing World, which was also longlisted for the Man Booker Prize. She lives in Brooklyn, New York.
or
Not Currently Available for Direct Purchase