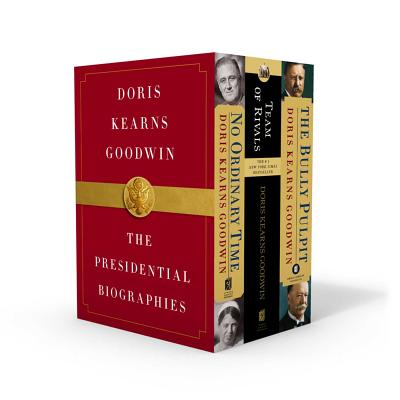 Doris Kearns Goodwin
The Presidential Biographies: No Ordinary Time, Team of Rivals, The Bully Pulpit
Paperback

* Individual store prices may vary.
Description
From America's "Historian-in-Chief" (New York magazine), The Presidential Biographies boxed set—featuring the Pulitzer Prize-winning author's beloved and bestselling biographies No Ordinary Time, Team of Rivals, and The Bully Pulpit.

After five decades of acclaimed studies of the presidency, Doris Kearns Goodwin stands as America's premier presidential historian. Now, for the first time, her three most esteemed books are collected in one beautiful box set.

No Ordinary Time:

Winner of the Pulitzer Prize for History, No Ordinary Time relates the story of how Franklin D. Roosevelt, surrounded by a small circle of intimates, led the nation to victory in World War II and with Eleanor's essential help, changed the fabric of American society.

Team of Rivals:

The landmark biography of Abraham Lincoln, adapted by Steven Spielberg into the Academy Award-winning film Lincoln, and winner of the prestigious Lincoln Prize, illuminates Lincoln's political genius as he brought disgruntled opponents together and marshaled their talents to the task of preserving the Union.

The Bully Pulpit:

The prize-winning biography of Theodore Roosevelt—a dynamic history of the first decade of the Progressive era when the nation was coming unseamed and reform was in the air. Told through the friendship of Roosevelt and William Howard Taft, Goodwin captures an epic moment in history.
Simon & Schuster, 9781982103224, 2624pp.
Publication Date: September 18, 2018
About the Author
Doris Kearns Goodwin's interest in leadership began more than half a century ago as a professor at Harvard. Her experiences working for Lyndon B. Johnson in the White House and later assisting him on his memoirs led to her bestselling Lyndon Johnson and the American Dream. She followed up with the Pulitzer Prize–winning No Ordinary Time: Franklin & Eleanor Roosevelt: The Home Front in World War II. She earned the Lincoln Prize for the runaway bestseller Team of Rivals, the basis for Steven Spielberg's Academy Award–winning film Lincoln, and the Carnegie Medal for The Bully Pulpit, the New York Times bestselling chronicle of the friendship between Theodore Roosevelt and William Howard Taft. She lives in Concord, Massachusetts. Visit her at DorisKearnsGoodwin.com or @DorisKGoodwin.
or
Not Currently Available for Direct Purchase