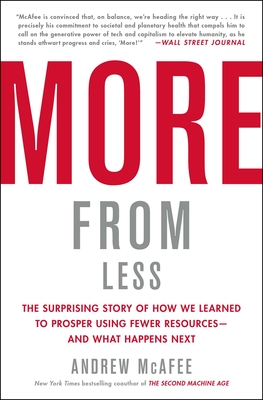 More from Less
The Surprising Story of How We Learned to Prosper Using Fewer Resources—and What Happens Next
Paperback

* Individual store prices may vary.
Other Editions of This Title:
Digital Audiobook (11/13/2019)
Digital Audiobook (10/7/2019)
Hardcover (10/8/2019)
Compact Disc (10/8/2019)
Description
From the coauthor of the New York Times bestseller The Second Machine Age, a paradigm-shifting argument "full of fascinating information and provocative insights" (Publishers Weekly, starred review)—demonstrating that we are increasing prosperity while using fewer natural resources.

Throughout history, the only way for humanity to grow was by degrading the Earth: chopping down forests, polluting the air and water, and endlessly using up resources. Since the first Earth Day in 1970, the focus has been on radically changing course: reducing our consumption, tightening our belts, and learning to share and reuse. Is that argument correct?

Absolutely not. In More from Less, McAfee argues that to solve our ecological problems we should do the opposite of what a decade of conventional wisdom suggests. Rather than reduce and conserve, we should rely on the cost-consciousness built into capitalism and the streamlining miracles of technology to create a more efficient world.

America—a large, high-tech country that accounts for about 25% of the global economy—is now generally using less of most resources year after year, even as its economy and population continue to grow. What's more, the US is polluting the air and water less, emitting fewer greenhouse gases, and replenishing endangered animal populations. And, as McAfee shows, America is not alone. Other countries are also transforming themselves in fundamental ways.

What has made this turnabout possible? One thing, primarily: the collaboration between technology and capitalism, although good governance and public awareness have also been critical. McAfee does warn of issues that haven't been solved, like global warming, overfishing, and communities left behind as capitalism and tech progress race forward. But overall, More from Less is a revelatory and "deeply engaging" (Booklist) account of how we've stumbled into an unexpectedly better balance with nature—one that holds out the promise of more abundant and greener centuries ahead.
Praise For More from Less: The Surprising Story of How We Learned to Prosper Using Fewer Resources—and What Happens Next…
"Contrary to the doomsayers, humanity can grow the economy while healing the environment, according to this hopeful exploration of sustainable development…McAfee synthesizes a vast literature on economics and the environment into a lucid, robust defense of technological progress, including nuclear power and GMOs. This stimulating challenge to anti-capitalist alarmists is full of fascinating information and provocative insights."
—Publishers Weekly (starred review)

"[McAfee] is convinced that, on balance, we're heading the right way: 'We need to step on the accelerator, not yank the steering wheel in a different direction.' It is precisely his commitment to societal and planetary health that compels him to call on the generative power of tech and capitalism to elevate humanity, as he stands athwart progress and cries, 'More!'"
—Wall Street Journal

"McAfee's focus on corporate use of resources is refreshing. Too often, businesses are caricatured as rapacious predators of Earth's bounty. In fact, since the dawn of capitalism, they have produced products that become lighter on the ground and on the wallet because profit-hungry bosses see advantage in thrift."
—The Economist

"Deeply engaging and useful in understanding the roles of capitalism and technology in shaping humanity's future."
—Booklist

"The future may not be so bleak after all….A cogent argument."
—Kirkus Reviews

"Everyone knows we're doomed by runaway overpopulation, pollution, or resource depletion, whichever comes first. Not only is this view paralyzing and fatalistic, but, as Andrew McAfee shows in this exhilarating book, it's wrong…More from Less is fascinating, enjoyable to read, and tremendously empowering."
—Steven Pinker, Johnstone Professor of Psychology, Harvard University, and author of Enlightenment Now: The Case for Reason, Science, Humanism, and Progress

"The shortest path to improving the world is to notice objectively what is already working, and do more of it. As for the things that are still going wrong, figure out the minimalist way to turn them around, and do that. McAfee's More from Less is packed with practical news and advice that will disconcert ideologues of every stripe."
—Stewart Brand, editor of the The Whole Earth Catalog

"In his new book More from Less McAfee applies his positive approach to the case of our planet, arguing that we have reached a critical tipping point where technology is allowing us to actually reduce our ecological footprint—a truly counterintuitive finding....[This book is] well worth reading even if your first impression, like mine, is: it can't be true!"
—Christine Lagarde, Managing Director of the International Monetary Fund

"In More from Less Andrew McAfee conclusively demonstrates how environmentalism requires more technology and capitalism, not less. Our modern technologies actually dematerialize our consumption, giving us higher human welfare with lower material inputs. This is an urgently needed and clear-eyed view of how to have our technological cake and eat it too."
—Marc Andreessen, cofounder and general partner of Andreessen Horowitz

"I've always believed that technological progress and entrepreneurship make our lives better. Here, Andrew McAfee shows how these powerful forces are helping us make our planet better too, instead of degrading it. For anyone who wants to help create a future that is both sustainable and abundant, this book is essential reading."
—Reid Hoffman, cofounder of Linkedin and coauthor of Blitzscaling

"This book is the best kind of surprise. It tells us something about our relationship with our planet that is both unexpected and hopeful. The evidence McAfee presents is convincing: we have at last learned how to tread more lightly on the Earth. More from Less shows how we accomplished this, and tells us how to keep it going."
—Eric Schmidt, former CEO of Google

"In More from Less Andrew McAfee lays out a compelling blueprint showing how we can support human life using fewer natural resources, improve the state of the world, and replenish the planet for centuries to come."
—Marc Benioff, Chairman and co-CEO of Salesforce

"More from Less is a must-read—timely and refreshing! Amid the din of voices insisting that the ravages of climate change are unstoppable, McAffee offers a desperately needed nuanced perspective on what governments and society have got right, and he compellingly argues that commendable progress has already been made….A gem."
—Dambisa Moyo, New York Times bestselling author of Dead Aid, How the West Was Lost, Winner Take All, and Edge of Chaos

"Riveting…By subverting our common perceptions of capitalism and technology as enemies of progress and environmental preservation, McAfee offers all of us a clear-eyed source of optimism and hope. Critically, he also makes the case for what comes next—offering up vital lessons that have the potential to make the world both more prosperous and more just."
—Darren Walker, President of the Ford Foundation

"Andrew McAfee's new book addresses an urgent need in our world today: defining a framework for addressing big global challenges. His proposals are based on a thorough analysis of the state of the world, combined with a refreshing can-do attitude."
—Klaus Schwab, Founder and Executive Chairman of the World Economic Forum

"Andrew McAfee's optimistic and humane book documents a profoundly important and under-appreciated megatrend—the dematerialization of our economy….Anyone who worries about the future will have their fears allayed and hopes raised by reading this important book."
—Lawrence H. Summers, former Secretary of the U.S. Treasury and Director of the National Economic Council

"Yet another magnificent contribution from Andrew McAfee. Along with his prior works, More from Less will help us navigate society's future in profound ways."
—Clayton M. Christensen, Kim B. Clark Professor of Business Administration at Harvard Business School
Scribner, 9781982103583, 352pp.
Publication Date: October 13, 2020
About the Author
Andrew McAfee is a principal research scientist at MIT Sloan School of Management and the cofounder and codirector of the MIT Initiative on the Digital Economy, where he studies how digital technologies are changing business, the economy, and society. He has discussed his work at such venues as TED, the Aspen Ideas Festival, and the World Economic Forum. His prior books include the New York Times bestseller The Second Machine Age and Machine, Platform, Crowd. He lives in Cambridge, Massachusetts.
or
Not Currently Available for Direct Purchase