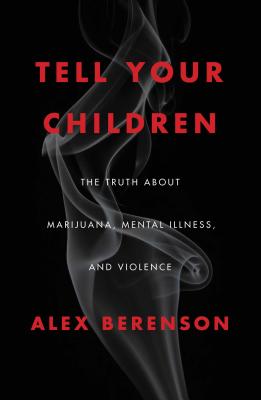 Tell Your Children
The Truth About Marijuana, Mental Illness, and Violence
Hardcover

* Individual store prices may vary.
Other Editions of This Title:
Digital Audiobook (1/7/2019)
Paperback (2/18/2020)
Library Binding, Large Print (1/16/2019)
Compact Disc (1/8/2019)
Description
An eye-opening report from an award-winning author and former New York Times reporter reveals the link between teenage marijuana use and mental illness, and a hidden epidemic of violence caused by the drug—facts the media have ignored as the United States rushes to legalize cannabis.

Recreational marijuana is now legal in nine states. Almost all Americans believe the drug should be legal for medical use. Advocates argue cannabis can help everyone from veterans to cancer sufferers. But legalization has been built on myths– that marijuana arrests fill prisons; that most doctors want to use cannabis as medicine; that it can somehow stem the opiate epidemic; that it is not just harmless but beneficial for mental health. In this meticulously reported book, Alex Berenson, a former New York Times reporter, explodes those myths:

• Almost no one is in prison for marijuana;
• A tiny fraction of doctors write most authorizations for medical marijuana, mostly for people who have already used;
• Marijuana use is linked to opiate and cocaine use. Since 2008, the US and Canada have seen soaring marijuana use and an opiate epidemic. Britain has falling marijuana use and no epidemic;
• Most of all, THC—the chemical in marijuana responsible for the drug's high—can cause psychotic episodes. After decades of studies, scientists no longer seriously debate if marijuana causes psychosis.

Psychosis brings violence, and cannabis-linked violence is spreading. In the four states that first legalized, murders have risen 25 percent since legalization, even more than the recent national increase. In Uruguay, which allowed retail sales in July 2017, murders have soared this year.

Berenson's reporting ranges from the London institute that is home to the scientists who helped prove the cannabis-psychosis link to the Colorado prison where a man now serves a thirty-year sentence after eating a THC-laced candy bar and killing his wife. He sticks to the facts, and they are devastating.

With the US already gripped by one drug epidemic, this book will make readers reconsider if marijuana use is worth the risk.
Praise For Tell Your Children: The Truth About Marijuana, Mental Illness, and Violence…
"[Alex Berenson] has a reporter's tenacity, a novelist's imagination, and an outsider's knack for asking intemperate questions. The result is disturbing."
— —Malcolm Gladwell

"Takes a sledgehammer to the promised benefits of marijuana legalization, and cannabis enthusiasts are not going to like it one bit."
— —Mother Jones

"A brilliant antidote to all the…false narratives about pot out there."
— —American Thinker

"An intensively researched and passionate dissent from the now prevailing view that marijuana is relatively harmless."
— —The Marshall Project

"Berenson has done an important public service...[Tell Your Children] could save a few lives."
— —The Guardian

"The stakes are high...aren't we better off listening to Berenson than to some marijuana magnate?"
— —The Spectator

"An interesting book that should be read by all concerned."
— —The Washington Times

"Filled with statistics that shock."
— —The Times of London
Free Press, 9781982103668, 272pp.
Publication Date: January 8, 2019
About the Author
Alex Berenson is a former New York Times reporter and award-winning novelist. He attended Yale University and joined the Times in 1999, where he covered everything from the drug industry to Hurricane Katrina and served as a correspondent in Iraq. In 2006, The Faithful Spy, his debut novel, won the Edgar Award from the Mystery Writers of America for Best First Novel. He has since written twelve more novels and a nonfiction book, Tell Your Children. Currently, he lives in the Hudson Valley with his wife and children.
or
Not Currently Available for Direct Purchase