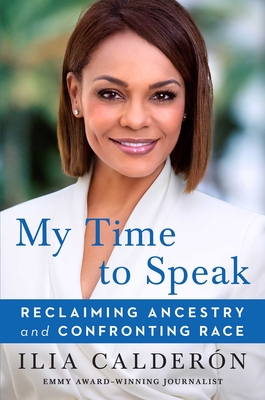 My Time to Speak
Reclaiming Ancestry and Confronting Race
Hardcover

* Individual store prices may vary.
Description
An inspiring, timely, and conversation-starting memoir from the barrier-breaking and Emmy Award–winning journalist Ilia Calderón—the first Afro-Latina to anchor a high-profile newscast for a major Hispanic broadcast network in the United States—about following your dreams, overcoming prejudice, and embracing your identity.

As a child, Ilia Calderón felt like a typical girl from Colombia. In Chocó, the Afro-Latino province where she grew up, your skin could be any shade and you'd still be considered blood. Race was a non-issue, and Ilia didn't think much about it—until she left her community to attend high school and college in Medellín. For the first time, she became familiar with horrifying racial slurs thrown at her both inside and outside of the classroom.

From that point on, she resolved to become "deaf" to racism, determined to overcome it in every way she could, even when she was told time and time again that prominent castings weren't "for people like you." When a twist of fate presented her the opportunity of a lifetime at Telemundo in Miami, she was excited to start a new life, and identity, in the United States, where racial boundaries, she believed, had long since dissolved and equality was the rule.

Instead, in her new life as an American, she faced a new type of racial discrimination, as an immigrant women of color speaking to the increasingly marginalized Latinx community in Spanish.

Now, Ilia draws back the curtain on the ups and downs of her remarkable life and career. From personal inner struggles to professional issues—such as being directly threatened by a Ku Klux Klan member after an interview—she discusses how she built a new identity in the United States in the midst of racially charged violence and political polarization. Along the way, she'll show how she's overcome fear and confronted hate head on, and the inspirational philosophy that has always propelled her forward.
Praise For My Time to Speak: Reclaiming Ancestry and Confronting Race…
"Afro-Latina Univision news anchor Calderón takes on racism in this fascinating memoir . . . Calderón stresses the importance of confronting racism head on, using her platform to report on and expose injustice. [Her] powerful story will resonate with readers."
— Publishers Weekly

"A candid memoir that sends an urgent message."
— Kirkus

"This is a book by an exceptional woman. She does it all. There are very few stories of triumph that even touch what Ilia has achieved as a mother and a journalist. Give her any challenge, and she'll overcome it. And I have no idea how she does it all with a smile on her face, as if it were nothing. I'm so lucky to work with her and be a witness to the way this woman is changing the world."
— Jorge Ramos, lead anchor of Noticiero Univision

"This is the story of a young girl who grew up in abject poverty, in a wooden house that flooded every time the river overflowed, and yet still worked to become the first Afro-Latina on the most prominent, nightly news broadcast on Spanish-language television in the United States. The lesson that Ilia teaches us here is clear: Anything is possible!"
— Maria Antonieta Collins, cohost of Cronicas and lead correspondent of Noticiero Univision

"Ilia Calderón deftly challenges the complexities of complexion as a darker-skinned Latina journalist from Colombia, thriving in contemporary news media at the behemoth that is Univision. Through her storytelling and confrontation with the realities of politics and culture in the United States, Ilia Calderón shows us how to cover these with context. In doing so, she resets a critical conversation on who decides who matters and which stories get told. Calderón's intimate personal stories are window to a world we should all look through, understand, and embrace."
— Deborah Douglas, Studs Terkel Award–winning managing editor of MLK50: Justice Through Journalism

"Ilia Calderón's life story in My Time to Speak is groundbreaking and soul-stirring. This memoir will be inspiring to anyone who has felt like an outsider within their own community or had to fight for acceptance. Calderón broke down glass ceilings in broadcast television, all while shunning victimhood and unapologetically walking in her truth. It's time Afro-Latinas got a book that speaks to the many intersections of their identity, and My Time to Speak does just that. Ilia Calderón's truth is game-changing and many will thank her for speaking it after reading this book."
— Natasha S. Alford, senior vice president of digital content at The Grio
Atria Books, 9781982103859, 272pp.
Publication Date: August 4, 2020
About the Author
Ilia Calderón is an Emmy Award–winning journalist, the coanchor of Univision's flagship evening newscast Noticiero Univision, and cohost of Univision's primetime news magazine Aquí y Ahora. She is the first Afro-Latina to anchor a national weekday evening newscast for a major Hispanic broadcast network in the United States, having previously coanchored three other news desks for Univision and two for Telemundo. She currently resides in Miami, Florida, with her husband and daughter.