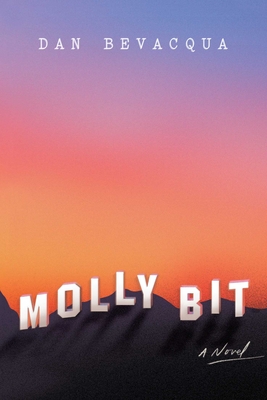 Molly Bit (Hardcover)
A Novel
Simon & Schuster, 9781982104580, 320pp.
Publication Date: February 4, 2020
Other Editions of This Title:
Compact Disc (2/4/2020)
Paperback (3/23/2021)
* Individual store prices may vary.
Description
A haunting and provocative debut novel about the stratospheric rise of an enigmatic Hollywood star and her legacy, from Columbia MFA graduate Dan Bevacqua.

A tragic death was not part of the script.

Molly Bit is a great actress. From her first acting classes to her big break, she is different from the others struggling to make it.

But fame is perilous. She uses—and is used by—the Hollywood system. Her collaborator is an addict. The producer who promises her stardom is ruthless and unhinged by grief. Fans, friends, strangers—they want and want. And one dangerously obsessed fan wants to take away everything.

Funny, touching, and heartrending, Molly Bit explores the high stakes of our culture's complicated fascination with celebrities and our complicity in their rise and fall. Molly Bit is an ode to the strange magic of moviemaking and a haunting reflection on fame, obsession, and art's power to redeem loss. It announces a dazzling new voice in contemporary fiction.
About the Author
Dan Bevacqua was born in New Jersey and grew up in Vermont. He earned his MFA from Columbia University's School of the Arts. His short stories have been published in The Literary Review, Electric Literature, and The Best American Mystery Stories. He lives in Western Massachusetts. Molly Bit is his first novel.
Praise For Molly Bit: A Novel…
PRAISE FOR MOLLY BIT BY DAN BEVACQUA

"A slick page-turner that dives headfirst into the celluloid world of celebrity and obsession through the rags-to-riches story of a star." — VANITY FAIR

"Though it delves into the dark corners of fame—its excesses and attendant dangers—Dan Bevacqua's Molly Bit also manages to be a scathingly funny expose of celebrity life, a warm and insightful character study, a compulsively readable Hollywood success story, and, ultimately, a celebration of the tenacity and grit it takes to be alive and deeply human, making art."—LAURA SIMS, AUTHOR OF LOOKER

"Imagine if together Nathanael West and Andy Warhol had a love child, and there we have Molly Bit. The eponymous and aptly named protagonist of Dan Bevacqua's first-rate, darkly comic debut novel is wickedly funny and just plain wicked. What won't she do for fame? Molly Bit is the perfect anti-heroine for our time."—BINNIE KIRSHENBAUM, AUTHOR OF RABBITS FOR FOOD

"Dan Bevacqua's debut is a bravura performance on the subject of performance, a withering but ultimately humane look at the masks we all wear, and the way those masks become fused to our faces until they're indistinct from the faces themselves. Equal parts Didion and DeLillo, Sunset Boulevard and Cassavetes' Opening Night, Molly Bit is fast, funny, and delightfully fun. But be careful: the novel fans open like a butterfly knife, revealing a hidden and menacing blade. Bevacqua has an impeccable ear for the American vernacular—its pulse and its pauses, its sudden swings—a rare talent we'll be reading for a long time to come."—ADAM WILSON, AUTHOR OF FLATSCREEN

"A captivating, psychological novel, Molly Bit shines a floodlight on the dark side of Hollywood and the fleeting pleasures of fame. In sly, lyrical prose, this book skillfully and unsentimentally digs deep into the minds of its characters. Bevacqua swerves through time and space, through ambition and desperation, finding heart and pain on every page."—RACHEL B. GLASER, AUTHOR OF PAULINA & FRAN

"Dan Bevacqua's strong characterization drives the story line, but it's the detailed insights into the film industry, acting and directing world, and the viewpoints of directors, producers, screenwriters, and others around Molly which bring her story to life... All of these elements lend an authenticity and compelling attraction to the story, which is hard to put down."
— Donovan's Literary Services