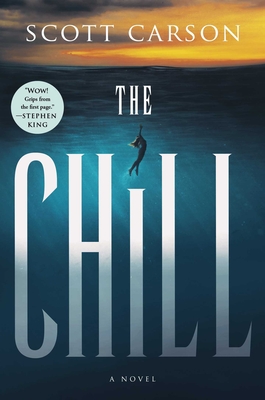 The Chill (Hardcover)
A Novel
Atria/Emily Bestler Books, 9781982104597, 448pp.
Publication Date: February 11, 2020
Other Editions of This Title:
Compact Disc (2/11/2020)
Library Binding, Large Print (1/27/2021)
Paperback (3/16/2021)
* Individual store prices may vary.
Description
"Wow! This is one terrific horror/suspense/disaster novel. Characters you root for and a story that grips from the first page." —Stephen King, #1 New York Times bestselling author of The Institute

"Horror has a new name and it's Scott Carson. The Chill is an eerie dive into the murky depths of the supernatural. A story that has you looking back over your shoulder on every page." —Michael Connelly, #1 New York Times bestselling author of The Night Fire

"A creepy tale of supernatural terror." —Publishers Weekly, starred review

In this terrifying thriller, a supernatural force—set in motion a century ago—threatens to devastate New York City.

Far upstate, in New York's ancient forests, a drowned village lays beneath the dark, still waters of the Chilewaukee reservoir. Early in the 20th century, the town was destroyed for the greater good: bringing water to the millions living downstate. Or at least that's what the politicians from Manhattan insisted at the time. The local families, settled there since America's founding, were forced from their land, but they didn't move far, and some didn't move at all…

Now, a century later, the repercussions of human arrogance are finally making themselves known. An inspector assigned to oversee the dam, dangerously neglected for decades, witnesses something inexplicable. It turns out that more than the village was left behind in the waters of the Chill when it was abandoned. The townspeople didn't evacuate without a fight. A dark prophecy remained, too, and the time has come for it to be fulfilled. Those who remember must ask themselves: who will be next? For sacrifices must be made. And as the dark waters begin to inexorably rise, the demand for a fresh sacrifice emerges from the deep...
About the Author
Scott Carson is the pen name for a New York Times bestselling author and screenwriter. He lives in New England—just above a dam.
Praise For The Chill: A Novel…
"Wow! This is one terrific horror/suspense/disaster novel. Characters you root for and a story that grips from the first page."
— Stephen King, #1 New York Times Bestselling Author of THE INSTITUTE

"THE CHILL features a clever and chilling premise, and Scott Carson delivers on the promise of it with swift clear prose, well-defined characters, and terrific suspense. This is a must read for fans of eerie, gripping storytelling."
— Dean Koontz, #1 New York Times bestselling author of THE NIGHT WINDOW

"Horror has a new name and it's Scott Carson. THE CHILL is an eerie dive into the murky depths of the supernatural. A story that has you looking back over your shoulder on every page."
— Michael Connelly, #1 New York Times bestselling author of THE NIGHT FIRE

"The year's best spine-tingler is already here. THE CHILL is a good old-fashioned ghost story, meticulously researched and brilliantly executed. If you've ever wished for a cross between 'Chinatown' and 'The Fog,' Scott Carson has answered your dark prayers..."
— John Connolly, internationally bestselling author of THE BOOK OF BONES

"Scott Carson's THE CHILL may be the perfect thriller. Great characters. Creeping dread and explosive reveals. Pacing that never lets up. Maybe some of the best conversation with the dead since Stephen King's THE SHINING."
— Alma Katsu, author of THE DEEP and THE HUNGER

"Scott Carson's THE CHILL is a hold-your-breath horror thriller, full of mounting dread. Carson weaves classic chills and nuanced characters into a story both compelling and creepy as hell. Don't miss it!"
— Christopher Golden, New York Times bestselling author of ARARAT and SNOWBLIND

"Part old-fashioned horror story, part supernatural thriller, THE CHILL is a breathtaking story of justice—and revenge. Once I started this book I couldn't put it down. Prepare to be chilled."
— Rene Denfeld, bestselling author of The Butterfly Girl and The Child Finder

"With THE CHILL, Scott Carson has written a spooky, thrilling, and genuinely moving tale of righteous obsession from beyond the grave, with a setting and characters that leap off the page. If you like Stephen King or Joe Hill, you must read Scott Carson."
— Nick Petrie, nationally bestselling author of THE WILD ONE and TEAR IT DOWN

"Reading Scott Carson's THE CHILL gave me shivers like the ones I got when I first read Stephen King's The Shining. Set in a remote town in upstate New York, the novel starts ordinarily enough, with a fractured relationship between father and son, but swiftly cascades into a story about vengeful ghosts and a cataclysm generations in the making . . . The result is a fast-paced, frenzied tale of survival against both natural and supernatural forces that will leave you gasping for air."
— Bookpage (starred review)

"The tension of the novel is masterful . . . as the past hauntingly plays with the present."
— Booklist

"Based on the true history of a drowned town . . . this novel provides an alluring mix of truth and ghost story which will draw interest and keep readers hooked."
— Library Journal

"Fans of Stephen King won't want to miss this one."
— The Real Book Spy

The Most Anticipated Crime Books of 2020
— CrimeReads

"The first great novel of 2020 that sets a high bar with a story that vacillates between slow burn atmospheric dread and balls-out frights."
— Cemetery Dance

"If The Shining is your favorite Stephen King chiller--if you wish Lovecraft had applied his eldritch sensibilities to a ghost story--if you're hungry for something with a New England Gothic vibe that bridges the historical and the modern--and if you love well-made disaster movies, THE CHILL deserves a place on your bookcase."
— Criminal Element

"This novel provides a wealth of historical details on everything from engineering to legends."
— Crossville Chronicle (TN)

"Carson, a pseudonym for thriller writer Michael Koryta, deftly weaves contemporary issues of property, settlement, fanaticism, and colonization through this novel of suspense, long-simmering hostilities, and cold-blooded revenge."
— Seattle Review of Books

"THE CHILL is a great tale, not of man's inhumanity to man, but of man's inhumanity to nature. Now, nature, with some supernatural assistance, strikes back."
— New York Journal of Books

"Sharply developed characters, taut suspense and meticulous research."
— Tampa Bay Times

"Memorable, haunting, terrifying, perfectly paced . . . A ghost story for our time."
— Bookreporter.com