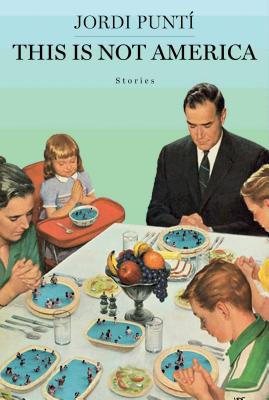 This Is Not America
Stories
Hardcover

* Individual store prices may vary.
Description
From the acclaimed, prize-winning Catalonian author of the novel Lost Luggage, a collection of nine masterful short stories about adulthood, heartbreak, and outsiders in search of their place in the world.

As one of Catalonia's most acclaimed literary talents, Jordi Puntí's writing is "full of invention and consistently gripping" (The Times Literary Supplement). Now, he returns to his American audience with this breathtaking short story collection. Sharing the title of the David Bowie song, it travels from Spain to America and back, showing the differences between the two places.

A man recalls a past love as he strolls through the lonely streets of Barcelona. A hitchhiker on the outskirts of the city of Vic carries his secrets in a briefcase. In northern Catalonia, a villager receives letters from a long-estranged brother and grapples with how to respond. Then there's the man who wants to surprise his wife with a trip to Paris, only to swap it for a solitary cruise.

Showcasing "the author's vivid imagination" (Kirkus Reviews), the stories in This Is Not America are effortless evocations of the strangeness of everyday life and the universal search for love and belonging.
Praise For This Is Not America: Stories…
"Jordi Puntí is not only Catalonia's most important writer, but he is also one of the funniest, most perceptive writers in all of Europe. This Is Not America is a tour-de-force story collection set on both sides of the Atlantic." —Gary Shteyngart

"Jordi Puntí collects lives, at first familiar, suddenly extraordinary. These tales of wild existence, unfolding off the beaten path, capture the rare spirit of a wondrously diverse, privately performed pageant. Puntí is the perfect writer to hold close through these imperfect times." —Samantha Hunt

"An assured collection of stories about men trying to connect with the world through convoluted, excessive means. Their settings might be firmly rooted in the domestic, but the nine stories in Catalan writer Puntí's collection read as though they are arriving from another world or being broadcast from a chillier, dystopian future... Subversive stories in which the simplest interactions have dark preoccupations roiling underneath." —Kirkus Reviews

"Searing short stories... Puntí is unafraid to explore the uncomfortable rifts of his characters' lives, particularly the lies they tell themselves to embolden or confront their justifications of their situations." —Booklist

"An excellent book from a perceptive and unshowy writer... The men Puntí writes about live on the edges, but for the most part, they've put themselves there, and can't figure out how to extract themselves. They chiefly have only themselves to blame for their troubles, although most of them either don't realize it or choose not to. They're maddening characters, and Puntí regards them with sympathy, but never valorizes their usually unfortunate decisions. It's an accomplished book, filled with bone-dry humor and incisive observations about people who desperately need to connect, but have no idea how. It's also a powerful literary reminder that nostalgia and magical thinking both threaten the way we relate to one another, and to ourselves." —NPR

"Puntí is clever without ever being saccharine, literary in choice of phrase without ever being obtuse—always a joy to read." —New York Journal of Books
Atria Books, 9781982104719, 224pp.
Publication Date: July 30, 2019
About the Author
Jordi Puntí is a writer, translator, and a regular contributor to the Spanish and Catalan press. Punti is considered one of the most promising new voices of contemporary Catalan literature. In 1998, he published his first book of short stories, Pell d'armadillo that won the Serra d'Or Critics' Prize. He is also the author of the novel Lost Luggage.
or
Not Currently Available for Direct Purchase