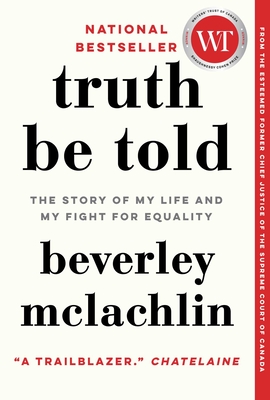 Truth Be Told
The Story of My Life and My Fight for Equality
Paperback

* Individual store prices may vary.
Other Editions of This Title:
Hardcover (9/24/2019)
Description
INSTANT NATIONAL BESTSELLER
*Indigo Top 10 of the Year*

Former Chief Justice of the Supreme Court of Canada Beverley McLachlin offers an intimate and revealing look at her life, from her childhood in the Alberta foothills to her career on the Supreme Court, where she helped to shape the social and moral fabric of the country—for readers of Educated and Becoming.

From a very early age, all I knew was that I wanted to do something that was not ordinary. Because, for a girl growing up in a remote prairie town in the 1940s, the ordinary was very ordinary indeed.

Beverley McLachlin has led an extraordinary life. One of the few women studying law in the 1960s, she graduated at the top of her class and began her long career—first as a dedicated lawyer and professor, later as a judge serving on the highest court in the country, and finally as the first woman to be named Chief Justice of the Supreme Court of Canada.

The journey wasn't easy. The options for women growing up in rural Pincher Creek, Alberta, were limited. But McLachlin was willful and spirited, and she wanted an education. She also had an innate sense of justice, which was reinforced by the lessons her parents taught her about equality and the value of hard work. It was this faith in justice that pulled her through dark times, especially when faced with sexism and exclusion at work and personal tragedy at home.

Over time, McLachlin became a champion for Canadians from all walks of life. As a judge on the Supreme Court, she presided over charged debates on topics such as same-sex marriage, euthanasia, and the Charter of Rights and Freedoms. With each judgment, she laid down a legal legacy proving that fairness and justice are not luxuries of the powerful but rather rights owed to each and every one of us.

With warmth, honesty, and deep wisdom, McLachlin recounts her remarkable life on and off the bench. Truth Be Told is an inspiring reminder that integrity and the rule of law are our best hopes for a progressive and bright future.
Praise For Truth Be Told: The Story of My Life and My Fight for Equality…
Praise for Beverley McLachlin

"She offers a powerful window into how her life and the law intertwine. . . . It is this orientation—McLachlin seeing the law in human terms and showing her own humanity in her law-making, rejecting legal ideology in favour of the specifics of the case in front of her—that may best define her legacy."
— The Walrus

"Her legacy . . . is now part of the country's foundations."
— The Globe and Mail

Praise for Full Disclosure

Shortlisted for the Arthus Ellis Best First Crime Novel

"We know Beverley McLachlin as a pioneer—the first woman to serve as Canada's Chief Justice. But now we'll know her for something else entirely: gripping crime fiction. . . . Full Disclosure is a well-crafted page-turner in the vein of international bestsellers like Sarah Vaughan's Anatomy of a Scandal, and is packed with courtroom drama, intrigue, plot twists, and fascinating details about our criminal justice system. Written in an accessible voice, with a fast-moving narrative, this is beach, cabin, and airplane reading at its best."
— Vancouver Sun

"A riveting thriller."
— Costco Connection

"Gripping, intricate, and full of heart, Full Disclosure is a bold debut by the former Chief Justice of the Supreme Court of Canada. Novelist Beverley McLachlin is a force to be reckoned with."
— KATHY REICHS, bestselling author of the Bones series

"A page-turner."
— Maclean's

"A great read. . . . Has sequel written all over it."
— CBC's Sunday Edition

"Totally compelling: McLachlin brings her wit and intelligence—and unrivalled experience—to this courtroom drama, which brilliantly illuminates the games lawyers play and the risks of wrong choices. The main character, Jilly Truitt, is a woman I want to meet again."
— CHARLOTTE GRAY, bestselling author of The Promise of Canada

"McLachlin puts her experience on the Court to good use, writing a taut legal thriller with great twists and turns that will keep readers guessing to the very end."
— CATHERINE McKENZIE, bestselling author of Fractured and The Good Liar

"What we have here is the inquiring mind of the lawyer and jurist, now bold new writer. . . . Beverley McLachlin has created something real and visceral. Hats off, former Chief Justice of the Supreme Court of Canada, and all rise for what we hope will be the encore."
— Canadian Lawyer Magazine
Simon & Schuster, 9781982104979, 384pp.
Publication Date: September 15, 2020
About the Author
Beverley McLachlin was Chief Justice of the Supreme Court of Canada from 2000 to 2017. She is the first woman to hold that position and the longest-serving Chief Justice in Canadian history. Her memoir, Truth Be Told, was an instant national bestseller, as was her debut novel, Full Disclosure. In 2018, McLachlin became a Companion of the Order of Canada, the highest honour within the Order. Visit her at BeverleyMcLachlin.com.