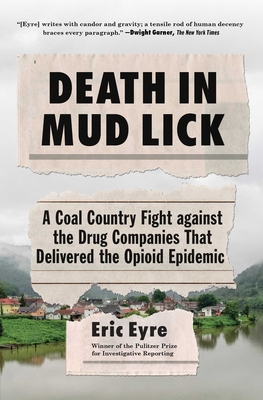 Death in Mud Lick
A Coal Country Fight against the Drug Companies That Delivered the Opioid Epidemic
Paperback

* Individual store prices may vary.
Other Editions of This Title:
Hardcover (3/31/2020)
Compact Disc (3/31/2020)
Description
A New York Times Editor's Choice and Critic's Top Pick * Edgar Allan Poe Award Finalist * A Lit Hub Best Book of The Year

From a Pulitzer Prize–winning investigative reporter at the Charleston Gazette-Mail, a "powerful," (The New York Times) urgent, and heartbreaking account of the corporate greed that pumped millions of pain pills into small Appalachian towns, decimating communities.

In a pharmacy in Kermit, West Virginia, 12 million opioid pain pills were distributed in just three years to a town with a population of 382 people. One woman, after losing her brother to overdose, was desperate for justice. Debbie Preece's fight for accountability for her brother's death took her well beyond the Sav-Rite Pharmacy in coal country, ultimately leading to three of the biggest drug wholesalers in the country. She was joined by a crusading lawyer and by local journalist, Eric Eyre, who uncovered a massive opioid pill-dumping scandal that shook the foundation of America's largest drug companies—and won him a Pulitzer Prize.

Part Erin Brockovich, part Spotlight, Death in Mud Lick details the clandestine meetings with whistleblowers; a court fight to unseal filings that the drug distributors tried to keep hidden, a push to secure the DEA pill-shipment data, and the fallout after Eyre's local paper, the Gazette-Mail, the smallest newspaper ever to win a Pulitzer Prize for investigative reporting, broke the story.

Eyre follows the opioid shipments into individual counties, pharmacies, and homes in West Virginia and explains how thousands of Appalachians got hooked on prescription drugs—resulting in the highest overdose rates in the country. But despite the tragedy, there is also hope as citizens banded together to create positive change—and won.

"A product of one reporter's sustained outrage [and] a searing spotlight on the scope and human cost of corruption and negligence" (The Washington Post) Eric Eyre's intimate portrayal of a national public health crisis illuminates the shocking pattern of corporate greed and its repercussions for the citizens of West Virginia—and the nation—to this day.
Praise For Death in Mud Lick: A Coal Country Fight against the Drug Companies That Delivered the Opioid Epidemic…
One of Houston Chronicle's Most Anticipated

"Powerful . . . . [Eyre] writes with candor and gravity; a tensile rod of human decency braces every paragraph. . . . . [Death in Mud Lick] is the work of an author who understands that objectivity is not the same as bland neutrality. I expect it will be taught to aspiring reporters for many years to come. It's the story of an epidemic; it's also the story of a newspaper."
—New York Times

"Death in Mud Lick is a product of one reporter's sustained outrage: a searing spotlight on the scope and human cost of corruption and negligence."
—Washington Post

"At the Gazette-Mail, Eyre's career has been the stuff of quiet legend ... Eyre served his community in a time of need. With his new book, he took the death of a coal miner, William (Bull) Preece, found dead in a trailer in Mud Lick amid a residue of crushed pills, and told the how and the why. His reporting led to restrictions on prescriptions, greater tracking, more transparency. He shamed an industry and saved lives. Working at a small newspaper, Eyre made a big difference."
—NewYorker.com

"[An] important new book . . . . "Death in Mud Lick'' is more than a takedown of the out-of-state predators who exploited West Virginians for obscene profit; it's a 300-page rebuttal to those who dismiss honest reporting as #fakenews, or claim that journalism doesn't matter. . . . [and] a real-life legal thriller that barrels along like a runaway coal truck on Horsepen Mountain. "
—Pittsburgh Post-Gazette

"Compellingly told ... a tale of compassionate people deeply wronged and a dogged journalist who won't stand for it."
—Booklist, starred review

"Packed with colorful details and startling statistics, this page-turning journalistic thriller shines a brilliant spotlight on a national tragedy."
—Publishers Weekly, starred review

"Timely and well documented, with appeal to a broad range of readers."
—Library Journal, starred review

"Disturbing, moving, and heart-wrenching…"
—Kirkus Reviews

"Compelling and terrifying... In many ways [Death in Mud Lick is] as interesting as a John Grisham courtroom thriller, featuring an extended series of legal actions, the requisite heroes and villains, and personal problems that add to the drama."
—The Daily Beast

"A stunning story, and Eric Eyre tells it with compassion, grit, deep knowledge and the 'sustained outrage' (as he puts it) that is the rocket fuel of great journalism."
—Dan Fagin, author of the Pulitzer Prize-winning Toms River

"Death in Mud Lick is simultaneously a gripping account of the corporate interests who started the opioid epidemic and a vivid illustration of the power of scrappy, relentless, investigative journalism. Eric Eyre is not just a great West Virginian; he's a national treasure."
—Keith Humphreys, former White House drug policy adviser to Presidents George W. Bush and Barack Obama

"Death in Mud Lick is a riveting, intimate look at the corporate greed, regulatory failure and lobbying shenanigans that led to pill mills complete with "courtesy snacks" and cash registers so full they wouldn't close."
—Beth Macy, author of Dopesick: Dealers, Doctors, and the Drug Company That Addicted America

"With searing storytelling and deep investigative reporting, Eric Eyre has written an indispensable book that you won't be able to put down."
—Anna Sale, host of the podcast Death, Sex & Money

"Death in Mud Lick attaches names, stories, and vivid characters to the major public-health story of our times."
—James Fallows, author of Our Towns: A 100,000-Mile Journey into the Heart of America

"At a time when real journalism is under attack, Death in Mud Lick stands as a clenched fist of rebuke ... Eyre's book is a thrilling recounting of how it all went down in the tradition of Call Northside 777 and Spotlight."
—Brian Alexander, author of Glass House: The 1% Economy and the Shattering of the All-American Town
Scribner, 9781982105327, 304pp.
Publication Date: April 6, 2021
About the Author
Eric Eyre has been a newspaper reporter in West Virginia since 1998. In 2017, his investigation into massive shipments of opioids to the state's southern coalfields was awarded a Pulitzer Prize. He lives in Charleston, West Virginia, with his wife and son.