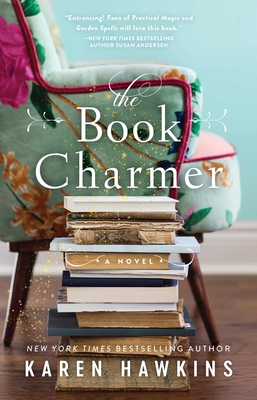 The Book Charmer (Paperback)
Gallery Books, 9781982105549, 352pp.
Publication Date: July 30, 2019
* Individual store prices may vary.
Description
The New York Times bestselling author of the wildly popular MacLean Curse series crafts a charming and evocative story about a picturesque Southern town, two fiercely independent women, and a magical friendship that will change their lives forever.

The residents of Dove Pond, North Carolina, know three things: they have the finest bar-b-que this side of Atlanta, their Apple Festival is the best that ever was, and the town has phenomenal good luck whenever the Dove family has seven daughters. Fortunately, that time is now, because Dove Pond desperately needs a miracle.

The seventh daughter, Sarah Dove, believes in all things magical. Books have whispered their secrets to her since she was a child. Now the town librarian, she makes sure every book finds the reader who most needs it. But recently the books have been whispering something different—that change is about to come to Dove Pond. Sarah is soon convinced that the legendary Dove Pond good luck has arrived in the form of new resident, Grace Wheeler.

After the tragic death of her sister, Grace has moved to Dove Pond with her grieving young niece and ailing foster mother hoping to retrench financially and emotionally before returning to her fast-paced city life. But she soon learns that life in a not-so-sleepy town isn't as quiet as she'd hoped. Despite her best efforts to focus on her family, she can't avoid the townspeople, especially her next-door neighbors, the quirky and talkative Sarah Dove and cynical veteran Travis Parker. Grace's situation grows more complicated when she assumes her duties as town clerk and discovers that Dove Pond is on the verge of financial ruin.

Already overburdened by her own cares, Grace tries to stay aloof from the town's issues, but she's never been good at resisting a challenge. With Sarah's encouragement, and inspired by the wise words of a special book, Grace decides to save her new town. And in her quest, she discovers the rich comfort of being a part of a loving community, the tantalizing promise of new love, the deep strength that comes from having a true friend, and the heartfelt power of finding just the right book.

With Karen Hawkins's "fast, fun, and sexy" (Christina Dodd) prose, The Book Charmer is a feel-good story with plenty of heart that will appeal to fans of Sarah Addison Allen, Alice Hoffman, Heather Graham, and Jude Deveraux.
About the Author
Karen Hawkins is a New York Times and USA TODAY bestselling author of many wickedly funny historical romance novels set in Regency Scotland, including the wildly popular MacLean Curse series, the enchanting Hurst Amulet series, the funny and charming Duchess Diaries series, and now the romantic Oxenburg Princes series. Karen is also the author of two sassy contemporary romances set in the little town of Glory, North Carolina. Find out more at Facebook.com/KarenHawkinsWriter and KarenHawkins.com.