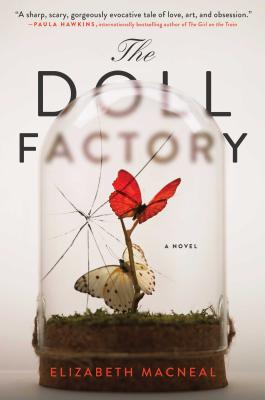 The Doll Factory (Hardcover)
A Novel
Atria/Emily Bestler Books, 9781982106768, 368pp.
Publication Date: August 13, 2019
Other Editions of This Title:
Library Binding, Large Print (12/25/2019)
Compact Disc (8/13/2019)
Paperback (7/7/2020)
* Individual store prices may vary.
Description
The #1 International Bestseller

New York Times Editor's Choice

"A lush, evocative Gothic." —The New York Times Book Review

"This terrifically exciting novel will jolt, thrill, and bewitch readers." —Booklist, starred review

Obsession is an art.

In this "sharp, scary, gorgeously evocative tale of love, art, and obsession" (Paula Hawkins, bestselling author of The Girl on the Train), a beautiful young woman aspires to be an artist, while a man's dark obsession may destroy her world forever.

In 1850s London, the Great Exhibition is being erected in Hyde Park and, among the crowd watching the dazzling spectacle, two people meet by happenstance. For Iris, an arrestingly attractive aspiring artist, it is a brief and forgettable moment but for Silas, a curiosity collector enchanted by all things strange and beautiful, the meeting marks a new beginning.

When Iris is asked to model for Pre-Raphaelite artist Louis Frost, she agrees on the condition that he will also teach her to paint. Suddenly, her world begins to expand beyond her wildest dreams—but she has no idea that evil is waiting in the shadows. Silas has only thought of one thing since that chance meeting, and his obsession is darkening by the day.

"A page-turning psychological thriller" (Essie Fox, author of The Somnambulist) that will haunt you long after you finish it, The Doll Factory is perfect for fans of The Alienist, Drood, and The Historian.
About the Author
Born in Scotland, Elizabeth Macneal is a potter based in London, where she works from a small studio at the bottom of her garden. She read English Literature at Oxford University and completed the Creative Writing MA at the University of East Anglia in 2017. In 2018, she won the Caledonia Novel Award for her debut novel, The Doll Factory.
Praise For The Doll Factory: A Novel…
"When a book refuses to shy away from squalor and brutality while venerating the passionate and beautiful, it is always a memorable experience—The Crimson Petal and the White, by Michel Faber; The Poisonwood Bible, by Barbara Kingsolver; Fingersmith, by Sarah Waters. Joining this list of haunting novels is Elizabeth Macneal's unapologetically lush debut, THE DOLL FACTORY... There is hardly an aspect of Victorian London that [Macneal] has not mastered."
— The New York Times Book Review

"A sharp, scary, gorgeously evocative tale of love, art and obsession."
— Paula Hawkins, internationally bestselling author of The Girl on the Train

"A stunningly confident first novel with a real sense of period and place . . . thoroughly engrossing."
— Ian Rankin, New York Times bestselling author of RATHER BE THE DEVIL

"Delightfully creepy . . . magical storytelling."
— The Washington Post

"Talented debut novelist Macneal drops readers right into a Victorian London that's home to stinking squalor and chaos, but also significant beauty and possibility. Midway through, readers won't know if they're holding a romance, tragedy, or murder mystery, but won't pause long enough to wonder about it as Iris rails against the limitations of her gender and social status, and Silas' creepiness comes into sharp focus…This terrifically exciting, chiaroscuro novel became an instant bestseller in England, with TV rights already sold, and will jolt, thrill, and bewitch U.S. readers, too."
— Booklist (starred review)

"A stunning novel that twines together power, art, and obsession. At every turn expectations are confounded - it's a historical novel and yet feels incredibly relevant and timely. I loved its warmth, its wry humour, and the way each small thread leads into an unbearably tense and chilling denouement that had me totally gripped."
— Sophie Mackintosh, Man Booker Prize-longlisted author of The Water Cure

"An astonishingly good debut. The Doll Factory reminded me of The Crimson Petal and the White, Fingersmith and Vanity Fair but had a richness of tone that was uniquely its own. Macneal writes with utter mastery, creating a lushly intricate world peopled by living, breathing characters you can't help but fall in love with and a plot that rattles like a speeding carriage to its thrilling conclusion. I couldn't put it down. You won't be able to either."
— Elizabeth Day, award-winning author of THE PARTY

"I lovedTHE DOLL FACTORY from the very first page and couldn't do anything else until I'd read right to the end. An exquisite novel of obsession, delusion, resilience and love, Elizabeth Macneal really is a breathtaking new talent."

— AJ Pearce, internationally bestselling author of DEAR MRS. BIRD

"Engrossing and atmospheric. Fascinating real historical background (the Pre-Raphaelites) and super invented characters. I can practically see the TV version!"
— Adele Geras, award-winning author of THE BALLET CLASS

"With strong echoes of John Fowles' The Collector, The Doll Factory is at once a vivid depiction of a morally dubious world, and a page-turning psychological thriller, with a truly compelling villain."
— Essie Fox, critically-acclaimed author of The Somnambulist

"A gripping, artfully written historical novel with a highly contemporary sensibility. The setting - 19th century London full of pomp, grime and menace - plays just one part in an immersive and intellectually satisfying narrative that interrogates gender politics, classism, relationships, artistic obsession and erotomania with a painterly eye and gleefully dark heart. Part love story, part gothic novel and leading up to a truly breathless conclusion, this book is destined to be one of the biggest titles of 2019, deservedly so."
— Sharlene Teo, award-winning author of Ponti

"Fantastic - vivid, poignant, colourful, and elegantly horrifying."
— Bridget Collins, internationally bestselling author of THE BINDING

"This brilliant literary thriller gripped me from the opening page and didn't relinquish its hold until I'd read the final sentence. The Doll Factory conjures 1850s London in all its grime and glory, possibility and restriction in absorbing, immersive detail. Elizabeth Macneal has created that rare thing: a beautifully researched historical novel with a plot to stop your heart. If this is her first book, I can barely wait to see what she writes next."

— Hannah Kent, award-winning author of BURIAL RITES and THE GOOD PEOPLE

"THE DOLL FACTORY is brilliant, with a refreshingly original quality, beautifully orchestrated narrative, great characters and some fascinating background detail."
— Andrew Taylor, No. 1 Sunday Times bestselling author of THE ASHES OF LONDON and THE AMERICAN BOY

"THE DOLL FACTORY is one of the best books I've read in ages – heartbreaking and evocative. Elizabeth Macneal draws a vivid picture of life in 1850s London, exploring the world of the pre-Raphaelites and examining the position of women through her unforgettable heroine. At the same time, Elizabeth creates a perfectly structured and page-turning story of love and passion; crime and obsession. A wonderful and intense novel. I loved it."
— Jenny Quintana, author of THE MISSING GIRL

"A remarkably assured and beautifully written debut, filled with sinister delights and intriguing themes of imprisonment and objectification. A truly captivating read."
— E C Fremantle, author of THE POISON BED

"A darkly beautiful exploration of the razor's edge between creation and destruction."
— BookPage, "8 New Voices To Discover"