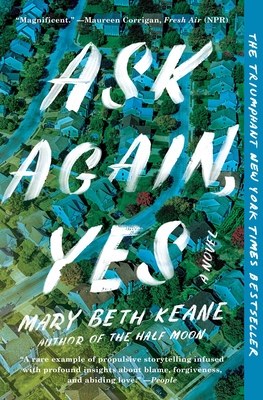 Ask Again, Yes
A Novel
Paperback

* Individual store prices may vary.
Other Editions of This Title:
Digital Audiobook (5/27/2019)
Hardcover (5/28/2019)
Library Binding, Large Print (9/4/2019)
CD-Audio (5/28/2019)
June 2019 Indie Next List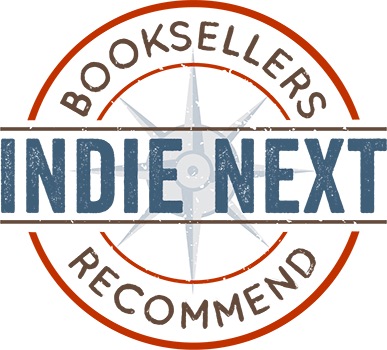 "
Ask Again, Yes
is a compelling, heartbreaking, yet ultimately hopeful novel. Mary Beth Keane is incredibly talented; she does not sugar coat, instead giving readers a compulsively readable family drama. I did not expect to become so completely engrossed in these characters' stories — two families whose lives become inextricably linked by young love and personal tragedy. Their myriad mistakes and attempts to atone beautifully demonstrate the power and grace found in forgiveness."
— Anderson McKean, Page and Palette, Fairhope, AL
View the List
Description
The triumphant New York Times Bestseller *The Tonight Show Summer Reads Pick*

Named one of the Best Books of the Year by People, Vogue, Parade, NPR, and Elle

"A gem of a book." —Taylor Jenkins Reid, author of The Seven Husbands of Evelyn Hugo

How much can a family forgive?

Francis Gleeson and Brian Stanhope, rookie NYPD cops, are neighbors in the suburbs. What happens behind closed doors in both houses—the loneliness of Francis's wife, Lena, and the instability of Brian's wife, Anne, sets the stage for the explosive events to come.

In Mary Beth Keane's extraordinary novel, a lifelong friendship and love blossoms between Kate Gleeson and Peter Stanhope, born six months apart. One shocking night their loyalties are divided, and their bond will be tested again and again over the next thirty years. Heartbreaking and redemptive, Ask Again, Yes is a gorgeous and generous portrait of the daily intimacies of marriage and the power of forgiveness.
Praise For Ask Again, Yes: A Novel…
"This is one beautiful book. I was wowed by Keane's writing and narrative skill—and by what she knows about trouble."
—Stephen King

"One of the most unpretentiously profound books I've read in a long time… Keane writes with deep familiarity and precision about the lives of this particular generation… As a writer, Keane reminds me a lot of Ann Patchett: Both have the magical ability to seem to be telling 'only' a closely-observed domestic tale that transforms into something else deep and, yes, universal. In Keane's case, that 'something else' is a story about forgiveness and acceptance… modestly magnificent."
—Maureen Corrigan, Fresh Air

"A beautiful novel, bursting at the seams with empathy."
—Brianna Kovan, Elle

"Keane's novel is a rare example of propulsive storytelling with profound insights about blame, forgiveness and abiding love."
—People Magazine

"A profound story... Keane's gracefully restrained prose gives her characters dignity... shows how difficult forgiveness can be—and how it amounts to a kind of hard-won grace."
—Vogue

"Keane writes with acute sensitivity and her characters are consistently, authentically lived-in. . . . smartly told."
—Entertainment Weekly

"A gem of a book." —Taylor Jenkins Reid, author of The Seven Husbands of Evelyn Hugo

"I devoured this astonishing tale of two families linked by chance, love, and tragedy. Mary Beth Keane gives us characters so complex and alive that I find myself still thinking of them days after turning the final page. A must-read."
—J. Courtney Sullivan, author of Saints for All Occasions

"Mary Beth Keane takes on one of the most difficult problems in fiction—how to write about human decency. In Ask Again, Yes, Keane creates a layered emotional truth that makes a compelling case for compassion over blame, understanding over grudge, and the resilience of hearts that can accept the contradictions of love."
— Louise Erdrich, author of The Round House

"Ask Again, Yes is a powerful and moving novel of family, trauma, and the defining moments in people's lives. Mary Beth Keane is a writer of extraordinary depth, feeling and wit. Readers will love this book, as I did."
—Meg Wolitzer, author of The Female Persuasion

"Remarkable."
—Booklist

"Mary Beth Keane looks past the veneer that covers ordinary moments and into the very heart of real life. There's a Tolstoyan gravity, insight, and moral heft in these pages, and Keane's ability to plumb the depths of authentic feeling while avoiding sentimentality leaves one shaking one's head in frank admiration. This wonderful book is so many things: a gripping family drama; a sensitive meditation on mental illness; a referendum on the power and cost of loyalty; a ripping yarn that takes us down into the depths and back up; in short, a triumph."
—Matthew Thomas, author of We Are Not Ourselves

"Keane's story embraces family lives in all their muted, ordinary, yet seismic shades… offers empathy and the long view… Tender and patient, the novel avoids excessive sweetness while planting itself deep in the soil of commitment and attachment. Graceful and mature. A solidly satisfying, immersive read."
—Kirkus (starred review)

"Thoughtful, compassionate… illustrates the mutability of memory and the softening effects of time… poignantly demonstrates how grace can emerge from forgiveness."
—Publishers Weekly

"Mary Beth Keane is at the height of her powers in this novel about the sacrifices we make when we choose to build a life with someone. In Ask Again Yes, Keane tells a story about the fragility of happiness, the violence lurking beneath everyday life, and, ultimately, the power of love. If you've ever loved someone beyond reason, you will love this wise, tender, and beautiful book."
—Eleanor Henderson, author of Ten Thousand Saints

"Mary Beth Keane combines Joan Didion's exacting eye for detail with the emotional wallop of Alice McDermott. From the ache of first love to the recognition that the people closest to us are flawed and human, Ask Again, Yes is a moving testament to the necessary act of forgiveness. It is heartbreaking, hopeful, and honest."
—Brendan Mathews, author of The World of Tomorrow

"Beautifully observed. . . . Ask Again, Yes is a tale that will compel readers to think deeply about the ravages of unacknowledged mental illness, questions of family love and loyalty, and the arduous journey towards forgiveness."
—BookPage, starred review

"Stunning! An absolutely brilliant, gorgeously-written novel by a fearless writer. Ask Again, Yes is both haunting and hopeful, like life itself. It's the consummate epic family story, one I can't stop thinking and talking about. A must-read for our time."
—Lisa Taddeo, author of Three Women

"Her characters are flawed, thoughtful, hard-working people trying to make sense of ordinary and sometimes impossible events, and dealing with the ripple effects of the past on the present... a thought-provoking family drama and a testament to the power of forgiveness."
—Shelf Awareness

"A gut-wrenching tale."
—GMA.com
Scribner, 9781982106997, 416pp.
Publication Date: May 5, 2020
About the Author
Mary Beth Keane attended Barnard College and the University of Virginia, where she received an MFA. She was awarded a John S. Guggenheim fellowship for fiction writing, and has received citations from the National Book Foundation, PEN America, and the Hemingway Society. She is the author of The Walking People, Fever, and Ask Again, Yes—a New York Times bestseller and a Tonight Show Starring Jimmy Fallon Summer Reads Pick. Ask Again, Yes has been sold in twenty-two languages. She lives in New York with her family.
1. Ask Again, Yes grapples with the idea of learning from the past. What lessons do Kate and Peter learn from their parents' experiences? What mistakes did they repeat?
2. Do Francis Gleeson and Anne Stanhope—both Irish immigrants—experience things differently than their American-born spouses? Do you think this contributes to tensions within the couples, and between the two families?
3. Ask Again, Yes is set over the course of four decades. How do attitudes toward mental health and addiction change over that time? How do these changes affect the characters? For example, how do Brian and George Stanhope differ in their attitudes toward drinking?
4. Francis marvels at how many pieces had to come together for a woman like Lena to exist and for him to have met her (page 7). What role do you think fate plays in this novel? Do the characters have free will to make their own choices? Why or why not?
5. When Kate learns about the episode at Food King, she momentarily thinks that it couldn't have been as dramatic as Peter was making it out to be. Then she realizes that it was, in fact, the opposite, "that it was such a big deal that the adults had been careful not to talk about it in front of the kids" (page 85). What role does keeping secrets—from children, parents, partners—play throughout the novel? Do you think certain events could have been avoided if the characters had been more open with each other?
6. The idea of inherited traits and characteristics appears frequently in the novel. Trauma is another thing that is passed down from generation to generation. Do Kate and Peter address the legacy of trauma they've inherited from their parents?
7. Redemption is an important theme throughout Ask Again, Yes. Discuss the many ways in which the characters forgive each other.
8. The novel is divided into four parts. Discuss the significance of each of the part titles—"Gillam," "Queens," "Two by Two," and "Muster." Why do you think Mary Beth Keane chose to structure the story this way?
9. At the end of the book, Francis thinks, "It was always the same. People didn't change" (page 385). Do you think he really believes this?
10. What does the book's title, Ask Again, Yes, mean to you?
11. This novel is specific to these two families, yet it also feels universal in its themes. Do you see echoes of your family's history in the Gleesons or the Stanhopes?