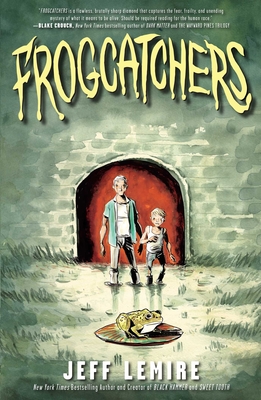 Frogcatchers
Hardcover

* Individual store prices may vary.
Other Editions of This Title:
Paperback (7/7/2020)
Description
Experience a surreal descent into one man's psychosis in this haunting and chilling graphic novel from the New York Times bestselling author of Roughneck and Sweet Tooth, "the Stephen King of comics" (Maclean's).

A man wakes up alone in a strange room with no recollection of who he is or how he got there. The padlocked doors and barren lobby reinforce the strangeness of this place. This is—as he reads from an old-fashioned keychain beside his bed—the Edgewater Hotel. Even worse, something ominous seems to be lurking in one of the rooms.

But when he meets a young companion—the only other soul in this vast, enveloping emptiness—his new friend begs him not to unlock the door. There must be something behind it…but what?

A haunted hotel on the edge of reality, an endless bridge spanning an infinite ocean, and a man and a boy looking for a way out. This is the setting for a boundary-pushing, genre-defying new work of fiction by one of comics' master storytellers.
Praise For Frogcatchers…
"A perfect miniature of memory and loss, affecting and beautifully told in an outstanding use of the medium. A haunting dream of a book."
—Warren Ellis, New York Times and award-winning author of Transmetropolitan and Gun Machine

"Frogcatchers is a flawless, brutally sharp diamond that captures the fear, frailty, and unending mystery of what it means to be alive. Should be required reading for the human race."
—Blake Crouch, New York Times bestselling author of Dark Matter and the Wayward Pines trilogy

"As the surrealistic/impressionistic nightmare images of Frogcatchers coalesce, a beating and bleeding heart is revealed. The genius of Jeff Lemire is that he dares trust us enough to show us the heart is ours. Frogcatchers is mesmeric and beautiful and it'll mess you up good."
—Paul Tremblay, national bestselling author of The Cabin at the End of the Woods and A Head Full of Ghosts

"A gestural gem...That Lemire's art is intrinsic to and inextricable from the philosophical aspects of Frogcatchers is not only a testament to his prowess as a storyteller, but also a shining example of the power and range of the comics medium itself. Frogcatchers is vital and thoughtful, challenging and beautiful: a brilliant piece from an accomplished cartoonist who is continuing to explore and grow even while at the top of his game."
—Quill & Quire (starred review)



"Eisner Award-winner Lemire hooks the reader with a mystery in this slim, dreamy fable….Lemire's scratchy lines and bursts of color in the "real world" add a visceral quality to this meditation on coping with mortality….carried off with striking visual themes."
—Publishers Weekly

"One of comics' most popular and prolific writers....[presents a] pensive, enigmatic story....Lemire's wispy, casual illustrations add to the dreamlike air of this quietly haunting tale."
—Booklist

"A visually and narratively rich tale . . . it is less that Lemire tells a story and more that he articulates the invisible currents surrounding our lives through story . . . it is so difficult to remain unmoved by such skillful and emotional storytelling as Lemire's." —Irene Velentzas, The Comics Journal
Gallery 13, 9781982107376, 112pp.
Publication Date: September 24, 2019
About the Author
Jeff Lemire is the award winning, New York Times bestselling author of such graphic novels as Essex County, Sweet Tooth, The Underwater Welder, and Roughneck, as well as the cocreator of Descender with Dustin Nguyen, Black Hammer with Dean Ormston, Gideon Falls with Andrea Sorrentino, and many others. He also collaborated with celebrated musician Gord Downie on the graphic novel and album The Secret Path, which was made into an animated film in 2016. Jeff has won numerous awards, including an Eisner Award and Juno Award in 2017. Jeff has also written extensively for both Marvel and DC Comics. Many of his books are currently in development for film and television, including both Descender and A.D. After Death at Sony Pictures, Essex County at the CBC, The Underwater Welder and Plutona at Waypoint Entertainment, and Gideon Falls with Hivemind Media, as well as the Eisner-Award winning Black Hammer at Legendary Entertainment. He lives in Toronto, Canada, with his wife and son, and their troublesome pug, Lola. Visit him at JefLemireComics.com or on Twitter @JeffLemire.