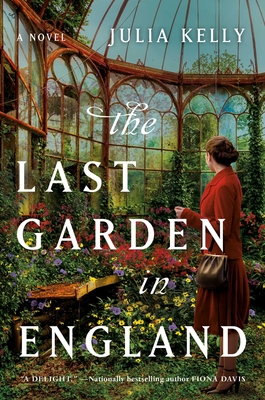 The Last Garden in England
Hardcover

* Individual store prices may vary.
Other Editions of This Title:
Digital Audiobook (1/11/2021)
Paperback (9/14/2021)
Library Binding, Large Print (2/3/2021)
Compact Disc (1/12/2021)
Description
From the author of the international bestseller The Light Over London and The Whispers of War comes a poignant and unforgettable tale of five women living across three different times whose lives are all connected by one very special place.

Present day: Emma Lovett, who has dedicated her career to breathing new life into long-neglected gardens, has just been given the opportunity of a lifetime: to restore the gardens of the famed Highbury House estate, designed in 1907 by her hero Venetia Smith. But as Emma dives deeper into the gardens' past, she begins to uncover secrets that have long lain hidden.

1907: A talented artist with a growing reputation for her ambitious work, Venetia Smith has carved out a niche for herself as a garden designer to industrialists, solicitors, and bankers looking to show off their wealth with sumptuous country houses. When she is hired to design the gardens of Highbury House, she is determined to make them a triumph, but the gardens—and the people she meets—promise to change her life forever.

1944: When land girl Beth Pedley arrives at a farm on the outskirts of the village of Highbury, all she wants is to find a place she can call home. Cook Stella Adderton, on the other hand, is desperate to leave Highbury House to pursue her own dreams. And widow Diana Symonds, the mistress of the grand house, is anxiously trying to cling to her pre-war life now that her home has been requisitioned and transformed into a convalescent hospital for wounded soldiers. But when war threatens Highbury House's treasured gardens, these three very different women are drawn together by a secret that will last for decades.

In this sweeping novel reminiscent of Kate Morton's The Lake House and Kristin Harmel's The Room on Rue Amélie, Julia Kelly explores the unexpected connections that cross time and the special places that bring people together forever.
Praise For The Last Garden in England…
Praise for The Last Garden in England

"[A] touching, immersive read with definite appeal for aficionados of Downton Abbey and Mary Ann Shaffer and Annie Barrows' The Guernsey Literary and Potato Peel Pie Society (2008)...Subplots involving love, loss, and hope for new beginnings gracefully intertwine, and readers will be enraptured by the garden theme…Like gardens themselves, these pages invite lingering and thoughtful reflection."—Booklist

"Julia Kelly's captivating novel, The Last Garden in England, is as immersive as it is enchanting...Historical fiction at its very best."—Patti Callahan, New York Times bestselling author of Becoming Mrs. Lewis

"Three women across time are connected by a garden in Kelly's enjoyable and richly detailed latest…Kelly balances Emma's detective work reviewing papers and records found in the house with Venetia's slow-burn tragedy and the twist that defines Beth's relationship to the gardens. Kelly easily delivers everything her fans will expect."—Publishers Weekly

"Kelly's novel encompasses everything I love in historical fiction: a dramatic setting depicted so vividly I could've sworn I was strolling through the gardens of Highbury House as I turned the pages, and a series of stories that intertwine each other effortlessly, echoing the theme of love lost and found. A delight."—Fiona Davis, nationally bestselling author of The Lions of Fifth Avenue

"Kelly's decades-spanning story will appeal to gardeners and lovers of Downton Abbey and Upstairs Downstairs."—Library Journal

"Like the petals of Highbury House's enchanting roses, Julia Kelly's latest novel unfurls to reveal layered stories of long-lost secrets. The Last Garden in England is a compelling read, filled with loveable characters and an alluring twist of fates." —Ellen Keith, bestselling author of The Dutch Wife

"In this beautiful tale of love, heartbreak and re-invention, Julia Kelly draws us deeply into the heart of the English countryside and a mysterious garden where the destinies of women living decades apart collide in unexpected, transformative ways. Gorgeously written and rooted in meticulous period detail, this novel is vibrant as it is stirring. Fans of historical fiction will fall in love with The Last Garden in England."—Roxanne Veletzos, bestselling author of The Girl They Left Behind

"Bestselling author Julia Kelly plants the seed of an idea, nurtures it into a vivid, intriguing seedling, then fertilizes, prunes, and shapes its various twisting branches into a stunning garden. Connected across the decades by a garden in desperate need of their care, three fascinating women grow alongside one another, shedding secrets and insecurities, eventually blooming with self-realization, hope, and love." —Genevieve Graham, bestselling author of The Forgotten Home Child

"An engrossing portrait of three generations of women longing to find their place in the complicated times in which they live. Blooming with warmth and heartbreak."—Brooke Lea Foster, author of Summer Darlings

"The story-strands twine together like honeysuckle climbing up a trellis, sending out secrets and surprises all the way."—Jane Johnson, author of The Sea Gate and Court of Lions

Praise for The Whispers of War

"Julia Kelly's story about the bonds of female friendship threatened by senseless government policies is timeless and moving, and her trio of heroines had my heart from the start. A gripping tale by a writer at the top of her game."


— Fiona Davis, nationally bestselling author of The Chelsea Girls

"A story of exquisite tenderness, The Whispers of War beautifully captures just how precious female friendship can be, and shines a light onto an important but less well-known aspect of war. Add to that rich historical detail and a cast of engaging characters and you have a must-read for all historical fiction fans."
— Natasha Lester, USA Today bestselling author of The Paris Seamstress

"The Whispers of War is a beautifully told story, and a timely reminder that history works in chillingly familiar patterns. Julia Kelly writes gripping, moving historic fiction that's not to be missed."
— Kelly Rimmer, USA Today bestselling author of The Things We Cannot Say

"This book was refreshing in a sea of much WWII fiction. At its heart, it is the story of friendship. In this case, three women who became each other's family and whose devotion is tested in a world changing through war and new roles for women. Heartwarming and compelling, it lifts the reader to a place of beauty and joy even as the shadows of impending war threaten to shatter life as they know it. New love, family secrets, and national loyalties shape the friendships. Though WWII fiction is a regular genre of mine, I felt that The Whispers of War elevated the human story of it in ways that felt brand new. And - as I always love to learn through historical fiction - I was pleased (and horrified) to learn about the extensiveness of internments and the darkness that fear and propaganda can harbor. Kelly touched on themes that are found throughout history, giving it a human face."
— Camille Di Maio, bestselling author of The Beautiful Strangers

"Kelly skillfully balances narratives from all three friends' perspectives…Women's friendship overcomes the villainy of war in this engaging historical fiction."
— Kirkus Reviews

"Kelly's latest outing movingly depicts the importance of female friendship in wartime... Rich with historical detail and anchored by an utterly convincing friendship at its heart, this should find a wide audience among historical-fiction fans, book clubs, and readers who enjoy stories of the important roles women play in one another's lives."
— Booklist

Praise for The Light Over London

"Sweeping, stirring, and heartrending in all the best ways, this tale of one of WWII's courageous, colorful, and enigmatic Gunner Girls will take your breath away."
— —Kristin Harmel, International bestselling author of The Room on Rue Amelie and The Sweetness of Forgetting

"Deftly weaving together past and present, Kelly tells a fresh, heartfelt story of sisterhood and sacrifice, culminating in a gut-punch finish. Perfect for fans of The Alice Network."
— –Michelle Gable, New York Times bestselling author of A Paris Apartment

"The Light over London is a poignant reminder that there is no limit to what women can do. A nostalgic, engrossing read."
— --Julia London, New York Times bestselling author of Seduced by a Scot

"Kelly weaves an intricate, tender, and convincing tale of war and romance with skill and suspense."
— --Publishers Weekly

"Kelly deftly balances intrigue with mystery and historical detail in her latest novel… A charming imagining of the historical gunner girls."
— –Kirkus Reviews

"Kelly has crafted two convincing, conflicted heroines in Cara and Louise, and the resolution of Louise's romance is satisfyingly empowering. Hand this to fans of Jennifer Egan's Manhattan Beach (2017) and other tales of the vital roles played by women in wartime."
— --Booklist

"Readers who adore a richly detailed period piece will be immediately drawn in by the world of The Light Over London. Julia Kelly has delivered her most elegant effort yet: a deeply rewarding and moving novel."
— --Apple Best of the Month

"A sweeping and beautifully written novel… an epic saga of love and friendship."
— --Women's World

"Historical fiction fans won't be able to wait to get their hands on Julia Kelly's The Light Over London....fans should bookmark [it.]"
— --Popsugar

"Kelly doesn't disappoint us–and readers will be engrossed in Louise's story of love and war juxtaposed with Cara's present discoveries...We root for both Louise and Cara, understanding their fears, hopes and chances."
— --BookTrib

"A heartbreaking romance that will grip you from the very beginning. Julia Kelly weaves a tender romantic story around a girl who fights war showing how strong even tender, romantic women can be. With a bit of mystery in the story, even mystery-readers will like it."
— --The Washington Book Review
Gallery Books, 9781982107826, 368pp.
Publication Date: January 12, 2021
About the Author
Julia Kelly is the award-winning author of books about ordinary women and their extraordinary stories. In addition to writing, she's been an Emmy-nominated producer, journalist, marketing professional, and (for one summer) a tea waitress. Julia called Los Angeles, Iowa, and New York City home before settling in London. Readers can visit JuliaKellyWrites.com to learn more about all of her books and sign up for her newsletter so they never miss a new release.
or
Not Currently Available for Direct Purchase