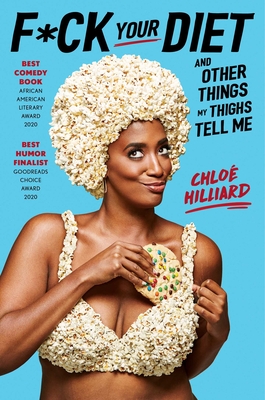 F*ck Your Diet
And Other Things My Thighs Tell Me
Hardcover

* Individual store prices may vary.
Other Editions of This Title:
Compact Disc (1/7/2020)
Paperback (12/30/2045)
Description
*A Goodreads Choice Awards Finalist
*Named Best Comedy Book by the African American Literary Awards Show

Fans of Issa Rae and Phoebe Robinson will love this collection of laugh-out-loud funny and insightful essays that explore race, feminism, pop culture, and how society reinforces the message that we are nothing without the perfect body.

By the time Chloé Hilliard was 12, she wore a size 12—both shoe and dress—and stood over six feet tall. Fitting in was never an option. That didn't stop her from trying. Cursed with a "slow metabolism," "baby weight," and "big bones,"—the fat trilogy—Chloe turned to fad diets, starvation, pills, and workouts, all of which failed.

Realizing that everything—from government policies to corporate capitalism—directly impacts our relationship with food and our waistlines, Chloé changed her outlook on herself and hopes others will do the same for themselves.

The perfect mix of cultural commentary, conspiracies, and confessions, F*ck Your Diet pokes fun at the all too familiar, misguided quest for better health, permanent weight loss, and a sense of self-worth.
Praise For F*ck Your Diet: And Other Things My Thighs Tell Me…
Goodreads Choice Award Finalist | Named Best Comedy Book by the African American Literary Awards Show | One of Book Riot's "8 New Books You Won't Be Able to Put Down" | One of Essence's "24 Books Written By Black Authors That We Can't Wait To Read This Winter" | Featured in Kirkus's "The 8 Most Buzzed About Books Right Now" | Glamour's "Best Books of 2020 (So Far)" | Bustle's "Best Books of 2020"

"An essay collection focused on media representations of the body, Chloé Hilliard's F*ck Your Diet is an irreverent must-read. Examining the quest for the so-called perfect body — a quest used to fuel Western consumerism — comedian Hilliard writes of her once-fraught relationship with her body, in the hope that others can find their way out of the yo-yo dieting cycle." —Bustle

"Chloé is the hilarious voice of reason we all need right now. I'm very grateful for this book." —Amy Schumer

"F*ck Your Diet isn't merely a hilarious memoir of Hilliard's own personal journey with health and wellness—it's a well-researched study on diet culture, public policies that helped shape many health crises, and the history of Eurocentric standards of beauty. Her struggles with diet and body image are universally relatable and laugh-out-loud funny (she is a comedian, after all), but she pulls no punches in her research on how public policy and the media often set marginalized people up for failure (she's also a journalist, after all)." —Book Riot

"Smart, inspiring and hilarious. Chloé lets it all hang out. We should too." —Wanda Sykes

"F*ck Your Diet has received stellar reviews from everyone from Marc Lamont Hill to MTV Decoded's Franchesca Ramsey, who called it 'a witty whip-smart exploration of the ways society has screwed up the way we see our bodies.' Let Ramsey tell it, your younger, less secure self needed this." —Refinery29

"Informative, inspiring, and often hilarious. Fresh, whip-smart wisdom that will appeal most to women battling weight and self-esteem issues." —Kirkus

"A heartfelt, amusing essay collection…The author's self-love message will resonate with readers who appreciate narratives of personal and professional fulfillment."—Publishers Weekly

"A witty, whip-smart exploration of the ways society has screwed up the way we see our bodies. Chloé blends together comedy and journalism in exciting and entertaining fashion. If only I could go back and time and give this book to my younger, less secure self." --Franchesca Ramsey, host of MTV's Decoded & author of Well, That Escalated Quickly

"Hysterical and honest, Chloé Hilliard holds nothing back in this f*cking JOY of a read!" —Jes Baker, author and creator of the Militant Baker

"F*ck Your Diet is the perfect recipe of raw humor, fresh insight, and sharp honesty. This book will disrupt your thinking on food, identity, and society. More important, it will inspire you to reimagine yourself and the world on more loving and humane terms. This offering marks Chloé Hilliard's emergence as one of the most important and original voices of her generation." —Marc Lamont Hill, Professor of Media Studies, Temple University and Host of BET News

"More than just memoir. This is a personal story that illustrates how the most intimate aspects of existence—the way our bodies look, the way we feel about and feed them, the quality of our lives—are shaped by history and public policy, by capitalism and by the environments we live in . . . But don't worry. This book is still funny. In fact, it's frequently hysterical." —BookPage

"F*ck Your Diet is essential reading for anyone who knows—or needs to learn—that there's more to life than losing weight." —Bustle

"Let [Hillard's] book, which has been hyped by Amy Schumer and Wanda Sykes, f*ck your diet." —Glamour

"T his is the perfect combo of memoir, humor, and hard-hitting social commentary to keep you engaged from beginning to end, and it will absolutely help you kickstart your 2020 reading." —Book Riot

"Chloé Hilliard will have you laughing, crying, and rooting for her the whole way...It's candid, raw, and has everything you need to get to know the star on a whole new level." —PopSugar

"In this gut-busting anti-diet book, the journalist-turned-standup comedian posits that the same society that shames us for being fat is also responsible for the socioeconomic issues, stress and chemicals in food that cause us to be fat in the first place." —PureWow
Gallery Books, 9781982108618, 336pp.
Publication Date: January 7, 2020
About the Author
Chloé Hilliard is a writer and comedian who first appeared as a semi-finalist on NBC's Last Comic Standing and went on to appear on The Tonight Show Starring Jimmy Fallon, Comedy Central, MTV, VH1, and more. Prior to her comedy career, she was a culture and entertainment journalist whose work has been featured in The Village Voice, Essence, Vibe, and The Source. Find out more at ChloeHilliard.com.
or
Not Currently Available for Direct Purchase