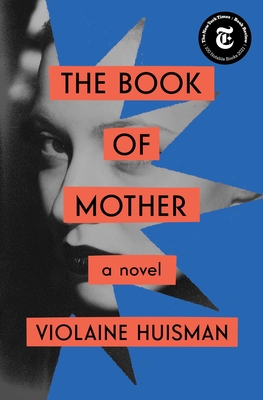 The Book of Mother
A Novel
Hardcover

* Individual store prices may vary.
Other Editions of This Title:
Digital Audiobook (10/18/2021)
Compact Disc (10/19/2021)
Description
A New York Times Notable Book

A gorgeous, critically acclaimed debut novel about a young woman coming of age with a dazzling yet damaged mother who lived and loved in extremes.

A prizewinning tour de force when it was published in France, Violaine Huisman's remarkable debut novel is about a daughter's inextinguishable love for her magnetic, mercurial mother. Beautiful and charismatic, Catherine, a.k.a. "Maman," smokes too much, drives too fast, laughs too hard, and loves too extravagantly. During a joyful and chaotic childhood in Paris, her daughter Violaine wouldn't have it any other way.

But when Maman is hospitalized after a third divorce and a breakdown, everything changes. Even as Violaine and her sister long for their mother's return, once she's back Maman's violent mood swings and flagrant disregard for personal boundaries soon turn their home into an emotional landmine. As the story of Catherine's own traumatic childhood and adolescence unfolds, the pieces come together to form an indelible portrait of a mother as irresistible as she is impossible, as triumphant as she is transgressive.

With spectacular ferocity of language, a streak of dark humor, and stunning emotional bravery, The Book of Mother is an exquisitely wrought story of a mother's dizzying heights and devastating lows, and a daughter who must hold her memory close in order to let go.
Praise For The Book of Mother: A Novel…
A Library Journal Best Book of 2021

"Marvelous... superbly effective. One develops a soft spot for many of Huisman's characters, despite their hideous and sometimes criminal behavior. Their larger-than-life swagger is the first lure. Their human frailty is the second. [The Book of Mother is] a labor of love, which considers primal conflict with a tender psychological acuity. It's as if Huisman has fought with her mother, surrendered to her, and finally moved on. —Katy Waldman, The New Yorker

"[Maman]—proud, intoxicating, and manic-depressive—still carries the confusion and loneliness of her own childhood and is determined to hold her daughters close. Hiding 'neither her body nor her lovers,' Maman tells stories from her life 'continuously, ad nauseam, an unbearable monologue.' Huisman initially narrates from her childhood perspective, then zooms out to cover the whole of Maman's life, in a tableau that captures a filial love as fierce and frank as its central figure."—The New Yorker, "In Brief" Review

"A prize-winning sensation in France, Huisman's witty, immersive autofiction showcases a Parisian childhood with a charismatic, depressed parent."—Oprah Daily

"The Book of Mother, a portrait in three parts, is also a study in perspective, a rummaging for the vantage from which its author, Violaine Huisman, might see her mother, Catherine, anew...Huisman declares her mission: to return her mother to earth, 'become the narrator of her story in order to give her back her humanity'…That the madness of Violaine's childhood left her 'deeply marked' is both hardly in doubt and not the subject of this tender, searching book. Instead, the daughter figures as both a character in her mother's story and its teller, taking one last survey of the wreckage, as if her own life depends on it."—New York Times Book Review

"Camhi's translation from the French of Huisman's debut novel conveys Violaine's steady compulsion to understand and explain interspersed with gorgeous details ... Love hurts; Huisman elegantly examines how and why."
—Kirkus, starred

"In The Book of Mother, Violaine Huisman has painted an indelible portrait of a brilliant, beautiful, mad and maddening woman, expressing the joy of holding her mercurial attention and also the terrible cost of that intimacy. The long, graceful, neo-Proustian sentences break like waves, each one conveying both the depth of the narrator's attachment to Maman and the peril of relying on someone who was at once overwhelmingly powerful and devastatingly fragile. Reading about Maman's decay is like watching a citadel crumble under siege. This is an exquisite evocation of the passionate, reciprocal love that can illuminate its objects, or destroy them, or both. No one who reads this captivating book will ever forget Maman."
—Andrew Solomon, author of The Noonday Demon and Far From the Tree

"In lucid, unflinching—and here beautifully translated—prose, this stunning debut novel mines the singular flaws and graces of the mother-daughter connection. An ode to its titular parent, an 'impossible' yet 'irreplaceable' woman in full, The Book of Mother is also an unforgettable meditation on the searing pain of loss and the enduring power of love."
—Caroline Weber, author of Proust's Duchess and Queen of Fashion: What Marie Antoinette Wore to the Revolution

"Violaine Huisman summons her late mother's voice in order to speak with and through and for her. The result is a charged portrait of a vibrant and destructive woman as imagined by the daughter who believed it was her job to save her. The prose has the unmistakable urgency and authority of love, producing an homage without idealization, an elegy without false consolation. The Book of Mother is at once an act of radical identification and a way of letting go."
—Ben Lerner, author of The Topeka School
Scribner, 9781982108786, 224pp.
Publication Date: October 19, 2021
About the Author
Violaine Huisman was born in Paris in 1979 and has lived and worked in New York for twenty years, where she ran the Brooklyn Academy of Music's literary series and also organized multidisciplinary arts festivals across the city. Originally published by Gallimard under the title Fugitive parce que reine, her debut novel The Book of Mother was awarded multiple literary prizes including the Prix Françoise Sagan and the Prix Marie Claire.

Leslie Camhi is a New York-based essayist and cultural journalist who writes for The New York Times, Vogue, and other publications. She is a frequent contributor to artists' monographs and museum catalogues. The Book of Mother is her first book-length translation.