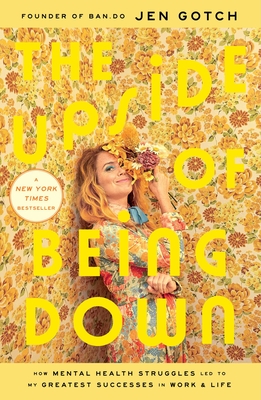 The Upside of Being Down
How Mental Health Struggles Led to My Greatest Successes in Work and Life
Hardcover

* Individual store prices may vary.
Other Editions of This Title:
Digital Audiobook (3/23/2020)
Digital Audiobook (3/23/2020)
Compact Disc (3/24/2020)
Description
A NEW YORK TIMES BESTSELLER

An entertaining, humorous, and inspirational memoir by the founder and chief creative officer of the multimillion-dollar lifestyle brand ban.do, who "has become a hero among women (and likely some men too) who struggle with mental health" (Forbes).

After graduating from college, Jen Gotch was living with her parents, heartbroken and lost, when she became convinced that her skin had turned green. Hallucinating that she looked like Shrek was terrifying, but it led to her first diagnosis and the start of a journey towards self-awareness, acceptance, success, and ultimately, joy.

With humor and candor, Gotch shares the empowering story of her unlikely path to becoming the creator and CCO of a multimillion-dollar brand. From her childhood in Florida where her early struggles with bipolar disorder, generalized anxiety, and ADD were misdiagnosed, to her winding career path as a waitress, photographer, food stylist, and finally, accidental entrepreneur, she illuminates how embracing her flaws and understanding the influence of mental illness on her creativity actually led to her greatest successes in business and life.

Hilarious, hyper-relatable, and filled with fascinating insights and hard-won wisdom on everything from why it's okay to cry at work to the myth of busyness and perfection to the emotional rating system she uses every day, Gotch's inspirational memoir dares readers to live each day with hope, optimism, kindness, and humor.
Praise For The Upside of Being Down: How Mental Health Struggles Led to My Greatest Successes in Work and Life…
"Jen is my hero, because she's not afraid to tell the messy truth about entrepreneurship, business, love, and mental health, and how it's okay to not always be okay. I loved this book as much as I love sequins, confetti, and pizza."
—Emma Straub, author of The Vacationers and Modern Lovers

"You know when you get stuck in an elevator with a stranger and you're so freaked out that you start telling each other deep secrets and powerful truths and then you realize you have a new best friend and also she has wine and you decide it's actually better to be trapped in the elevator than out in the real world? That's exactly what this book is like. But without elevators or wine. Unless you bring your own."
—Jenny Lawson, author of Furiously Happy and founder of Nowhere Books

"Jen Gotch has perfectly translated her natural hilarity and charm into her storytelling. A well curated set of life stories. You will laugh hard, maybe cry, and fundamentally understand why we do the things we do."
—Kelly Oxford, author of When You Find Out the World Is Against You

"Jen Gotch is a magical sensitive soul. She shares her wisdom and unique perspective on life and offers advice she has learned through founding the joyful & optimistic lifestyle brand, ban.do, and being a BOSS (who cries at work), but ALSO through her own struggles with mental illness, personal setbacks, and managing to come out on the other side with optimism firmly intact. She wrote a memoir disguised as a self-help book—or maybe she wrote a self-help book disguised as a memoir? Either way, as far as I'm concerned it's required reading for 2020. So get on it!"
—Busy Philipps, author of This Will Only Hurt a Little

"The Upside of Being Down hits home with me and so many of us who have struggled with our mental health. Jen's raw honesty, humor, and wit break through the noise in a way that bridges memoir, inspiration, and self-help. I highly recommend!"
—Sophia Amoruso, founder and CEO of Girlboss

"The Upside of Being Down is laugh-out-loud funny, irreverent, and most of all, inspirational. Jen is a role model for navigating the ups and downs of any and all diagnoses with resilience and creativity. In a time when the world is increasingly anxious, Jen's story has the power to remind us that it's ok to struggle, and in fact, struggle can point us toward our greatest accomplishments. This is a book that will give hope to many, many people."
—Mark Lukach, author of My Lovely Wife in the Psych Ward

"The narrative captures the energy and enthusiasm required to build a startup company and provides strategies for maintaining an optimistic outlook. Ultimately, Gotch's feel-good focus conveys a positive message about a long journey toward emotional stability. An upbeat look at dealing with life's curveballs."
—Kirkus

"Gotch is unequivocal in delivering her message that mental health is every bit as important as physical health (and that the two are interrelated), and her often humorous delivery underscores her belief that sometimes a laugh truly is the best medicine. Anyone who's ever dealt with mental illness will appreciate this forthcoming and empathetic volume."
—Publishers Weekly

"Irreverent and instantly lovable, Jen Gotch shares her personal struggles with bipolar and anxiety disorders in a relatable, diaristic tone. She details the challenges and ultimate triumph of founding a multimillion dollar thriving business based on bringing joy to others."
—Zibby Owens
Gallery Books, 9781982108816, 288pp.
Publication Date: March 24, 2020
About the Author
Jen Gotch is the founder and chief creative officer of ban.do and an advocate for mental health and emotional well-being. In 2008, she founded ban.do with a friend, and with no prior business experience, was able to work with a small group of passionate people and transform it from a small hair accessories company into a beloved lifestyle brand that's all about encouraging joy and personal growth. She lives in Los Angeles, California.
or
Not Currently Available for Direct Purchase