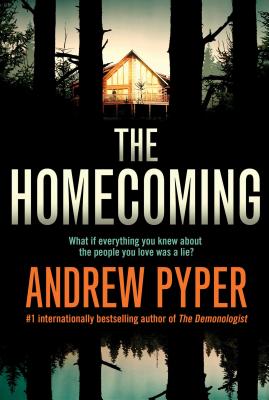 The Homecoming
Paperback

* Individual store prices may vary.
Description
Instant National Bestseller

Bestselling author Andrew Pyper returns with a riveting psychological thriller about how the people you've known your whole life can suddenly become strangers.

What if everything you knew about the people you loved was a lie?

After the death of their absentee father, Aaron and Bridge Quinlan travel to a vast rainforest property in the Pacific Northwest to hear the reading of his will. There, they meet up with their mother and troubled sister, Franny, and are shocked to discover the will's terms: in order to claim their inheritance they must all remain at the estate for thirty days without any contact with the outside world. Despite their concerns, they agree.

The Quinlans soon come to learn their family has more secrets than they ever imagined—revelations that at first inspire curiosity, then fear. Why does Bridge have faint memories of the estate? Why did their father want them to be sequestered there together? And what is out there they feel pulling them into the dark heart of the woods?

The Homecoming is at once a gripping mystery, a chilling exploration of how our memories can both define and betray us, and a riveting page-turner that will have you questioning your very existence.
Praise For The Homecoming…
"[A] brilliant thriller . . . readers will be invested in the thoughtfully constructed characters. Fans of Josh Malerman's Bird Box will be pleased."
— PUBLISHERS WEEKLY, starred review

"A thriller of ominous betrayal that dips into paranoia and the paranormal . . . Pyper's petrifying imagination comes through in the details. The Homecoming creates a battle between the reader's faith in what they know about their own histories and the leery possibility of treachery emerging out of nowhere . . . By the time the characters surrender to psychological terror, the reader has relinquished whatever idea of security they had before beginning the book."
— THE GLOBE AND MAIL

"A bizarre and innovative take on the cabin-in-the-woods suspense story. . . . [with] a series of inventive plot twists that Pyper mounts for the readers' delight, pulling them off with his usual sharp and highly visual prose style."
— TORONTO STAR

"Every bit as chilling and creepy as you'd expect."
— CHATELAINE

"[A] weird, wonderful, audacious new novel . . . descends, at first slowly and then with almost dizzying speed, into an abyss of shattered memories, disquieting dreams, and an evil that borders on the surreal. . . . Brilliantly constructed and absolutely mesmerizing, this could very well be the best book yet by the author."
— BOOKLIST, starred review

"A skilful blend of horror, science fiction and family drama. . . . Pyper is a masterful plotter . . . a clean, clear and subtly affecting writer who is underappreciated as a stylist, who lulls readers and then grabs them by their throats. The Homecoming is an excellent novel . . . and might be Pyper's best book."
— WINNIPEG FREE PRESS

A Paradies Lagardere March 2019 pick.

"Part macabre family drama, part chilling dystopian nightmare, The Homecoming is the kind of story that could only spring from the darkest imagination. Pyper is a master of the artful thriller, and Belfountain, the mysterious mansion at the centre of this terrifying novel, might be one of the most eerily realized hellscapes ever. The last page is a jaw-dropper."
— LISA GABRIELE, bestselling author of The Winters

"Pyper has the unique ability to write beautiful, relaxing sentences which, two hours later, have me sleeping with all the lights on and jumping every time the dog barks. The Homecoming is both heartwarming yet utterly terrifying. There's no doubt that Pyper is a genuine craftsman of our time."
— ROZ NAY, bestselling author of Our Little Secret

"The Homecoming begins as a story about a family thrown together in the strangest of circumstances. From there, Pyper uses deft plotting to bring readers through twisty turns and dark woods to an ending that's both surprising and exactly right. Pyper is a gifted storyteller with a penchant for the super creepy, and with The Homecoming he's at his very best."
— AMY STUART, bestselling author of Still Water and Still Mine


PRAISE FOR THE ONLY CHILD

"Gothic fans, rejoice! . . . An addictive cycle of cliffhanger chapter endings, quick resolutions, and taut, punchy sentences."
— THE GLOBE AND MAIL

"Pyper upends genre conventions once again . . . a high-concept dark fantasy novel . . . Lily's journey with a monster who inspired the very literary tradition Pyper so skillfully exploits provides . . . a satisfying confrontation with darkness, both personal and mythological, that readers expect from the best horror."
— TORONTO STAR

"So you're reading The Only Child, Pyper's newest book, and suddenly—kaboom!—the story is shot like a cannon blast across a very dark sky. Exactly the sort of light we pine for."
— JOSH MALERMAN, author of Bird Box and Black Mad Wheel

"A seductive gothic thriller for the modern age. Crafted with dark intrigue and cinematic drive, this mesmerizing journey into the heart of a monster is, at once, compelling, eerie and brilliantly satisfying."
— AMI MCKAY, author of The Witches of New York

"As much a psychological inquiry as it is an adrenaline-fueled thriller, layered with menace, mystery, and startling revelations that span centuries. A book that begs to be read in one sitting, with the doors locked, the lights low, and a sharp knife and a jug of holy water within reach, just in case."
— BENJAMIN PERCY, author of The Dead Lands, Thrill Me, Red Moon and The Wilding

"Andrew Pyper has concocted a darkly entrancing tale that sweeps you off your feet from its first pages. Filled with deliriously clever nods to the grand Gothic tradition, The Only Child is also fiercely original, wildly provocative and utterly satisfying, beginning to end."
— MEGAN ABBOTT, bestselling author of The Fever and You Will Know Me

"Pyper has honed his craft as finely as Michael has honed his murderous impulses. This makes for a propulsive read, and will help this book make a smooth transition when it inevitably makes the leap to the big screen."
— QUILL & QUIRE

"Andrew Pyper's The Only Child cleverly re-imagines the 19th century gothic classics while spinning a thrilling, touching, and distinctly 21st century monster story."
— PAUL TREMBLAY, author of A Head Full of Ghosts and Disappearance at Devil's Rock

"Pyper writes beautiful, scary books that would keep Robert Louis Stevenson up at night."
— ROBERT ROTENBERG, author of Stray Bullets and Old City Hall

"Pyper's writing is gripping, and readers will undoubtedly make comparisons to Stephen King."
— LIBRARY JOURNAL

"International horror royalty (often compared to the crowned ruler, Stephen King)."
— METRO CANADA
Simon & Schuster, 9781982108977, 368pp.
Publication Date: February 26, 2019
About the Author
Andrew Pyper is the internationally bestselling author of ten previous novels, including The Demonologist, which won the International Thriller Writers award for Best Hardcover Novel, and The Killing Circle, which was selected a New York Times Best Crime Novel of the Year. He lives in Toronto. Visit AndrewPyper.com and follow him on Twitter @AndrewPyper.