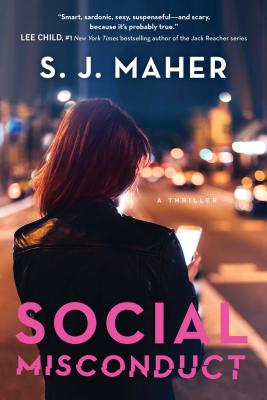 Social Misconduct
Paperback

* Individual store prices may vary.
Description
A timely and shocking thriller about a young woman who is the target of a social-media smear campaign.

"Smart, sardonic, sexy, suspenseful—and scary, because it's probably true." —Lee Child, #1 New York Times bestselling author of the Jack Reacher series

Her perfect job becomes the perfect nightmare when a stalker hacks her phone.

Candace Walker is thrilled when she lands a new job at a hip Manhattan tech company and gets a brand-new iPhone. She's more than ready to move on from creating clickbait ads for weight-loss pills and herbal erection boosters, and is determined to dazzle the startup team she joins.

A week later, though, everything is at risk: Candace is the target of a mysterious harasser and an online smear campaign. She tosses her new phone into the Hudson River, begins hiding out in her sister's storage locker in New Jersey, and can't think of a single person she can trust. But Candace hasn't come this far—and gone to such lengths—to submit to what is happening without a fight.
Praise For Social Misconduct…
Praise for Social Misconduct

"This smart and speedy book [is] revelatory, entertaining, and presented by SJ Maher . . . in a style that's both fresh and original."
— Toronto Star

"Readers . . . will love the immediacy of Candace's evasive maneuvers and never-get-caught attitude. Journalist Maher's third novel is full of . . . fast-paced action."
— Booklist

"Smart, sardonic, sexy, suspenseful—and scary, because it's probably true."
— Lee Child, #1 New York Times bestselling author of the Jack Reacher series

"A very topical thriller . . . Could not put it down."
— Shinan Govani, Social columnist

"Social Misconduct provides two compelling reasons to ditch your phone: 1) It's a gripping good read, and 2) It will give you a bad case of the social media heebie-jeebies."


— Andrew Pyper, author of The Homecoming and The Demonologist

"Maher delivers an unnerving combination of delicious fun and creeping dread. This perfectly paced, addictive romp through modern society is both a cautionary tale and a terrifying thrill ride."
— Marissa Stapley, bestselling author of Mating for Life and Things to Do When It's Raining

"A sexy, twisty thriller that'll make you want to delete your accounts and toss your phone, with a table-turning ending that left me gasping."
— Lisa Gabriele, bestselling author of The Winters

"Maher's Social Misconduct is a thriller for this very moment, full of the ways our social conduct can be used against us, and I was on the edge of my seat trying to decide if Candace was a victim or master-manipulator. You won't be able to put this fast-paced puzzle-box of a novel down."
— Catherine McKenzie, bestselling author of The Good Liar

Praise for Salvage

"Exciting, entertaining and a lot of fun. Read it in a hammock while resting in the backyard this summer. Or read it on the beach. But do read it."
— Ottawa Citizen

"This is an interesting work by a writer of talent and, for the sailing enthusiast, a fun read."
— The Globe and Mail

"Readers looking for action will find plenty of it. Maher vividly captures the East Coast, not only the wind and the tangy scent of the sea but the accents and talk of the people in Scarnum's world—as rough and salty as the waters they sail."
— Publishers Weekly

"One fast-paced action scene after another. Highly effective."
— Kirkus Reviews

"Salvage is a look into the life, hard scrabble style and fun on the Nova Scotia coast with enough sex to uncurl a lobster's tail."
— Canadian Mystery Reviews
Simon & Schuster, 9781982109066, 336pp.
Publication Date: April 23, 2019
About the Author
S. J. Maher is an award-winning journalist who has uncovered scandals, reported from remote outports, jails, warships, hospitals, parliamentary chambers, Afghanistan, and Haiti. His second novel, Salvage, was shortlisted for awards by the Crime Writers of Canada and The International Thriller Writers. He writes his books at anchor on his old sailboat, Free Spirit. Visit him at sjmaher.ca or follow him on Twitter @stphnmaher.
or
Not Currently Available for Direct Purchase