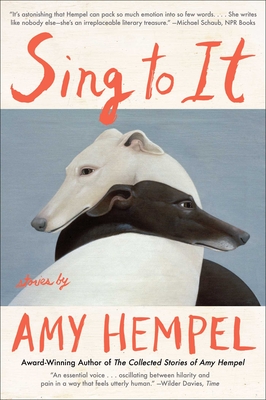 Sing to It
Stories
Paperback

* Individual store prices may vary.
Other Editions of This Title:
Digital Audiobook (3/25/2019)
Compact Disc (3/26/2019)
Hardcover (3/26/2019)
Description
LONGLISTED FOR THE PEN/FAULKNER AWARD

ONE OF TIME'S 100 BEST BOOKS OF THE YEAR

ONE OF NPR'S BEST BOOKS OF 2019

From legendary writer Amy Hempel, one of the most celebrated and original voices in American short fiction: an astounding collection of fifteen stories that are "riveting in precision" (The Atlantic) and "scintillating as the blade of a knife" (The Wall Street Journal).

Amy Hempel is a master of the short story. A multiple award winner, Hempel is beloved and highly regarded among writers, reviewers, and readers of contemporary fiction.

These fifteen exquisitely honed stories reveal Hempel at her most compassionate and spirited, as she introduces characters, lonely and adrift, searching for connection. In "A Full-Service Shelter," a volunteer at a dog shelter tirelessly, devotedly cares for dogs on a list to be euthanized. In "Greed," a spurned wife examines her husband's affair with a glamorous, older married woman. And in "Cloudland," the longest story in the collection, a woman reckons with the choice she made as a teenager to give up her newborn infant. Quietly dazzling, these stories are replete with moments of revelation and transcendence and with Hempel's singular, startling, inimitable sentences.

Ravishing, heartbreaking, and powerfully concise, Sing to It is an "exquisite collection" (The Wall Street Journal) and a "quiet masterpiece by a true American original" (NPR).
Praise For Sing to It: Stories…
"Each purified sentence [in Sing to It] is itself a story, a kind of suspended enigma. . . . Hempel, like some practical genius of the forest, can make living structures out of what look like mere bric-a-brac, leavings, residue. It's astonishing how little she needs to get something up and going on the page. A pun, a malapropism, or a ghost rhyme is spark enough."
–James Wood, The New Yorker

"Turning the pages [in Sing to It] is like swimming in a lake and suddenly finding the bottom drop out beneath you, leaving you to get your bearings amid unanticipated depths."
–Ruth Franklin, The Atlantic

"It's astonishing that Hempel can pack so much emotion into so few words. . . . There's not a story in Sing to It that's less than brilliant, and the collection itself is even greater than the sum of its parts. Hempel occasionally draws comparisons to authors like Mary Robison and Joy Williams, but she writes like nobody else — she's an irreplaceable literary treasure who has mastered the art of the short story more skillfully than just about any other writer out there. Sing to It is a quiet masterpiece by a true American original."
–NPR Books

"[Amy Hempel is] an essential voice in contemporary American short fiction… [Sing to It] offers Hempel at her best: oscillating between hilarity and pain in a way that feels utterly human."
–TIME Magazine

"Scintillating as the blade of a knife. . . . The verisimilar quality of this storytelling is powerful. Ms. Hempel's stories compel us to re-reading in much the same way we review (or re-read) interactions in everyday life, attempting to piece together what really happened, what was actually being said. . . . When there is a shock, a crisis, a scene of horror, Ms. Hempel sings to it, and the result is an exquisite collection by a master of the genre."
–The Wall Street Journal


"Gorgeously distilled, archly witty, and daringly empathetic tales...Hempel is a master miniaturist, capturing in exquisitely nuanced sentences the sensuous, cerebral, and spiritual cascade of existence, homing in on pain and humor and the wisdom each can engender."
—Booklist

"Short story virtuoso Hempel's first collection since 2006 consists of 15 characteristically bold, disconcerting, knockout stories that highlight her signature style with its condensed prose, quirky narrators, and touching, disturbing, transcendent moments."
—Publishers Weekly (starred review)

"A dizzying array of short fiction...Hempel packs a lot into her narrow spaces: nuance, longing, love, and loss. The brilliance of the writing resides in the way Hempel manages to tell us everything in spite of her narrator's reticence, teaching us to read between the lines."
—Kirkus Reviews (starred review)



"[Hempel's] stories . . . burrow inside you, dogging your thoughts for days. . . . Hempel has both a better feel for the vicissitudes of the world and a better imagination than you do."
–Cory Oldweiler, amNY


"Attention short story fans: Amy Hempel is back with her first collection of short stories in over a decade. Some are just a page long and others are like small novellas, but they're all astonishingly rhythmic and textured."
–Hello Giggles


"Hempel packs a great deal into the briefest of fictions, creating balanced and nuanced stories
of longing, love and loss."
—Bookpage
Scribner, 9781982109127, 160pp.
Publication Date: November 12, 2019
About the Author
Amy Hempel is the author of Sing to It, The Dog of the Marriage, Tumble Home, At the Gates of the Animal Kingdom, Reasons to Live, and the coeditor of Unleashed. Her stories have appeared in Harper's, Vanity Fair, GQ, Tin House, The Harvard Review, The Quarterly, and have been widely anthologized, including Best American Short Stories and The Best Nonrequired Reading. She teaches in the Graduate Writing Program at Bennington College, and at Stony Brook Southampton. She lives near New York City.