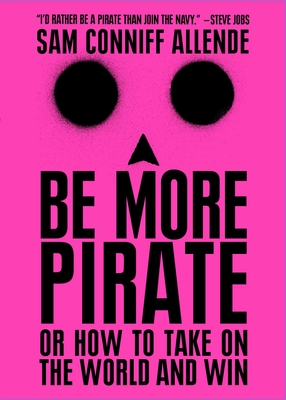 Be More Pirate
Or How to Take on the World and Win
Paperback

* Individual store prices may vary.
Other Editions of This Title:
Digital Audiobook (12/17/2018)
Description
Pirates didn't just break the rules, they rewrote them. They didn't just reject society, they reinvented it. Pirates didn't just challenge the status-quo, they changed everyf*ckingthing. Pirates faced a self-interested establishment, a broken system, industrial scale disruption, and an uncertain future. Sound familiar?

"I'd rather be a pirate than join the navy."—Steve Jobs

Pirates stood for MISCHIEF, PURPOSE, and POWER. And you can too.

Be More Pirate unveils the innovative strategies of Golden Age pirates, drawing parallels between the tactics and teachings of legends like Henry Morgan and Blackbeard with modern rebels, like Elon Musk, Malala, and Banksy. Featuring takeaway sections and a guide to building your own pirate code 2.0, Be More Pirate will show you how to leave your mark on the 21st century.

1. Rebel — Draw strength by standing up to the status quo.
2. Rewrite — Bend, break, but most importantly, rewrite the rules.
3. Reorganize — Collaborate to achieve scale, rather than growth.
4. Redistribute — Fight for fairness, share power, and make an enemy of exploitation.
5. Retell — Weaponize your story, then tell the hell out of it.

Whatever your ambitions, ideas and challenges, Be More Pirate will revolutionize the way you live, think, and work today, and tomorrow. So what are you waiting for? Join the rebellion.
Praise For Be More Pirate: Or How to Take on the World and Win…
"This isn't a book, it's the beginning of a movement. Be More Pirate should come with a health warning."
—Tom Goodwin, author of Digital Darwinism

"Ask forgiveness, not permission! A unique approach...reminds me of the fun we've had with our airlines."
—Sir Richard Branson

"A model for how to break the system and create radical change."
—Evening Standard

"A refreshing, entertaining and inspiring perspective on work, leadership and why we do what we do."
—Bruce Daisley, VP, Twitter

"Be More Pirate feels so important as it looks to history to help us grip the future."
—Martha Lane Fox CBE, Founder of Lastminute.com

"A controversial call to arms, this contrarianism is exactly what we need to course correct 'the corporation.'"
—Arlo Brady, CEO of Freud Communications

[Conniff Allende is] one of the sharpest thinkers on the planet. Diving deep into the pirate mythology and ethos, Conniff-Allende riffs on the power of being a swashbuckling, take-no-prisoners leader in the Steve Jobs mode--but also presents a powerful deconstruction on the state of work today and how it can be different if we chose to. It is a manifesto for each of us to create the sort of Good Trouble the world needs."
—Forbes
Atria Books, 9781982109615, 320pp.
Publication Date: December 18, 2018
About the Author
Sam Conniff Allende is the founder and former CEO of Livity, a multi-award-winning youth marketing agency. Sam has led the unlikeliest collaborations between brands and bright young people on the edges of society, resulting in real innovation. He has worked with Google, Unilever, PlayStation, and Dyson, and regularly speaks and runs Be More Pirate workshops at these industry-leading companies. Sam believes in the power of professional rule-breaking and is on a mission to instigate modern mutinies in organizations around the world, where the teams take over the running of the ship to ultimately become more accountable, motivated and rebellious. Be More Pirate is his first book.