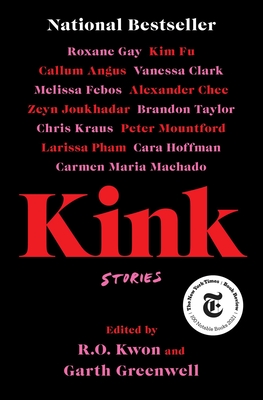 Kink
Stories
Paperback

* Individual store prices may vary.
Other Editions of This Title:
Compact Disc (2/9/2021)
Description
Kink is a groundbreaking anthology of literary short fiction exploring love and desire, BDSM, and interests across the sexual spectrum, edited by lauded writers R.O. Kwon and Garth Greenwell, and featuring a roster of all-star contributors including Alexander Chee, Roxane Gay, Carmen Maria Machado, and more.

Kink is a dynamic anthology of literary fiction that opens an imaginative door into the world of desire. The stories within this collection portray love, desire, BDSM, and sexual kinks in all their glory with a bold new vision. The collection includes works by renowned fiction writers such as Callum Angus, Alexander Chee, Vanessa Clark, Melissa Febos, Kim Fu, Roxane Gay, Cara Hoffman, Zeyn Joukhadar, Chris Kraus, Carmen Maria Machado, Peter Mountford, Larissa Pham, and Brandon Taylor, with Garth Greenwell and R.O. Kwon as editors.

The stories within explore bondage, power-play, and submissive-dominant relationships; we are taken to private estates, therapists' offices, underground sex clubs, and even a sex theater in early-20th century Paris. While there are whips and chains, sure, the true power of these stories lies in their beautiful, moving dispatches from across the sexual spectrum of interest and desires, as portrayed by some of today's most exciting writers.
Praise For Kink: Stories…
Praise for KINK: STORIES edited by R.O. KWON & GARTH GREENWELL

"This provocative collection will leave you tied to your chair...[A] groundbreaking collection of short stories that explore desire, love, BDSM, and consent...Co-edited by acclaimed novelists R.O. Kwon and Garth Greenwell, Kink...features stories by Roxane Gay, Alexander Chee, Carmen Maria Machado, and others—that explore desire, love, BDSM, and consent. The book seeks not only to lay bare non-normative physical intimacy, but to change the cultural conversations surrounding it. Yes, there are ropes and riding crops, but the beauty lies in capturing the emotionality as well as the eroticism."—O MAGAZINE

"...Dive into this collection of short stories written by several renowned fiction authors. Set in places like therapists' offices, private estates, and a sex theater in early 20th century Paris, the stories explore various points across the sexual spectrum from love and desire to BDSM."—COSMOPOLITAN

"Fifteen tantalizing stories of pleasure, pain, and power...The characters in these stories illuminate the ways gender, politics, and cultural norms inform power dynamics—inside and outside the bedroom. The collection's strength lies not just in the diversity of the writers, but also in the experiences they're exploring. Kink, desire, and sexuality all exist on a spectrum, and so do these stories...Thrilling, provocative, and unapologetically kinky."—KIRKUS REVIEWS

"Greenwell and Kwon deliver on their promise to 'take kink seriously' in this enticing, wide-ranging collection that plumbs the depths of desire and control…This visionary anthology successfully explores the range of sexual potency in the characters' power plays."—PUBLISHERS WEEKLY

"...[S]tories about love and lust from a powerhouse lineup...Edited by two writers whose work takes sex seriously, Kink makes a case for sex's place in literary fiction."—LITHUB

"Intimate and wide ranging in every sense, the script-flipping, heart-skipping stories gathered here speak to and across one another, conveying truths of desire, experience, and selfhood as only literature can."—BOOKLIST

"Bless Kink for opening up the spaces between all binaries, for daring to hold open desire between bodies on the brink of ecstasy. Between pleasure and pain, between hunger and thirst, between power and surrender, these stories will remind you how desire let loose can write us back to life. A pure erotic fury. An unapologetic delight brought to the cusp of trembling."—LIDIA YUKNAVITCH, bestselling author of Verge and The Book of Joan

"The stories in this book are a chorus of kink, singing different songs of sex and danger and want; they coax us into rooms that were previously closed, and what gorgeous rooms they are."—ESMÉ WEIJUN WANG, New York Times bestselling author of The Collected Schizophrenias

"Behind all the artifice and pageantry of what we deem as 'kink,' there are untold stories, uncharted maps, and hidden worlds of desire, anonymous encounters and solidarities amongst the muted fringes. For those not 'in the life,' this collection could read like a journal of degeneracy; for those who are more familiar, it could read like romance. Ultimately, though, in its wide-ranging splendor and sexiness, Kink proves that our desires, no matter how dark they are deemed, are always worthy of being named."—BRONTEZ PURNELL, author of 100 Boyfriends
Simon & Schuster, 9781982110215, 288pp.
Publication Date: February 9, 2021
About the Author
R.O. Kwon's nationally bestselling first novel, The Incendiaries, is published by Riverhead, and it is being translated into seven languages. Named a best book of the year by over forty publications, The Incendiaries was a finalist for the National Book Critics Circle John Leonard Award for Best First Book and Los Angeles Times First Book Prize. Kwon's writing has appeared in The New York Times, The Guardian, The Paris Review, NPR, and elsewhere. She is a National Endowment for the Arts fellow.

Garth Greenwell is the author of What Belongs to You, which won the British Book Award for Debut of the Year, was longlisted for the National Book Award, and was a finalist for six other awards, including the PEN/Faulkner Award, the James Tait Black Memorial Prize, and the Los Angeles Times Book Prize. A New York Times Book Review Editors' Choice, it was named a Best Book of 2016 by over fifty publications in nine countries, and is being translated into more than a dozen languages. His second book of fiction, Cleanness, was published in 2020. His fiction has appeared in The New Yorker, The Paris Review, A Public Space, and VICE, and he has written criticism for The New Yorker, the London Review of Books, and The New York Times Book Review, among others. A 2020 Guggenheim Fellow, he lives in Iowa City.