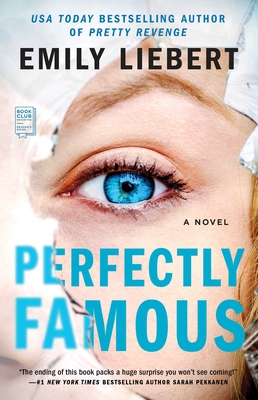 Perfectly Famous
Paperback

* Individual store prices may vary.
Other Editions of This Title:
Digital Audiobook (6/1/2020)
Compact Disc (6/2/2020)
Description
From the USA TODAY bestselling author of Pretty Revenge—a "gripping tale of subterfuge, betrayal, and retribution" (Liv Constantine, bestselling author of The Last Mrs. Parrish)—comes the story of a journalist obsessed with finding a crime novelist who disappears after a deadly attack on her beloved daughter.

As a mother and a famous author, Ward DeFleur has it all. She lives in a beautiful estate in picture-perfect Connecticut, along with her teenage daughter, Stevie, where nothing can go wrong. Until, one night, when Stevie is brutally murdered and Ward's entire world is shattered. Consumed by panic and grief, Ward vows never to put pen to paper again.

Enter Bree Bennett.

Bree is a recently-divorced, former-journalist-cum-housewife, desperate to fill her days with something other than Pilates classes and grocery shopping. So she decides to start writing for the town newspaper. What begins as Bree's effort to tell Ward's tragic narrative turns into a fixation with finding her favorite author. Unfortunately, Ward doesn't want to be found. Even worse, Stevie's killer is still on the loose…

This harrowing tale of one woman's infatuation and another woman's fear is full of explosive surprises, perfect for fans of The Night Olivia Fell and Then She Was Gone.
Praise For Perfectly Famous…
Praise for Perfectly Famous

"What a fun, engrossing read! Emily Liebert has such a gift for creating relatable characters who find themselves tangled up in something sinister. The ending of this book packs a huge surprise you won't see coming!"
— Sarah Pekkanen, New York Times bestselling author of You Are Not Alone

"What do you get when you cross a famous author in hiding, her murdered daughter, and a newly divorced housewife looking for a way to fill her days? A fast-paced whodunit with one whopper of an ending. Emily Liebert takes us on a wild ride in Perfectly Famous, a propulsive thriller starring two sets of mothers and daughters. Find a sunny spot, because this is the perfect summer read."
— Kimberly Belle, bestselling author of The Marriage Lie and Stranger in the Lake

"Perfectly Famous is a killer summer read! When a back-to-work journalist investigates the sudden disappearance of a famous author, suspects emerge from every corner of both women's lives. Spot-on characters and clever plotting drive this latest thriller by Emily Liebert to a deliciously unexpected ending!"
— Wendy Walker, internationally bestselling author of The Night Before

"Much more than a clever whodunit, Perfectly Famous is a subtle and lyrical acclamation of relationships, especially the challenging one between mothers and daughters. Irresistible and intriguing, it smolders with a brooding, slow-burn tension that delicately unwinds to a final, profoundly shocking outcome. A captivating story that's richly evocative, with characters you won't soon forget. Perfectly Famous is a must read for fans of domestic drama."
— Christina McDonald, USA Today bestselling author of The Night Olivia Fell and Behind Every Lie

"A twisty game of cat and mouse with a shocker of an ending. Gripping and entertaining."

— Michele Campbell, international bestselling author of A Stranger on the Beach

"Readers who appreciate strong, independent, female characters with a wicked sense of humor may enjoy this one."
— Publishers Weekly

"Perfectly Famous packs plenty of meta storytelling about the literary world into its suspenseful framework."
— Popsugar, Thrillers That Will Have You on the Edge of Your Seat This Summer

"Her [Emily Liebert's] combination of dark humor and sensationally-plotted storylines was so gripping and addictive."
— She Reads, Necessary Thrillers To Read In 2020

"A fun, twisty thrill ride about the dark side of female friendship."
— PopSugar

"A breath of fresh air, because it's honestly kind of meta."
— Betches

"Perfectly Famous checks all the boxes for a summer read. The twists and turns throughout most of the book make it a gratifying read."
— Authorlink

Praise for Pretty Revenge

"A riveting tale of subterfuge, betrayal, and retribution set among the glittering world of New York's elite."


— Liv Constantine, bestselling author of The Last Mrs. Parrish and The Last Time I Saw You

"Old wounds reopen with a vengeance in the latest from Emily Liebert, an irresistible page turner set against the glamorous backdrop of moneyed New York. Pretty Revenge twists its way through a riveting tale of blame and obsession, where revenge isn't as neat or pretty as it seems. The perfect summer beach read."


— Kimberly Belle, author of Dear Wife

"Liebert's forte is creating authentic female characters, as she does here with those in both primary and secondary roles, while building suspense by withholding until late in the book the details of just what Jordan did to Kerrie 18 years earlier. A psychological thriller with a surprising resolution."
— Booklist

"Liebert's skillful character development illustrates the complexity of human motivations and encourages sympathy for unlikely characters. Aficionados of the TV show Revenge or those who enjoy contemporary psychological suspense set in an affluent society will want to consider."
— Library Journal

"Liebert (Those Secrets We Keep) delivers a first-rate thriller in this irresistible tale of a wedding planner with a dodgy past and the longtime enemy who aims to expose her secrets.. Fans of Leila Slimani's The Perfect Nanny will devour this expertly paced novel."
— Publishers Weekly
Gallery Books, 9781982110314, 320pp.
Publication Date: June 2, 2020
About the Author
Emily Liebert is the author of six books and has been featured on the Today show and in publications such as The New York Times, The Wall Street Journal, Ladies' Home Journal, People, The Washington Post, and many more. Emily lives with her husband and their two sons in Connecticut.