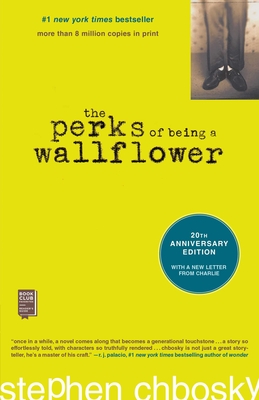 The Perks of Being a Wallflower (Hardcover)
20th Anniversary Edition
Gallery Books, 9781982110994, 240pp.
Publication Date: September 24, 2019
Other Editions of This Title:
Digital Audiobook (9/18/2017)
Paperback (8/14/2012)
Paperback (2/1/1999)
Prebound (2/1/1999)
Compact Disc (10/29/2019)
Hardcover (8/14/2012)
Compact Disc (9/11/2012)
Paperback (9/13/2012)
Paperback (9/5/2008)
Paperback (3/1/2010)
Compact Disc (1/1/2006)
* Individual store prices may vary.
Description
Now in a special edition to mark the twentieth anniversary of a beloved cult classic! Read the #1 New York Times bestselling coming-of-age story that takes a sometimes heartbreaking, often hysterical, and always honest look at high school in all its glory. Also a major motion picture starring Logan Lerman and Emma Watson, The Perks of Being a Wallflower is a funny, touching, and haunting modern classic.

The critically acclaimed debut novel from Stephen Chbosky follows observant "wallflower" Charlie as he charts a course through the strange world between adolescence and adulthood. First dates, family drama, and new friends. Sex, drugs, and The Rocky Horror Picture Show. Devastating loss, young love, and life on the fringes. Caught between trying to live his life and trying to run from it, Charlie must learn to navigate those wild and poignant roller-coaster days known as growing up.

A #1 New York Times bestseller for more than a year, an American Library Association Best Book for Young Adults (2000) and Best Book for Reluctant Readers (2000), and with millions of copies in print, this novel for teen readers (or "wallflowers" of more-advanced age) will make you laugh, cry, and perhaps feel nostalgic for those moments when you, too, tiptoed onto the dance floor of life.
About the Author
Stephen Chbosky wrote and directed the feature film adaptation of his award-winning novel, The Perks of Being a Wallflower. He has worked in film and television, on projects including the film version of the smash-hit musical Rent; the TV show Jericho; and others. He also edited Pieces, a collection of short stories for Pocket Books. A native of Pittsburgh, Pennsylvania, Chbosky graduated from the University of Southern California's Filmic Writing Program. His first film, The Four Corners of Nowhere, premiered at Sundance Film Festival. Follow Stephen on Twitter @StephenChbosky.
Praise For The Perks of Being a Wallflower: 20th Anniversary Edition…
"The Perks of Being a Wallflower is a timeless story for every young person who needs to understand that they are not alone. A bright light in what can be a dark time. And just for the record, I saw the movie adaptation four times. Read the book first. You'll never forget it."
—Judy Blume

"Once in a while, a novel comes along that becomes a generational touchstone. The Perks of Being a Wallflower is one of those books, a story so effortlessly told, with characters so truthfully rendered, you can forget just how beautiful the writing actually is. So I'm here to remind you: Chbosky is not just a great storyteller, he's a master of his craft."
—R.J.Palacio, #1 New York Times bestselling author of Wonder

"Twenty years after its initial publication, The Perks of Being a Wallflower is somehow more resonant, more relevant, than ever. This is the mark not just of a good book, but a classic one."
—Gayle Forman, #1 New York Times bestselling author of If I Stay and I Have Lost My Way

"A quick sensation after it was published, earning cult status and a place on many school reading lists."
—The New York Times

"A coming-of-age tale in the tradition of The Catcher in the Rye and A Separate Peace. . . . [Chbosky's] poignant reflections on life, love and friendship are often inspirational and always beautifully written."
—USA Today

"Charlie is such a completely good, pure human being (the way we were supposed to come off the production line) that you wonder how he sprang from the imagination of an ordinary adult author. . . . Again and again throughout the book he exhibits that pure wisdom we all like to read about and witness. And Stephen Chbosky doesn't let us down. . . . In this culture where adolescence is a dirty word, I hope nothing bad ever happens to this kid."
—Los Angeles Times

"Palpably real. . . . Charlie develops from an observant wallflower into his own man of action. . . . This report on his life will engage teen readers for years to come."
—School Library Journal, starred review

"Compelling. . . . Charlie is a likeable kid whose humor-laced trials and tribulations will please both adults and teens."
—Booklist

"Like Holden [Caulfield], Charlie oozes sincerity."
—Kirkus Reviews

"Depth and gravity. . . . bump[s] it. . . . into the cannon of high school classics."
—NPR

"[C]ould be a memo about the importance of inclusiveness."
—Washington Post

"I honestly think that the world would be a better place if there were more people like Charlie."
—Emma Watson