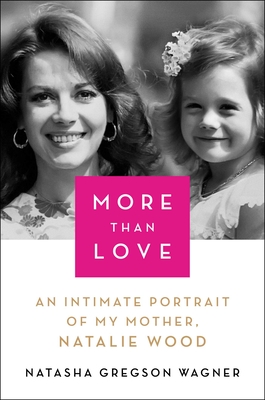 More Than Love
An Intimate Portrait of My Mother, Natalie Wood
Hardcover

* Individual store prices may vary.
Other Editions of This Title:
Digital Audiobook (7/13/2020)
Digital Audiobook (5/4/2020)
Paperback (5/4/2021)
Library Binding, Large Print (12/2/2020)
Compact Disc (5/5/2020)
Description
The heartbreaking, never-before-told story of Hollywood icon Natalie Wood's glamorous life, sudden death, and lasting legacy, written by her daughter, Natasha Gregson Wagner.

More Than Love is a memoir of loss, grief, and coming-of-age by a daughter of Hollywood royalty. Natasha Gregson Wagner's mother, Natalie Wood, was a child actress who became a legendary movie star, the dark-haired beauty of Splendor in the Grass, Rebel Without a Cause, and West Side Story. She and Natasha's stepfather, the actor Robert Wagner, were a Hollywood it-couple twice over, first in the 1950s, and then again when they remarried in the 70s.

But Natalie's sudden death by drowning off Catalina Island at the age of forty-three devastated her family, made her stepfather a person of interest, and turned a vibrant wife, mother, and actress into a tragic figure. The events of that weekend have long been a mystery, and despite the rumors, scandalous media coverage, and accusations of wrongdoing, there has never been an account of how the tragedy was experienced by her daughter. For the first time Natasha addresses the questions surrounding that night to clear her beloved stepfather's name.

More Than Love begins on the morning after her mother's death in November 1981 when eleven-year-old Natasha hears the news on the radio that her mother's body has been found off the coast of Catalina after her parents had spent the weekend on the family boat, The Splendour.

From this profound and shattering loss, Natasha shares her memories of her earliest bonds with her mother; her warm, loving, and slightly chaotic childhood as the daughter of two stars; the lost and confused years of her adolescence; and her halting attempts to move forward as a young woman.

Beautifully told, More Than Love is an emotionally powerful tale of a daughter coming to terms with her grief, as well as a riveting portrait of a famous mother and a vanished Hollywood.
Praise For More Than Love: An Intimate Portrait of My Mother, Natalie Wood…
"A vivid portrait of Natalie Wood, the person.... A deeply intimate chronicle of life with her famous mother and how Wood's death devastated the family."
—LA Times

"A poignant look at a complicated relationship...and a tantalizing foray into 'What if?'"
—The Washington Post

"Wagner...begins her graceful, loving memoir of her mother, Natalie Wood, with an affecting account of waking to news that she had drowned...the best of a crop of new books that take us into the turbulent world of stardom.... Wagner's book effectively reclaims Wood from tawdry gossip and shallowness.
—The New York Times Book Review

"Natasha is ready to share who her "brave and strong" mother truly was...in her memoir More Than Love."
—People Magazine

"[A] revealing new look at Natalie Wood."
—Good Morning America

"What her daughter remembers isn't the myth, but her mother. A beautiful woman devoted to giving her daughters the only thing she never had – a real childhood."
—New York Daily News

"In this heartfelt memoir, she offers a look at her life — as a child enraptured by her mother, and then as an actress, trying to forge her own way while making sense of her mother's."
—Milwaukee Journal Sentinel

"Reveals many small, sweet details of her mother's personal life...By sharing her memories, Natasha hopes to erase the perception that Natalie was a victim."
—Closer Weekly

"Heart-wrenching.... Wagner's beautifully written and unashamedly emotional memoir is a love letter to Natalie Wood and an enduring gift to her fans."
—Publisher's Weekly

"[An] eloquent debut… it is Wagner's sensitive, probing depiction of how she coped without Wood that makes for the most compelling reading in a book that celebrates both a brilliant actress and a bygone film era. An intimate and heartfelt memoir."
—Kirkus

"[V]ivid and heartbreaking... fascinating... [a] personal account that fans of old Hollywood will savor."
—Booklist, starred

"This beautifully written memoir will appeal to movie fans, but Wagner's long search for emotional stability also makes it a compelling tool for those crippled by grief."
—Shelf Awareness

"In More Than Love, Natasha Gregson Wagner brings to life her extraordinarily talented and devoted movie-star mother, Natalie Wood, their magical life before Natalie's tragic drowning when Natasha was eleven, and Natasha's struggle to grow up after. The book is moving, powerful, and so honest. Natasha Gregson Wagner is a bright life force as was her mother."
—Delia Ephron, author of Siracusa

"In this wrenching memoir, Natasha Gregson Wagner conjures in precise, dreamlike detail the idyllic, protected childhood that her mother, Natalie Wood, created for her—a menagerie of animals and friends, a garden always in bloom, laughter on the telephone, bubbles in the bath—and how that dream that morphed into a cold-sweat nightmare with Wood's sudden death. After Wood dies, eleven-year-old Natasha's world goes grey, like Oz in reverse. Writing from inside an experience long crystallized as Hollywood lore and sometimes as Hollywood scandal, Wagner deftly redirects us to the true mystery, that of the deep and enduring bond she shares with her namesake."
—Dana Goodyear, author of The Oracle of Hollywood Boulevard, Honey and Junk, and Anything That Moves

"A mother's death is a loss that changes a daughter forever. In More Than Love, Natasha Gregson Wagner shows us how it's possible to carry memories forward with compassion and grace. Her book is a beautiful testimony to the enduring nature of a mother's love."
—Hope Edelman, author of Motherless Daughters
Scribner, 9781982111182, 304pp.
Publication Date: May 5, 2020
About the Author
Natasha Gregson Wagner has acted in such films as Another Day in Paradise, High Fidelity, Two Girls and a Guy, and David Lynch's Lost Highway, and in the television shows Ally McBeal, House MD, and Chicago Hope. In 2016, she coauthored a coffee table book titled Natalie Wood: Reflections of a Legendary Life. She is one of the producers of the HBO documentary of her mother's life: Natalie Wood: What Remains Behind. Wagner lives in Los Angeles with her family.
or
Not Currently Available for Direct Purchase