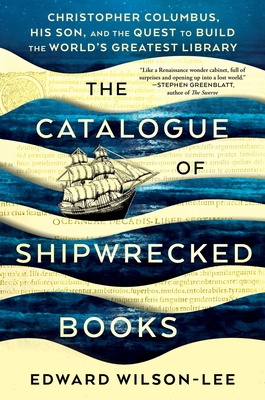 The Catalogue of Shipwrecked Books
Christopher Columbus, His Son, and the Quest to Build the World's Greatest Library
Hardcover

* Individual store prices may vary.
Other Editions of This Title:
Digital Audiobook (3/11/2019)
Paperback (3/10/2020)
Compact Disc (3/12/2019)
Description
"Like a Renaissance wonder cabinet, full of surprises and opening up into a lost world." —Stephen Greenblatt

"A captivating adventure…For lovers of history, Wilson-Lee offers a thrill on almost every page…Magnificent." —The New York Times Book Review

Named a Best Book of the Year by: * Financial Times * New Statesman * History Today * The Spectator *

The impeccably researched and vividly rendered account of the quest by Christopher Columbus's illegitimate son to create the greatest library in the world—"a perfectly pitched poetic drama" (Financial Times) and an amazing tour through sixteenth-century Europe.

In this innovative work of history, Edward Wilson-Lee tells the extraordinary story of Hernando Colón, a singular visionary of the printing press-age who also happened to be Christopher Columbus's illegitimate son.

At the peak of the Age of Exploration, Hernando traveled with Columbus on his final voyage to the New World, a journey that ended in disaster, bloody mutiny, and shipwreck. After Columbus's death in 1506, the eighteen-year-old Hernando sought to continue—and surpass—his father's campaign to explore the boundaries of the known world by building a library that would collect everything ever printed: a vast holding organized by summaries and catalogues, the first ever search engine for the exploding diversity of written matter as the printing press proliferated across Europe. Hernando restlessly and obsessively amassed his collection based on the groundbreaking conviction that a library of universal knowledge should include "all books, in all languages and on all subjects," even material often dismissed as ephemeral trash: song sheets, erotica, newsletters, popular images, romances, fables. The loss of part of his collection to another maritime disaster in 1522—documented in his poignant Catalogue of Shipwrecked Books—set off the final scramble to complete this sublime project, a race against time to realize a vision of near-impossible perfection.

Edward Wilson-Lee's account of Hernando's life is a testimony to the beautiful madness of booklovers, a plunge into sixteenth-century Europe's information revolution, and a reflection of the passion and intrigues that lie beneath our own attempts to bring order to the world today.
Praise For The Catalogue of Shipwrecked Books: Christopher Columbus, His Son, and the Quest to Build the World's Greatest Library…
"A captivating adventure…For lovers of history, Wilson-Lee offers a thrill on almost every page…The Catalogue of Shipwrecked Books is an intellectual biography, but its beating heart is the tangled love of a son for his father…Magnificent." —The New York Times Book Review

"Superb…an intriguing glimpse into the Renaissance mind and its rage for order, as well as a beguiling preview of the modern library and, very possibly, what lies beyond." —The Wall Street Journal

"Absorbing, adventure-packed." —Washington Post

"Read this transporting book. Take it to the beach, to the countryside wherever – and thank you Edward Wilson-Lee for writing it, and with such a sense of vital grace." —Simon Schama

"Edward Wilson-Lee's fascinating and beautifully written account of how Hernando conceived and assembled his library is set within a highly original biography of the compiler. It's a work of imagination restrained by respect for evidence, of brilliance suitably alloyed by erudition, and of scholarship enlivened by sensitivity and acuity." —Felipe Fernández-Armesto, The Literary Review

"Superbly researched and remarkably well-written… Colon was obviously a man ahead of his time; his story is expansive, and in Wilson-Lee's hands, absolutely compelling." —Fine Books & Collections

"Thoroughly absorbing…Wilson-Lee's pioneering study makes Hernando's life every bit as compelling as his father's. But that is not all: as we accompany Hernando on his various European journeys of compulsive acquisition, we are not only led through a richly evoked early modern world, but also prompted to reflect on our own data-saturated age." —The Times Literary Supplement

"Hernando Columbus deserves to be as famous as his father, Christopher. …Wilson-Lee's greatest strength is the subtlety with which Hernando's public life as a courtier and his private life as a collector are interwoven. Unless you like libraries a lot then the most important thing about Hernando is not the most interesting. But in these elegantly handled parallels, Wilson-Lee leads us almost by stealth to an understanding of his subject's greatest achievement." —The Spectator

"A wonderful book, not least in the literal sense of an epic unfolding in a nonstop procession of marvels, ordeals and apparitions... The true measure of Wilson-Lee's accomplishment, delivered in a simile-studded prose that is seldom less than elegant and often quite beautiful, is to make Hernando's epic, measured in library shelves, not nautical miles, every bit as thrilling as his father's story." —Financial Times

"Wilson-Lee's book – the first modern biography of Hernando written in English – is far more than just a straight account of a life, albeit a rich one… moving… Wilson-Lee does a fine job of capturing the intellectual excitement of a moment in European history." —The New Statesman

"Lively and evocative...A fresh postimperialist perspective on the age of European exploration, the emergence of modern printing, modern libraries, and the concept of a global world." —AudioFile

"An elegantly written, absorbing portrait of a visionary man and his age." —Kirkus, starred review

"Astonishing for both its geographic and intellectual breadth… A potent reminder that a great library originates as a bold adventure." —Booklist, starred review

"[Edward Wilson-Lee] has created a cabinet of wonders with this book… Wilson-Lee's fascinating account brings back to wholeness 'the largest private library of the day' while revealing the son of a renowned man as, among other things, a master librarian." —Publishers Weekly, starred review

"At once an adventure tale and a history of ideas that continue to resonate…Wilson-Lee's insightful and entertaining work refreshes the memory of Colón's sweeping vision." —BookPage, starred review
Scribner, 9781982111397, 416pp.
Publication Date: March 12, 2019
About the Author
Edward Wilson-Lee is a Fellow in English at Sidney Sussex College, Cambridge, where he teaches medieval and Renaissance literature. His research focuses on books, libraries, and travel, which during this project has involved journeys to and through Spain, Italy, India, and the Caribbean. He is the author of Shakespeare in Swahililand and The Catalogue of Shipwrecked Books.
Coverage from NPR