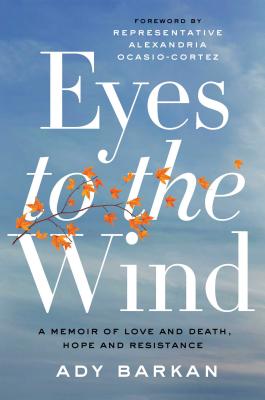 Eyes to the Wind
A Memoir of Love and Death, Hope and Resistance
Hardcover

* Individual store prices may vary.
Other Editions of This Title:
Compact Disc (9/10/2019)
Paperback (12/31/2045)
Description
In this inspirational and moving memoir—reminiscent of When Breath Becomes Air and The Bright Hour—activist Ady Barkan explores his life with ALS and how his diagnosis gave him a profound new understanding of his commitment to social justice for all.

Ady Barkan loved taking afternoon runs on the California coast and holding his newborn son, Carl. But one day, he noticed a troubling weakness in his hand. At first, he brushed it off as carpal tunnel syndrome, but after a week of neurological exams and two MRIs, he learned the cause of the problem: amyotrophic lateral sclerosis, better known as ALS or Lou Gehrig's disease. At age 32, Ady was given just three to four years to live. Yet despite the devastating diagnosis, he refused to let his remaining days go to waste.

Eyes to the Wind is a rousing memoir featuring intertwining storylines about determination, perseverance, and how to live a life filled with purpose and intention. The first traces Ady's battle with ALS: how he turned the initial shock and panic from his diagnosis into a renewed commitment to social justice—not despite his disability but because of it. The second, told in flashbacks, illustrates Ady's journey from a goofy political nerd to a prominent figure in the enduring fight for equity and justice who is "willing to give [his] last breath to save our democracy" (CNN).

From one of today's most vocal advocates for social justice, Eyes to the Wind is an evocative and unforgettable memoir about activism, dedication, love, and hope.
Praise For Eyes to the Wind: A Memoir of Love and Death, Hope and Resistance…
"In the fight for social justice, giving up is not an option. From the halls of Congress to street corners across the country, Ady Barkan has become an American hero – placing his ailing body on the line for basic human rights. Eyes to the Wind is the gripping story of resistance and the triumph of human will. Barkan retells the timeless story of a parent's love as he vividly details a very personal narrative of how far a father will go so that he can leave the world a little better than he found it." —Senator Elizabeth Warren

"Ady Barkan is an American hero. His selfless activism fighting to make health care a right should be an inspiration to us all." —Senator Bernie Sanders

"Ady Barkan's writing on the choice between acceptance and resistance – a choice we must each make about injustices, from illness to oppression – is among the wisest and most beautiful I've ever seen. This unforgettable book made me think anew about hope, agency, justice, embodiment, legacy and, above all, what is possible through moral courage." —Dr. Lucy Kalanithi, Clinical Assistant Professor of Medicine, Stanford University, and widow of the late Dr. Paul Kalanithi, author of When Breath Becomes Air

"Ady is one of the most inspirational activists we have right now. Whether by fighting for a fairer tax code, universal health care, or a better judiciary, he has done more for this country while suffering from ALS than most do in their lifetime. Eyes to the Wind is more than just a memoir; it's a meditation on illness, an exposé of our broken health care system, and a 21st-century guide to organizing. It's also a powerful reminder that losing everything you take for granted can end up inspiring great change. Just as in his organizing, Ady's writing is driven by a deep humanity and sense of empathy." —Representative Ilhan Omar

"In the face of death, Ady Barkan has written a beautiful, poignant story about what it means to live. His commitment to our collective struggle for democracy amid his own grueling battle with ALS is the most inspiring example of activism I've ever known, and a reminder that even in trying times and unimaginable circumstances, it's possible to lead a life filled with joy, purpose, love, and peace. This memoir is a gift to anyone who dreams of a better world." —Jon Favreau, cohost of Pod Save America and former communications director and speechwriter for President Barack Obama

"Eyes to the Wind will move you through every emotion and leave you transformed. Ady's words are a powerful gift to those of us who are searching for hope in these dark times in our nation. Ady reminds us that no matter our circumstances, we must fight for the things we believe in at all costs because someone we love is counting on us. I am left rejuvenated and ready to win." —Linda Sarsour

"Profound and gutting and beautiful. An inspiring meditation on what it means to be a human being at this moment in this society in this nation. Basically the opposite of everything that makes politics seem so terrible so much of the time." —Chris Hayes

"Moves with its portrait of a man driven to act on his beliefs while learning to accept the injustice of early mortality . . . unquestionably inspiring." —Kirkus Reviews

"Barkan's powerful narrative gives great insight into the nuts and bolts of political activism at work." —Publishers Weekly

"The book's primary question is existential: how to live when you are dying? Barkan's answer is to share, open up, act, and capital-R Resist, and his memoir, clearly and candidly written, establishes a legacy." —Booklist

"An emotional and heartbreaking chronicle of his life before and after ALS, Eyes to the Wind captures Barkan's dedication to advocacy and fighting against injustice….Powerful, passionate." – Shelf Awareness (starred review)
Atria Books, 9781982111540, 304pp.
Publication Date: September 10, 2019
About the Author
Ady Barkan is a social justice activist who has built three programs at The Center for Popular Democracy: the Be A Hero and Fed Up campaigns and the Local Progress network. He was a law clerk to the Hon. Shira A. Scheindlin in the Southern District of New York and prior to that he was a Liman Fellow with Make the Road New York, where he represented low-wage workers seeking to recover unpaid wages and obtain safe and dignified working conditions. He graduated from Yale Law School and Columbia College. He lives with his wife Rachael and their young son Carl in Santa Barbara, California. Eyes to the Wind is his first book.