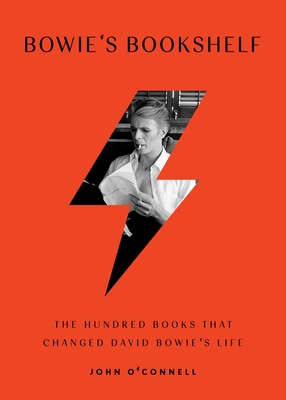 Bowie's Bookshelf
The Hundred Books that Changed David Bowie's Life
Hardcover

* Individual store prices may vary.
Other Editions of This Title:
Digital Audiobook (1/27/2020)
MP3 CD (1/28/2020)
Compact Disc (1/28/2020)
Description
Named one of Entertainment Weekly's 12 biggest music memoirs this fall. "An artful and wildly enthralling path for Bowie fans in particular and book lovers in general." —Publishers Weekly (starred review)

"The only art I'll ever study is stuff that I can steal from." ―David Bowie

Three years before David Bowie died, he shared a list of 100 books that changed his life. His choices span fiction and nonfiction, literary and irreverent, and include timeless classics alongside eyebrow-raising obscurities.

In 100 short essays, music journalist John O'Connell studies each book on Bowie's list and contextualizes it in the artist's life and work. How did the power imbued in a single suit of armor in The Iliad impact a man who loved costumes, shifting identity, and the siren song of the alter-ego? How did The Gnostic Gospels inform Bowie's own hazy personal cosmology? How did the poems of T.S. Eliot and Frank O'Hara, the fiction of Vladimir Nabokov and Anthony Burgess, the comics of The Beano and The Viz, and the groundbreaking politics of James Baldwin influence Bowie's lyrics, his sound, his artistic outlook? How did the 100 books on this list influence one of the most influential artists of a generation?

Heartfelt, analytical, and totally original, Bowie's Bookshelf is one part epic reading guide and one part biography of a music legend.
Praise For Bowie's Bookshelf: The Hundred Books that Changed David Bowie's Life…
"Entertaining and informative (and, perhaps, a template for your book club picks for the next decade or so)."
—Vogue

"Former Time Out editor O'Connell does an outstanding job … An artful and wildly enthralling path for Bowie fans in particular and book lovers in general."
—Publishers Weekly (starred review)

"O'Connell is gently witty, and clearly enjoys riffing on Bowie's own playfulness... [Bowie's Bookshelf] is a handy, amusing and, thankfully, light-touch precis, tracking the musician's high modernist influences while remaining aware of his flightiness and fondness for self-editing."
—The Guardian

"You can only truly know a pop star through his bookshelf. John O'Connell's brilliant, gossipy book gives you a whole new secret David Bowie: the reader. This is the unwritten Bowie book that needed writing."
—Caitlin Moran, bestselling author of How to Be a Woman

"Okay, so not technically a memoir. But O'Connell works off and analyzes material that Bowie himself provided late in his life: the 100 books that changed his life."
—Entertainment Weekly, "Biggest Music Memoirs Being Published this Fall" round-up

"O'Connell's diligently documented book on the literary influences on David Bowie is a fantastic voyage… His introduction is informative and crucial in framing Bowie's library; it's also very entertaining… An exciting book."
—Booklist

"O'Connell, a veteran music journalist, gamely delivers brief essays on each title, with context on what influence Bowie might have drawn from them… There are a few surprising anecdotes—e.g., Alberto Denti di Pirajno's obscure 1956 memoir, A Grave for a Dolphin directly inspired Bowie's classic song 'Heroes'… O'Connell's approach does underscore the range and playfulness in Bowie's reading, from hefty tomes on the Russian Revolution to laddish comic books like The Beano … Enlightening."
—Kirkus

"If you're also a fan of David Bowie, you'll likely love this insight into his mind."
—Book Riot

"Providing thoughtful historical context and commentary... O'Connell's brief essays on each book include anecdotes and trivia that will interest both casual and ardent Bowie fans, or anyone curious about ways art begets art… Bowie's Bookshelf is a quietly electrifying collection, a tribute handled with reverence and respect, celebrating the guiding stars that books can be."
— Shelf Awareness



"While guiding readers through the book list, Bowie's Bookshelf also acts as an unconventional biography of an artist who helped define modern music and pop culture."
—Mental Floss

"If there's a Thin White Duke fan on your gift list this year, check him or her off with Bowie's Bookshelf ... While not quite a biography, nor quite a memoir, it's close enough to be categorized as one. I'd like to think Bowie himself would admire the rather unique effort."
—Bookgasm

"A revealing look at the artist."
—Furthermore

"I encourage any fan of Bowie or fine literature to pick up Bowie's Bookshelf … Readers should be inspired to seek out the books on this list, along with the musical suggestions for pairing and even the links to other similar works... It feels good knowing that a list like this exists and, in essence, keeps Bowie's spirit alive, allowing all those who miss him to have another shared experience with one of their heroes."
—Book Reporter

"The author displays a breadth of knowledge not just about Bowie's life and his music but also the authors and genres on the list… His thoughts on how Bowie transformed practically everything he consumed into his stage personae are insightful… With illustrations and suggestions for read-alikes and Bowie songs to listen to while reading each book, this is a fun peek at what stirred and shaped a legend. For Bowie fans and devotees of offbeat reading guides."
—Library Journal
Gallery Books, 9781982112547, 320pp.
Publication Date: November 12, 2019
About the Author
John O'Connell is a former Senior Editor at Time Out and music columnist for The Face. He is now freelance writing mainly for The Times and The Guardian. He interviewed David Bowie in New York in 2002. He lives in south London.