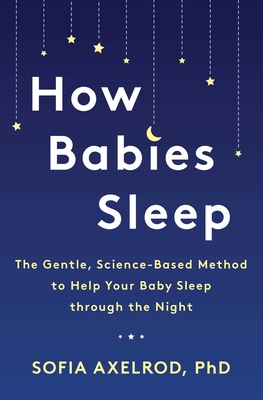 How Babies Sleep
The Gentle, Science-Based Method to Help Your Baby Sleep Through the Night
Paperback

* Individual store prices may vary.
Other Editions of This Title:
Digital Audiobook (8/10/2020)
Compact Disc (8/11/2020)
Description
Discover the best baby sleep method—gentle, science-backed, and inspired by the latest Nobel Prize–winning research—that shows you how to get your baby to sleep through the night naturally.

Sleep—or the lack of it—is one of the most crucial issues for new parents. Newborn babies typically wake every two to three hours, and there's nothing bleary-eyed, exhausted parents want more than a night of uninterrupted sleep. But while there's plenty of advice out there, there is nothing that's based on the latest cutting-edge research about sleep—until now.

In How Babies Sleep, Sofia Axelrod, PhD—neuroscientist, sleep consultant, and mother of two—introduces the first baby sleep method that is truly rooted in the science of sleep. After having her first child, Axelrod realized that the typical baby sleep advice conflicted with the actual science of sleep, inlcuding the findings from her mentor's Nobel Prize–winning sleep lab. She developed her transformative method based on the latest discoveries about our body's circadian clock and how it is disturbed by light and other external stimuli. After seeing incredible results with her own babies, she has since counseled countless families in her groundbreaking method—which works with babies' needs and helps little ones learn to self-soothe, fall asleep more easily, and stay asleep through the night.

You'll discover helpful tips that work, and learn: why using a red lightbulb (instead of a regular one) in the nursery at night can minimize wakings; why the age-old advice "don't wake a sleeping baby" isn't true; how to create a healthy routine; how to sleep train gently with minimal crying (under two minutes); and so much more in this revolutionary and effective book that will help both you and your baby enjoy a peaceful night's sleep.
Praise For How Babies Sleep: The Gentle, Science-Based Method to Help Your Baby Sleep Through the Night…
"The biggest gift you can give your infant (and yourself) is sleep and this book will hold your hand to do that in a gentle and reassuring way. Grounded in Nobel Prize–winning science, Dr. Axelrod explains the structures needed to achieve healthy sleep patterns early in life so your baby will thrive. I wish I'd had this book when I was a new mom!"
— Tovah P. Klein, PhD, director of the Barnard College Center for Toddler Development

"Those exhausted by the vagaries of baby sleep will appreciate having a clearly explained and reassuring guide from an expert in the field."
— Publishers Weekly

"Sleep researcher and coach Axelrod's first book is a scientific tome on the oft-tackled topic of helping your baby sleep through the night. As a parent, Axelrod experienced the effects of sleep deprivation firsthand, which further motivated her research . . . This is a valuable resource that uses research to help parents and babies get the shut-eye they desperately need."
— Library Journal (starred)
Atria Books, 9781982112578, 256pp.
Publication Date: August 11, 2020
About the Author
Sofia Axelrod, PhD, is a sleep researcher in the laboratory of Michael W. Young, the winner of the 2017 Nobel Prize in Physiology or Medicine, at the Rockefeller University in New York. She studied in Germany at Eberhard-Karls-University in Tübingen and at Humboldt University in Berlin, where she earned her PhD in biology in 2012. When she is not investigating the molecular basis of sleep, or spending time with her family, she performs classical vocal music on stages across the United States and Europe. Her passion for the science of sleep and her personal experience using this method with her children and friends has inspired her share the How Babies Sleep method with a wider audience through sleep coaching and writing this book. To learn more, please visit SofiaAxelrod.com.