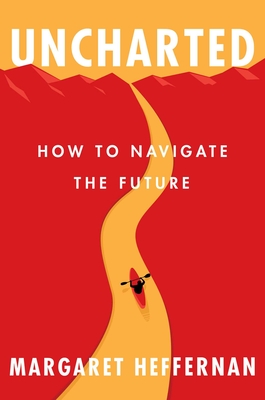 Uncharted
How to Navigate the Future
Hardcover

* Individual store prices may vary.
Other Editions of This Title:
Digital Audiobook (9/21/2020)
Paperback (9/21/2021)
Compact Disc (9/22/2020)
Description
* A Financial Times Best Book of the Year *

From former CEO and popular TED speaker Margaret Heffernan comes a timely and enlightening book that equips you with the tools you need to face the future with confidence and courage.

How can we think about the future? What do we need to do—and who do we need to be?

In her bold and invigorating new book, distinguished businesswoman and author Margaret Heffernan explores the people and organizations who aren't daunted by uncertainty.

We are addicted to prediction, desperate for certainty about the future. But the complexity of modern life won't provide that; experts in forecasting are reluctant to look more than 400 days out. History doesn't repeat itself and even genetics won't tell you everything you want to know. Tomorrow remains uncharted territory, but Heffernan demonstrates how we can forge ahead with agility.

Drawing on a wide array of people and places, Uncharted traces long-term projects that shrewdly evolved over generations to meet the unpredictable challenges of every new age. Heffernan also looks at radical exercises and experiments that redefined standard practices by embracing different perspectives and testing fresh approaches. Preparing to confront a variable future provides the antidote to passivity and prediction.

Ranging freely through history and from business to science, government to friendships, this refreshing book challenges us to mine our own creativity and humanity for the capacity to create the futures we want and can believe in.
Praise For Uncharted: How to Navigate the Future…
"Heffernan is admired for books that question the received wisdom of how management works; she is a business guru who brings the stern discipline of good sense to the business book genre. In this book she turns her attention to a topic that absorbs most business leaders—and the rest of us too: how to think about what the future holds. . . . Wise and appealingly human." —Tim Harford, Financial Times

"As an entrepreneur and CEO turned thought leader and TED speaker, Margaret has a gift for both shaping and anticipating trends. In this powerful book, she challenges the common assumption that history repeats itself and teaches us how we can prepare for—and adapt to—the unexpected." —Adam Grant, bestselling author of Originals

"The cumulative result of Heffernan's smartly assembled case studies and insights is a thought-provoking look at how readers can face down a sometimes frightening future with courage and grace." —Publishers Weekly

"By the turn of the century, innovations such as computing and the internet were turbocharging the forecasting business to an extraordinary degree, as Margaret Heffernan notes in her excellent (and very timely) new book Uncharted. . . . As Heffernan stresses, while the forecasting business has made its 'experts' very rich, it is also based on a fallacy: the idea that the future can be neatly extrapolated from the past. Moreover, the apparent success of some pundits in predicting events (such as the 2008 crash) makes them so overconfident that they get locked into particularly rigid models." —Gillian Tett, Financial Times

"An original and beautifully written look into how the events that have the most profound effect on humanity cannot be predicted. . . . From beginning to end, this is a wonderful and timely book that eloquently describes the challenges we face in our time and the skills we need to develop to thrive in the future." —QRCA Views

PRAISE FOR WILLFUL BLINDNESS:

"A polemic against the dangers of docility and 'groupthink' in every walk of life." —Financial Times, Books of the Year

"Writing in clear, flowing prose, Heffernan draws on psychological and neurological studies and interviews with executives, whistleblowers and white-collar criminals." —The New York Times

"Entertaining and compellingly argued." —Sunday Times

"An engaging read, packed with cautionary tales . . . Heffernan shows why we close our eyes to facts that threaten our families, our livelihood, and our self-image—and, even better, she points the way out of the darkness." —Daniel H. Pink, New York Times bestselling author of Drive and When

"A tour de force of brilliant insights." —Philip Zimbardo, author of The Time Paradox
Avid Reader Press / Simon & Schuster, 9781982112622, 320pp.
Publication Date: September 8, 2020
About the Author
Margaret Heffernan is an entrepreneur, chief executive, and author. She was born in Texas, raised in Holland, and educated at Cambridge University. She worked for the BBC and developed interactive multimedia products with Peter Lynch, Tom Peters, Standard & Poors, and The Learning Company. She has served as Chief Executive Officer for InfoMation Corporation, ZineZone Corporation, and iCAST Corporation. The author of Beyond Measure, Willful Blindness, and A Bigger Prize, among others, she blogs for HuffPost, CBS Moneywatch, and Inc.com.