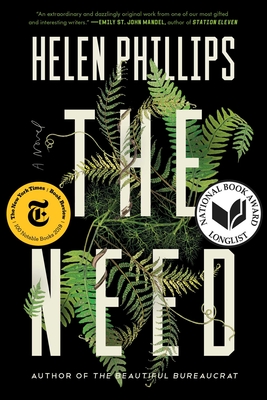 The Need (Hardcover)
Simon & Schuster, 9781982113162, 272pp.
Publication Date: July 9, 2019
* Individual store prices may vary.
Description
From the award-winning author of The Beautiful Bureaucrat, comes a subversive genre-busting thriller about a woman who grapples with the complex dualities of motherhood—joy and dread, tenderness and anxiety—after confronting a masked intruder in her home.

There were footsteps in the other room...

So begins The Need, a sharp and haunting exploration of the joys and perils of modern motherhood. Molly is a paleobotanist who spends her days working at a fossil quarry where she sometimes unearths artifacts that defy understanding, including a controversial Bible that has recently attracted gawkers and conspiracy theorists. By night, she cares for her two young children—four-year-old Viv and one-year-old Ben—while her musician husband is away on tour. She's frazzled, sleep-deprived, and it seems the edges of her reality blur more each day.

When she hears an intruder in the house, Molly is desperate to keep her children safe. She confronts the figure in the deer mask—and discovers that this stranger knows everything about Molly and her family. Molly fears the most sinister motives even as she reluctantly, terrifyingly, acquiesces to the intruder's demands. What happens once she learns the true identity of the trespasser is chilling and otherworldy.

With tight, gorgeous prose and the urgent pacing of the best psychological thrillers, Helen Phillips unfurls a story that is at once cerebral and transcendent. The Need toggles between Molly's surreal work life and her harrowing home life, excavating deep truths about modern motherhood even as it poses provocative questions about the nature of the universe and the ethics of empathy. The hopes and heartaches of parenthood exposed in these pages, coupled with the gripping sci-fi speculation, makes for a haunting, propulsive, and unforgettable read from an author The New York Times calls "breathtaking and wondrous."
About the Author
Helen Phillips is the author of, most recently, the novel The Need. Her collection Some Possible Solutions received the 2017 John Gardner Fiction Book Award. Her novel The Beautiful Bureaucrat, a New York Times Notable Book of 2015, was a finalist for the Los Angeles Times Book Prize and the NYPL Young Lions Award. Her collection And Yet They Were Happy was named a notable collection by The Story Prize. She is also the author of the middle-grade novel Here Where the Sunbeams Are Green. Helen has received a Rona Jaffe Foundation Writer's Award and the Italo Calvino Prize in Fabulist Fiction, and her work has appeared in The Atlantic, The New York Times, and Tin House, and on Selected Shorts. She is an associate professor at Brooklyn College and lives in Brooklyn with her husband, artist Adam Douglas Thompson, and their children. Visit HelenCPhillips.com.
Praise For The Need…
PRAISE FOR THE NEED BY HELEN PHILLIPS


"Suspenseful and mysterious, insightful and tender, Phillips' new thriller cements her standing as a deservedly celebrated author with a singular sense of story and style… [A] superbly engaging read—quirky, perceptive, and gently provocative. An intruder upends the life of a young mother and paleobotanist, prompting her to recalibrate her relationships with her family, her work, and, most importantly, herself. Phillips' fuguelike novel, in which the protagonist's tormentor may be either other or self, is a parable of parenting and the anxieties that prey on mothers and fathers, amplified by exhaustion, sleeplessness, the weight of responsibility, and shifting identities and roles. Molly may be losing her marbles, but we can't help rooting for her to find herself. While Phillips' exquisitely existential The Beautiful Bureaucrat (2015) found humanity, love, and hope in a dark, dystopian world, this novel locates them in the routine aspects of child-rearing, capturing not only the sense of loss and fear that often attends parenting, but also the moments of triumph and bliss."—KIRKUS REVIEWS (STARRED REVIEW)

"The Need is a profound meditation on the nature of reality, a fearless examination of parenthood, and also somehow a thriller. This is an extraordinary and dazzlingly original work from one of our most gifted and interesting writers."—EMILY ST. JOHN MANDEL, BESTSELLING AUTHOR OF STATION ELEVEN

"Helen Phillips has created an existential page-turner that captures, with perfect sharpness, the fierce delirium of motherhood, the longing to understand the workings of our universe, and the wondrous and terrifying mystery that is time. The Need is a brain-bending heartbreaker of a novel, and definitive proof that Helen Phillips is one of the most spellbindingly original writers working today."—LAURA VAN DEN BERG, AUTHOR OF THE THIRD HOTEL

"This is a book about the biggest things you can imagine--the dreadful potentiality of life, the fierceness of love, and the terrifying and exhilarating mystery of motherhood. Helen Phillips writes at the nexus of science fiction and psychological realism, conjuring a narrative so mind-bending and immersive that it'll change what you see as real. She is an author at the height of her power, and we are so lucky to be living in her moment."—ALEXANDRA KLEEMAN, CRITICALLY ACCLAIMED AUTHOR OF YOU TOO CAN HAVE A BODY LIKE MINE

"From the opening sentence, The Need sucked me in (I read it in one sitting) and then spat me out at the end, feeling dazed and slightly off-kilter in the best and most pleasurable way. Phillips evokes with astoundingly masterful prose the lengths to which a mother will go for her children. At once a fast-paced thriller and psychologically astute literary novel, the intensity of the plot is leavened with moments of startling tenderness. Bravo."—KATE CHRISTENSEN, AUTHOR OF THE LAST CRUISE AND THE GREAT MAN

PRAISE FOR THE BEAUTIFUL BUREAUCRAT BY HELEN PHILLIPS

"A tightrope walk over the abyss, where the stakes are total, and the prose is exuberant and taut, dire and playful."—Karen Russell

"Are we pawns in the thrall of bureaucratic (Kafka) or totalitarian (Orwell) systems? Or are we, in fact, the ones with ultimate power; the arbiters — even unknowingly — of life and death? Helen Phillips deftly interrogates this existential divide in her riveting, drolly surreal debut novel, The Beautiful Bureaucrat." —The New York Times Book Review

"Told with the light touch of a Calvino and the warm heart of a Saramago, this brief fable-novel is funny, sad, scary, and beautiful. I love it."—Ursula K. Le Guin

"Helen Phillips' The Beautiful Bureaucrat has the compulsive quality of a mystery and the furious urgency of a fever dream. I picked it up and read it everywhere: on the subway, over breakfast, in bed when I should have been sleeping, at work when I should have been working. It will coax you into its world with the crystalline precision of its prose, so full of heart and strangeness it might even crawl into your own dreams and find you there."—Leslie Jamison

"The Beautiful Bureaucrat is a thrillingly original debut, formally inventive and emotionally complex. Helen Phillips is one of the most exciting young writers working today, and I envy those who get to discover her work here for the first time."—Jenny Offill

"Equal parts mystery, thriller, and existential inquiry, Phillips's book evokes the menace of the mundane."—The New Republic

"The Beautiful Bureaucrat reads like Borges in Brooklyn, with its cerebral pleasures buttressed by Helen Phillips' precise, resonant depictions of love, marriage, sex, and terrible apartments. It bends from uncanny to unsettling and ends at very deeply satisfying."—Robin Sloan

"A satisfying parable of love and life, death and birth, and the travails of transposed numbers. The Beautiful Bureaucrat reads like a thriller."—Joshua Ferris

"Helen Phillips is a funny, subversive, enigmatic, melancholy wonder. With And Yet They Were Happy she produced one of my favorite recent story collections and now, with The Beautiful Bureaucrat, she has written one of my favorite recent novels, equal parts Franz Kafka and Lydia Davis, a narrative in which the perplexities of work and marriage gradually change their colors to display the perplexities of birth and death. When these pages reached my hands, my first thought was this: Helen Phillips is publishing another book, which means that I can, briefly, revel in it until I start looking for her next."—Kevin Brockmeier

"In the bleak hallways of bureaucracy, Helen Phillips explores what it means to make a life one's own. The Beautiful Bureaucrat is a page-turning mystery, a love story and a revelation."—Ramona Ausubel

PRAISE FOR SOME POSSIBLE SOLUTIONS BY HELEN PHILLIPS

"This stunning collection establishes Helen Philips as one of the most interesting and talented writers working today. In atmosphere and setting, her stories are often reminiscent of Kafka and Atwood, yet her voice and style are entirely her own. A fascinating, unsettling, and beautifully written work."—Emily St. John Mandel

"Like Margaret Atwood and Lorrie Moore, Phillips has a knack for combining the strange, the speculative, and the mundane into an unpredictable array of stories. Like our best thinkers and futurists, she has the audacity to extrapolate the perhaps-possible, to explore potential answers to some of our deepest, unspoken questions." —The Chicago Review of Books

"Helen Phillips sings like a Siren on the page (if a Siren also had a killer sense of humor). The short stories in Some Possible Solutions feature doppelgangers and sister-savants, impossible staircases and surreal city parks; they swing open like doors onto rich, strange worlds, which, on closer inspection, reveal themselves to be our own. Phillips' fans will hear echoes of 'Bluebeard' and Antigone, the Coen Brothers and Kafka and Shirley Jackson. But these tales are true originals, shining their eerie, lovely lights on the water and asking questions that linger."—Karen Russell

"I love Helen Phillips's wild, brilliant, eccentric brain. Her vision flashes down like a lightning bolt into everyday terrors—having a baby, caring for a sick relative, raising a child in a city suffocating for lack of green space—but in a way so wonderfully awry that every single story in Some Possible Solutions has a freshness to it that comes as a shock to the reader's system."—Lauren Groff

"Things happen that cannot happen. Marriages, motherhood, dinner parties, the future — Helen Phillips shows us the uncanny seams of ordinary lives and wishes. What is the purpose of stories as strange, as lovely, as unsettling as these? There's the joy the reader takes in Phillips's sentences, of course, and her way of seeing. But there's also the sense that we have been invited on a desperately needed tour of our own dreams, nightmares, premonitions in which Phillips will be our guide. I recommend the experience to any and all — this is an essential collection."—Kelly Link

"Comparisons to Margaret Atwood and Karen Russell would not be unjust, nor would they be helpful; Phillips is carving her own, messier territory."—The New York Times Book Review

"[Phillips] is a master at building slightly askew worlds that resemble our own but allow for the inexplicable, the astonishing, the surreal."—The Los Angeles Times