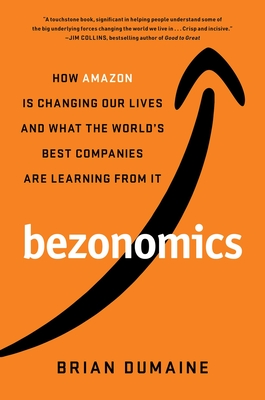 Bezonomics
How Amazon Is Changing Our Lives and What the World's Best Companies Are Learning from It
Hardcover

* Individual store prices may vary.
Other Editions of This Title:
Digital Audiobook (5/11/2020)
Digital Audiobook (5/11/2020)
Paperback (5/11/2021)
Digital Audiobook, Spanish, Castilian (9/9/2020)
CD-Audio (5/12/2020)
Paperback, Chinese (6/24/2020)
Description
An in-depth, revelatory, and unbiased look at Amazon's world-dominating business model, the current competitors either imitating or trying to outfox Amazon, and the ways Bezonomics is shaping the life of every American consumer—from an award-winning Fortune magazine writer.

Like Henry Ford, Sam Walton, or Steve Jobs in the early years of Ford, Walmart, and Apple, Jeff Bezos is the business story of the decade. Bezos, the richest man on the planet, has built one of the most efficient wealth-creation machines in history with 2% of US household income being spent on nearly 500 million products shipped from warehouses in seventeen countries. Amazon's business model has not only turned the retail industry and cloud computing inside out, but now its tentacles are squeezing media and advertising, and disrupting the state of technology, the economy, job creation, and society at large. Amazon's impact is so pervasive that business leaders in nearly every sector around the world need to understand how this force of nature operates.

Based on unprecedented behind-the-scenes reporting from 150 sources inside and outside of Amazon, Bezonomics unveils the underlying principles Jeff Bezos uses to achieve his dominance—customer obsession, extreme innovation, and long-term management, all supported by artificial intelligence—and shows how these are being borrowed and replicated by companies across the United States, in China, and elsewhere. Brian Dumaine shares tips for Amazon-proofing your business. Most important, Bezonomics answers the fundamental question: How are Amazon and its imitators affecting the way we live, and what can we learn from them?

A goldmine for some, and a threat for others, "Bezonomics" has become a life-shaping force both now and in the future that every American must know more about.
Praise For Bezonomics: How Amazon Is Changing Our Lives and What the World's Best Companies Are Learning from It…
Praise for Bezonomics:

"An illuminating exploration...Dumaine is a careful reporter, and his descriptions of Amazon's operations are lucid and finely detailed."
—The Washington Post

"What makes this book a great read, however, is the way Dumaine shines a light on the man who has made Amazon such a success."
—The London Sunday Times

"Does a valuable job of explaining how Amazon sees itself."
—Financial Times

"An addictive read—one of the most compelling business books I've ever read."
—The Scotsman

"An eye-opening work...a crash course on how Jeff Bezos turned Amazon into the world's lockdown necessity."
—The Times (UK)

"Where the book really shines is in its detailed but clear exposition of how the Amazon phenomenon was built on expert data analysis, marketplace psychology and perpetual innovation—and where it is headed."
—Mail on Sunday (UK)

"Meticulously researched [and] written engagingly."
—Scotland on Sunday

"Dumaine offers a lively history of Amazon's huge success and forecasts its effect on 21st-century business."
—Kirkus Reviews

"Brian Dumaine has written a touchstone book, significant in helping people understand some of the big underlying forces changing the world we live in. In fifty years, historians may look back at Bezonomics and point out that its choice of protagonist captured the essence of what was happening at the time—in our society, in our culture, and in our economy. Dumaine is a crisp and incisive writer, able to weave big, arcing themes with vivid details and narrative stories to make his insights come to life."
—Jim Collins, author of Good to Great: Why Some Companies Make the Leap…and Others Don't

"More than any previous book, Bezonomics reveals why 'the Amazon habit' is one in which we all increasingly indulge. Dumaine spoke to many of the company's top execs, walked the warehouse floors, and listened to the fears and forecasts of competitors. The result is an insightful look at how Jeff Bezos built a trillion-dollar colossus from a theory about customer engagement."
—Nir Eyal, bestselling author of Hooked and Indistractable

"Surprising…Bezonomics will open your eyes to what the company really is, how it works, and what it's likely to become."
—John Huey, former editor-in-chief of Time Inc. and coauthor, with Sam Walton, of the bestselling Made in America

"Far more than a book about Amazon, Bezonomics offers insight into a critical technological inflection point. Brian Dumaine tells the story of a juggernaut's relentless speed to scale, fueled by an inexorable wave of emerging innovation in data, artificial intelligence, machine learning, robotics, and the Internet of Things. These phenomena are transforming the landscape of global commerce and everything beyond, and they must be understood to plan for our future. Consistently engaging, Dumaine shows us how this is all happening, at a highly relatable level, through technology's powerful and growing presence in our lives."
—Andy Karsner, Senior Strategist and Space Cowboy at GoogleX

"Amazon is changing not only our buying lives but, also, our managing models. Brian Dumaine takes us inside the enterprise to see exactly how Jeff Bezos and his legions are doing it, sourcing anything in sight by overnight or less. A game changer, the company has become one of America's most omnivorous and disruptive start-ups ever. Buy Bezonomics today."
—Michael Useem, Professor and Director of the Wharton Leadership Center, University of Pennsylvania

"If you want to know about Amazon—really know about Amazon! (and who doesn't?)—then you have to read this book. Brian Dumaine's deeply reported and yet accessible work takes you inside this secretive behemoth that's rewriting the rules of business and changing the world."
—Andy Serwer, Editor-in-Chief of Yahoo! Finance

"How does Amazon do it all? You'll marvel at the tech giant's magic after reading Bezonomics."
—David A. Vise, Pulitzer Prize-winning coauthor of The Google Story
Scribner, 9781982113636, 336pp.
Publication Date: May 12, 2020
About the Author
Brian Dumaine is an award-winning journalist and a contributing editor at Fortune magazine. In addition to Bezonomics, his works include The Plot to Save the Planet, and, with three coauthors, Go Long: Why Long-Term Thinking Is Your Best Short-Term Strategy. He and his wife live in New York.