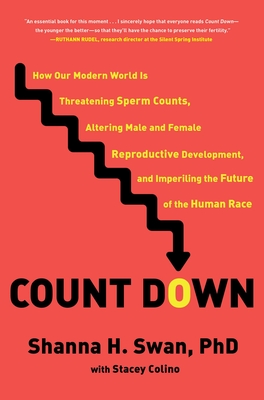 Count Down
How Our Modern World Is Threatening Sperm Counts, Altering Male and Female Reproductive Development, and Imperiling the Future of the Human Race
Hardcover

* Individual store prices may vary.
Description
In the tradition of Silent Spring and The Sixth Extinction, an urgent, meticulously researched, and groundbreaking book about the ways in which chemicals in the modern environment are changing—and endangering—human sexuality and fertility on the grandest scale, from renowned epidemiologist Shanna Swan.

In 2017, author Shanna Swan and her team of researchers completed a major study. They found that over the past four decades, sperm levels among men in Western countries have dropped by more than 50 percent. They came to this conclusion after examining 185 studies involving close to 45,000 healthy men. The result sent shockwaves around the globe—but the story didn't end there. It turns out our sexual development is changing in broader ways, for both men and women and even other species, and that the modern world is on pace to become an infertile one.

How and why could this happen? What is hijacking our fertility and our health? Count Down unpacks these questions, revealing what Swan and other researchers have learned about how both lifestyle and chemical exposures are affecting our fertility, sexual development—potentially including the increase in gender fluidity—and general health as a species. Engagingly explaining the science and repercussions of these worldwide threats and providing simple and practical guidelines for effectively avoiding chemical goods (from water bottles to shaving cream) both as individuals and societies, Count Down is at once an urgent wake-up call, an illuminating read, and a vital tool for the protection of our future.
Praise For Count Down: How Our Modern World Is Threatening Sperm Counts, Altering Male and Female Reproductive Development, and Imperiling the Future of the Human Race…
"An urgent examination of a global problem that requires vastly more attention than it currently receives....The author's passion for her work and access to reams of alarming data make for riveting reading, and her writing is crisp and unfettered by jargon....With an advocate's verve and a scientist's informed confidence, the author voices 'a clarion call for all of us to do what we can to safeguard our fertility, the fate of mankind, and the planet.' An eye-opening, disturbing, empowering, and essential text."
—Kirkus Reviews (starred review)

"A convincing plea for heightened awareness of rising reproductive jeopardy and the imperative of eliminating environmental toxins makes this book both alarming and crucial."
—Booklist (starred review)

"[A] thought-provoking look at the state of human reproductive health….This accessible and shocking account succeeds as an eye-opening wake-up call."
—Publishers Weekly

"Grounded in irrefutable science and laced with dry, engaging wit, this epic book asks monumental questions: Has humanity entered into a fertility death spiral? If so, why is it happening, how far will it go, and when will it peak? Finally, what can and must be done? If you dream of children, grandchildren and generations beyond, you must read this book."
—Pete Myers, PhD, coauthor of Our Stolen Future

"An essential book for this moment….There are a lot of surprises here, including that testosterone therapy decreases sperm counts, and that moms' exposure to common chemicals during pregnancy alters masculinization of the offspring as well as long-term fertility…. I sincerely hope that everyone reads Count Down—the younger the better—so that they'll have the chance to preserve their fertility as well as that of their children."
—Ruthann Rudel, Research Director at Silent Spring Institute and Research Associate at Brown University

"Compellingly readable…a stirring call to action about the dangers posed by declining fertility, including the risks to our health, our economy, and even the future of the human race."
—Jeremy Grantham, cofounder of investment management firm GMO and the Grantham Foundation for Protection of the Environment

"Scholarly, careful, and thoroughly provocative. Swan and Colino explore every aspect of human fertility, sexuality, and reproduction—as well as the fate of other species—with wisdom, compassion, and insight. An important and recommended read."
—David L. Katz, MD, MPH, President of True Health Initiative and Past President of American College of Lifestyle Medicine

"Count Down is that rarest of books: a compelling and engaging overview that not only rings the alarm bell, but provides ideas for putting out the fire. Read this book if you want to protect your family's health."
—Rick Smith, coauthor, Slow Death by Rubber Duck

"Swan solves one of the great mysteries of the moment: why sperm counts and fertility rates are dropping. She zeroes in on chemicals as a chief culprit, but, even more admirably, maps out the entire threat landscape. This book shines an important light on what we need to do to bring back healthy reproduction."
—David Michaels, former Assistant Secretary of Labor for OSHA and author of The Triumph of Doubt: Dark Money and the Science of Deception

"Unique, exhaustively researched, well-reasoned…Count Down makes a compelling case for changing what we think we know about the future of the human species."
—Darrell Bricker, coauthor of Empty Planet: The Shock of Global Population Decline
Scribner, 9781982113667, 304pp.
Publication Date: February 23, 2021
About the Author
Shanna H. Swan, PhD, is an award-winning scientist based at Mt. Sinai and one of the leading environmental and reproductive epidemiologists in the world. Dr. Swan has published more than 200 scientific papers and has been featured in extensive media coverage around the world. Her appearances include ABC News, NBC Nightly News, 60 Minutes, CBS News, PBS, BBC, PRI Radio, and NPR, as well as in leading magazines and newspapers, including Newsweek, The Washington Post, USA TODAY, Time, US News & World Report, The Guardian, Bloomberg News, New York Post, Chicago Tribune, Daily News (New York), Los Angeles Times, HuffPost, Daily Mail (London), New Scientist, Mental Floss, Mother Jones, New Telegraph, Euronews, and the National Post.

Stacey Colino is an award-winning writer specializing in health and environmental issues and a regular contributor to US News & World Report. Her work has appeared in The Washington Post Health section and in dozens of national magazines, including Newsweek, Parade, Woman's Day, Sports Illustrated, and Good Housekeeping. She is the coauthor with David Katz, MD, of Disease-Proof: The Remarkable Truth About What Makes Us Well; Strong Is the New Skinny with Jennifer Cohen; Good Food Fast! with Jason Roberts; and Taking Back the Month with Diana Taylor, RN, PhD.