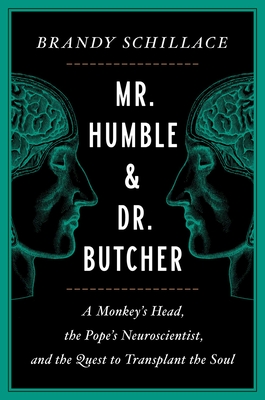 Mr. Humble and Dr. Butcher
A Monkey's Head, the Pope's Neuroscientist, and the Quest to Transplant the Soul
Hardcover

* Individual store prices may vary.
Other Editions of This Title:
Compact Disc (3/2/2021)
Description
The mesmerizing biography of a brilliant and eccentric surgeon and his quest to transplant the human soul.

In the early days of the Cold War, a spirit of desperate scientific rivalry birthed a different kind of space race: not the race to outer space that we all know, but a race to master the inner space of the human body. While surgeons on either side of the Iron Curtain competed to become the first to transplant organs like the kidney and heart, a young American neurosurgeon had an even more ambitious thought: Why not transplant the brain?

Dr. Robert White was a friend to two popes and a founder of the Vatican's Commission on Bioethics. He developed lifesaving neurosurgical techniques still used in hospitals today and was nominated for the Nobel Prize. But like Dr. Jekyll before him, Dr. White had another identity. In his lab, he was waging a battle against the limits of science, and against mortality itself—working to perfect a surgery that would allow the soul to live on after the human body had died.

Mr. Humble and Dr. Butcher follows his decades-long quest into tangled matters of science, global politics, and faith, revealing the complex (and often murky) ethics of experimentation and remarkable innovations that today save patients from certain death. It's an enthralling tale that offers a window into our greatest fears and our greatest hopes—and the long, strange journey from science fiction to science fact.
Praise For Mr. Humble and Dr. Butcher: A Monkey's Head, the Pope's Neuroscientist, and the Quest to Transplant the Soul…
"Brandy Schillace has taken a most bizarre and ethically complex episode in the history of medicine and crafted from it a narrative that is nuanced, informed, and almost impossible to stop reading. I swear to you, if you have a brain inside your head (or anywhere else), you will find this book fascinating."
— MARY ROACH, New York Times bestselling author of Stiff

"Engrossing. Schillace is a first-rate historian with the perceptive eye of a storyteller."
— DR. LINDSEY FITZHARRIS, New York Times bestselling author of The Butchering Art

"A rollicking, irresistible tale of doctors playing God, science facing off with ideology, and fate being sorely tempted at every turn."
— ROBERT KOLKER, New York Times bestselling author of Hidden Valley Road

"A riveting, heartfelt page-turner. Schillace reveals Dr. Robert White in all his strange, complicated brilliance: a pious, ambitious, egotistical innovator who was willing to challenge almost any norm—including the definition of life itself—in his quest to develop a mind-bending and potentially world-changing new surgical procedure."
— LUKE DITTRICH, New York Times bestselling author of Patient H.M.

"Brilliant, disturbing, and fascinating. A true-life story even more dark and twisted than the X-Files case it inspired."
— FRANK SPOTNITZ, Golden Globe-winning writer and producer of The X-Files

"Astonishing. When it comes to pushing the boundaries of medical ingenuity, readers will be profoundly affected by the questions presented by Schillace: not just 'Can we do this?' but more importantly, 'Should we?'"
— DR. LYDIA KANG, coauthor of Quackery

"[Schillace's] lyrical prose and psychological insights keep the pages turning. Readers will be riveted."
— Publishers Weekly (starred review)

"Captivating... Absorbing... Engrossing."
— Kirkus Reviews
Simon & Schuster, 9781982113773, 320pp.
Publication Date: March 2, 2021
About the Author
Brandy Schillace is a historian of medicine and the critically acclaimed author of Death's Summer Coat: What Death and Dying Teach Us About Life and Living and Clockwork Futures: The Science of Steampunk. The editor-in-chief of the journal Medical Humanities, she previously worked as a professor of literature and in research and public engagement at the Dittrick Medical History Center and Museum.